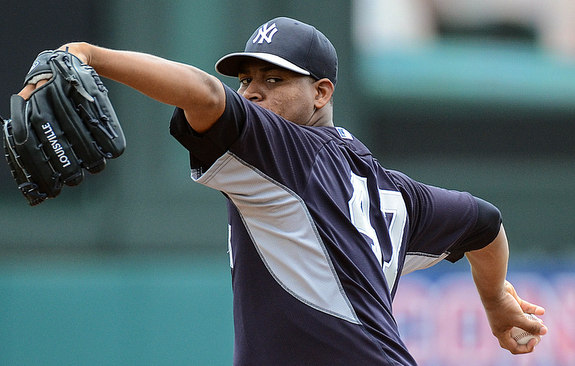 It's official: Ivan Nova will return to the rotation and start Wednesday's series finale against the Phillies. Joe Girardi told reporters the news this afternoon. Adam Warren, who is also lined up to start Wednesday, will start Thursday instead. Everyone else is getting pushed back a day and the Yankees will use a six-man rotation for the time being. Girardi said he doesn't anticipate that lasting beyond next week, however.
Nova, 28, had Tommy John surgery last April and the team took a conservative approach with his rehab, partly because so many other pitchers around the league have needed second Tommy John surgeries the last year or two. Some, including Dr. James Andrews, have speculated the recent spike in second elbow reconstructions stems from an overly aggressive rehab following the first Tommy John surgery.
After making a bunch of Extended Spring Training starts, Nova pitched to a 4.02 ERA in three official minor league rehab starts, one with High-A Tampa and two with Triple-A Scranton. Reports said he looked good even though his last start (five runs in five innings) was rough. Command is the last thing to return following Tommy John surgery and it was never Nova's strong suit anyway. I'd be lying if I said I wasn't a little nervous about his first few starts back.
The Yankees don't have an obvious candidate to remove from the rotation. Masahiro Tanaka, Michael Pineda, and Warren have all pitched well, CC Sabathia isn't going anywhere because of his contract, and Nathan Eovaldi will stay in the rotation for developmental reasons. Heck, who's to say Nova isn't the team's sixth best starter right now?  These things have a way of working themselves out. For now, a six-man rotation it is.