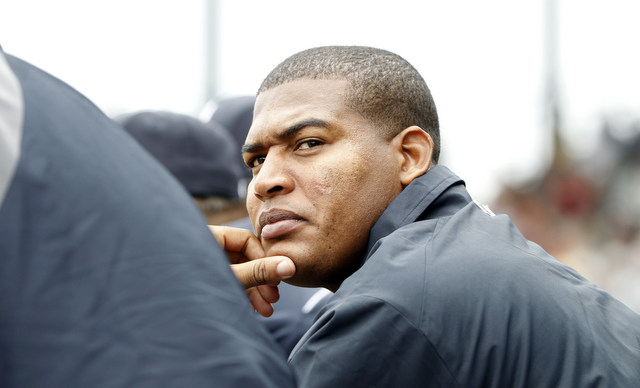 Nothing is set in stone yet, but all signs point to Ivan Nova rejoining the Yankees after making his second minor league rehab start with Triple-A Scranton later today. The Yankees do need to see how he feels after that start, how his arm bounces back, all that stuff, but so far his rehab has gone very well and by all indications Nova will be activated off the DL very soon.
"We're pretty encouraged with where he's at right now. The sink on his fastball, his changeup, his curveball, we're pretty encouraged. I didn't say he would be ready after (today). I said we would evaluate him,'' said Joe Girardi to George King earlier this week. "I think you evaluate where he is after each start, how built up he is. He should be able to give you 90 pitches the next time, 85 to 90 pitches, and then you just look at his stuff."
Fitting Nova back onto the roster is one of those problems that isn't a problem because there's no such thing as too much pitching. The Yankees don't have an obvious candidate to take out of the rotation because the five guys in the rotation have been pretty good for a few weeks now. The easy move would be sticking Adam Warren back in the bullpen, especially now that Andrew Miller is on the DL, but man, he's been so good as a starter of late. I'd hate to see them pull the plug on Warren in the rotation when he's pitching so well.
There's also the six-man rotation option, which the Yankees have been talking about since before Spring Training and might now have the necessary pieces to pull it off. We weren't even sure if they had five viable starters back in March. Remember that? Four of their five starters have been league average-ish or better and the fifth has a massive contract that ensures he'll remain in the rotation until his arm falls off. Like it or not, CC Sabathia is not losing his rotation spot to Nova.
The Yankees started a stretch of 20 games in 20 days yesterday, and they've already skipped Michael Pineda once this season to control his innings. Warren's innings have to be monitored as well and, as good as he's been, the Yankees still have to be careful with Masahiro Tanaka. Giving him an extra day whenever possible is a good idea, and now the Yankees can possibly do that thanks to Nova's return.
"We know that we're going to need to insert a starter somewhere. We know that," said Girardi to Chad Jennings earlier this week when asked about using a sixth starter to give the other starters extra rest during this stretch of 20 games in 20 days. "Do you do it twice? Maybe. Maybe we have to do it twice. We just have to see how the guys are doing and how they're responding."
Assuming Nova comes back well and a six-man rotation is a viable strategy during this stretch of games, the only concern would be making it work with the roster. The Yankees aren't going to shed a reliever and use a six-man bullpen, everything they've done over the last few years shows they prefer having extra arms, which means a three-man bench. A backup catcher (John Ryan Murphy), a backup infielder (Brendan Ryan), and a backup outfielder (Garrett Jones or Mason Williams).
Williams has minor league options, Jones doesn't, and that's pretty much the deciding factor there. The Yankees don't figure to cut Jones for Williams no matter how well Williams performs in the next week or so before Nova returns. Jones has started hitting of late after that brutal April. A three-man bench is less than ideal, though it might only be temporary until the Yankees get through these next 20 days.
"We just know we have a number of different guys that we've got to find ways to protect," said Brian Cashman to Maria Guardado. "There's other avenues to do it. If everybody's healthy, you could always play with a six-man rotation, if Nova's back and everyone's in line. But we're just trying to find ways to manage it properly so everybody keeps that full tank of gas and doesn't have fatigue set in too easily, because when fatigue sets in, injuries can happen."
Either way, Nova's return is imminent and that's a positive. The Yankees have some workloads to control this year and having him around to chew up innings will come in handy. And if the Yankees do stick Warren in the bullpen to replace Miller, as unfair as that would be, they have Nova ready to step in to the rotation spot. The rotation hasn't been a weakness, but Nova's return comes at a very convenient time for the Yankees. He gives them some options going forward, including a six-man rotation.
"There's no strict plan as much as find ways at times to give people blows is basically what we're going to try to do," added Cashman. "But how we're going to do it, we're not sure just yet."