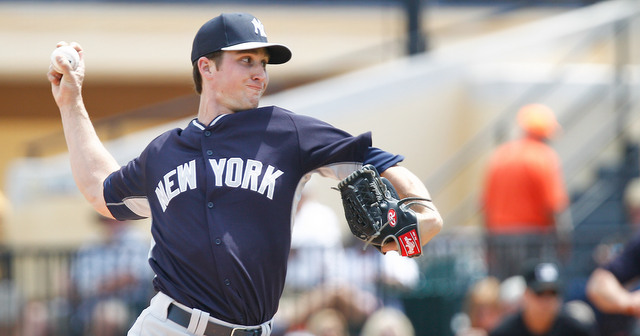 So far this month a total of 23 different pitchers have appeared in a game for the Yankees. Twenty-three! That's a franchise record for a single month. Seventeen of those 23 are relievers. The bullpen revolving door, which has been necessitated by some short outings from the starters, has featured eleven different relievers in the last three weeks alone. It's been quite a pain keeping our Depth Chart page up to date this month.
Anyway, the Yankees have needed to make all these roster moves because the bullpen is getting worn out and they've needed fresh arms. Only ten times in the last 18 games has the starter recorded more than 15 outs, and on five occasions the starter failed to complete five full innings. Nathan Eovaldi's disaster start in Miami and recent hiccups by Masahiro Tanaka and Michael Pineda have taxed the relief crew.
"We kind of rotate people in and out here a lot, and it doesn't mean we don't believe in them, we're doing it to kind of protect the arms of everyone," said Joe Girardi to Dan Barbarisi last week. "I think it speaks highly about our system, that the guys who are starting to rise through the ranks and are really close or, in some cases, some of them are pretty much ready, but there's people in front of them, and it gives us depth."
All these recent roster moves have led to several pitchers getting their first taste of the big leagues, but none have been able to stick around all that long. They were called up, soaked up some innings, then were sent down for someone else. It's good they're getting to experience the show! But it's impossible to evaluate someone based on one or two appearances. The Yankees learned nothing about these guys during their brief call-ups.
The one recent call-up who appears to be getting a chance to stick around is right-hander Bryan Mitchell, who is a big league veteran compared to some of the other guys we've seen this month. Mitchell made his MLB debut last year and has been up a few times this season, but it wasn't until ten days ago that he got into a game, when he threw three mop-up innings in a blowout win over the Tigers. (Mitchell got a save for that!)
The Yankees sent Mitchell down for a fresh arm the next day, but brought him back three days later — Stephen Drew's trip to the paternity list allowed them to bring Mitchell back before his ten days were up — and he's been in the bullpen since. Mitchell got four outs in a blowout game last week them got another four outs in a tie game against the Astros over the weekend. His first inning of work in Houston was really impressive. He struck out two and got a weak ground ball out.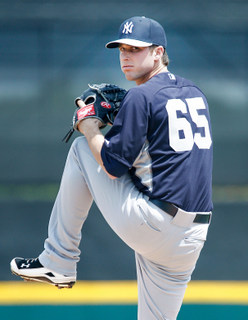 Mitchell has been a starter throughout his career, but, with David Carpenter not working out, the Yankees are looking for a right-handed reliever to pair with Dellin Betances. Branden Pinder hung around for a little while and was decent, but didn't wow anyone. Mitchell had a wow outing in the tie game against the Astros on Saturday, plus he's had two other strong appearances, which appears to have earned him a trial in an unfamiliar role as a short reliever.
"I've been called up several times as kind of a backup and not pitched. So I'm just happy to be getting some time out there on the mound," said Mitchell to Chad Jennings. "I mean, at this point I'm kind of ready for whatever. Obviously I'd rather be here, so whatever they want me to do, I'm not against it. I'm just going to be ready for anything … There's only so many spots. I mean there's, what, seven starters as it is? You've got to take what you can get sometimes."
The Yankees have a history of putting starting pitching prospects in the bullpen to solve their bullpen woes, most notably doing it with Joba Chamberlain in 2007. He's not the only one though. Phil Hughes did it in 2009, David Phelps did it in 2012, and Adam Warren did it in 2013. The Yankees aren't unique in this regard, lots of teams break young starters in as relievers, though Girardi hasn't been shy about using these guys in big spots, like Mitchell on Saturday.
Mitchell's stuff fits well in a short relief role — PitchFX has his fastball averaging 96 mph so far this year and his curveball is a hammer, plus he doesn't have much of a changeup, instead using a cutter to combat lefties — and I think he could really excel as a one or two-inning reliever this summer. It's a new role for him and that will be an adjustment, but, like every other young pitcher, Mitchell would rather reliever in the big leagues than a starter in Triple-A.
Andrew Miller figures to be back soon, and both Chasen Shreve and Justin Wilson have pitched well, so Mitchell doesn't have to take on high-leverage innings right away. Girardi said he won't use him back-to-back days — "I think we are a ways away from that. When a guy has been a starter his whole career and works out of the bullpen you take it kind of slow just because they are not used to doing it. I think you have to be careful," said the skipper to George King — but otherwise it's a great chance to both help the team and expose Mitchell to the big leagues.
The move to the bullpen doesn't have to be permanent. Mitchell can go back to starting next year, and hey, if he has success in relief this year, it could open the door to a big league rotation spot next season. That's what happened with Joba, Hughes, Phelps, and Warren in recent years. Success in relief then another shot at the rotation. For now, Mitchell can provide some stability and halt the bullpen revolving door, and perhaps be a solution to the righty relief problem. I think he has the tools. Now it's just a matter of getting the opportunity.