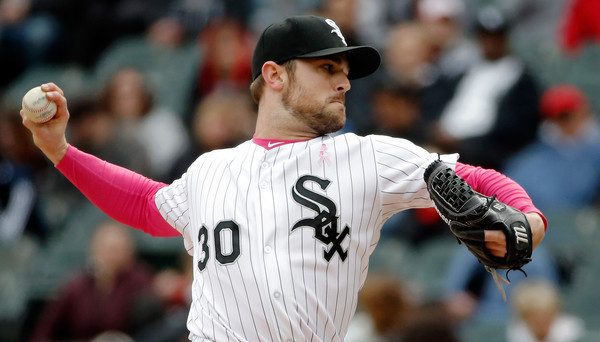 2:11pm ET: As expected, the White Sox pulled Robertson back off trade waivers, reports Heyman. The Yankees couldn't work out a trade before the 2pm ET deadline. Robertson can not be traded to the Yankees or any other team now. (Well, that's not true. The White Sox could put him on trade waivers again, but they would not be revocable the second time around.)
11:00am ET: According to Jon Heyman, the Yankees have claimed their former closer David Robertson off trade waivers from the White Sox. A deal is considered unlikely, however. The claim expires at 2pm ET today, meaning the two sides have until then to work out a trade. If they don't, the White Sox will either pull Robertson back (yup) or let him go to the Yankees for nothing (nope).
Robertson, 30, is having another excellent year, pitching to a 2.60 ERA (2.09 FIP) with a career best 5.4% walk rate in 52 innings. His strikeout rate is still elite (35.0%) but he is getting fewer grounders than he has at any point in the last five seasons (38.3%), though that's not necessarily a red flag. D-Rob has always gotten a ton of weak pop-ups. Robertson's been Robertson. Pretty much the same guy we watched in pinstripes all those years.
The Yankees let Robertson walk this past offseason for big picture reasons. They decided they were better off signing Andrew Miller to a smaller contract and getting the draft pick for Robertson, which makes sense. Miller signed a four-year, $36M deal while Robertson took four years and $46M from Chicago. So the Yankees ended up with a comparable reliever, a draft pick (used to take shortstop Kyle Holder), and an extra $2.5M per year.
Prior to the trade deadline the Yankees reportedly spoke to the Padres about closer Craig Kimbrel, and were said to be willing to part with top shortstop prospect Jorge Mateo to make it happen. Robertson is not as good as Kimbrel and he's owed more money ($38M through 2018 vs. $27M through 2017), though that doesn't mean he would come cheap. Consistently great relievers are very hard to find. Robertson's a valuable commodity.
Last week Brain Cashman confirmed the Yankees have placed a lot of waiver claims this month, though obviously none of those players ended up in pinstripes. I think claiming Robertson was more about blocking him from potentially going to the Blue Jays or Astros, two other AL contenders the Yankees will have to deal with either again in the regular season or possibly in the postseason, than it was bringing him back to New York.
Teams don't claim players unless they are comfortable taking on the contract, though I don't think the White Sox would let Robertson go for nothing. The contract isn't that onerous. The Yankees were hesitant to trade close to MLB prospects at the deadline and there's no reason to think they'd be more willing to trade them for Robertson now, not when they already have a great bullpen.