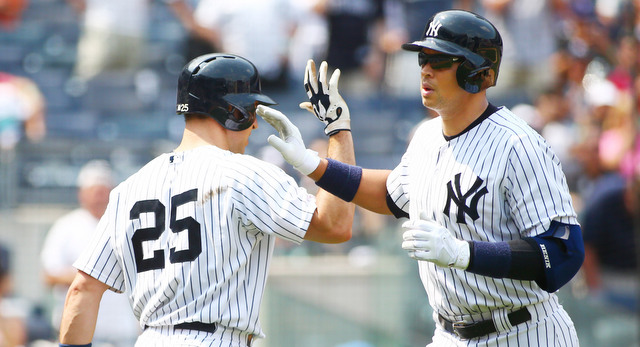 Even including last night's win, the Yankees are now 11-11 in August and have seen their six-game AL East lead disappear. They're now tied with the Blue Jays. The combination of Toronto getting insanely hot and the Yankees playing decidedly mediocre ball have turned a comfortable division lead into a legitimate race. Races are fun! That's why we watch. It also would have been nice to see that big lead last more than three weeks, but alas.
The Yankees have faded a bit this month — August is not their worst month of the season, they went 13-16 in May but rebounded to go 15-12 in June and 17-7 in July — for many reasons, some of which were not entirely unpredictable. First and foremost, they've been bit by the injury bug. They lost Michael Pineda (forearm) and CC Sabathia (knee) to injuries after both guys came into the season as health risks. Seeing them land on the DL wasn't a total shock.
Other injuries have been somewhat fluky. Mark Teixeira fouled a ball off his shin and has been out a week, hurting the Yankees on both sides of the ball. (I love Greg Bird as much as anyone, but the Yankees miss Teixeira. It's obvious.) Brian McCann pulled a little something in his left knee chasing after a ball in the dirt a few weeks ago, and while he's stayed in the lineup, he's clearly not 100%. He's wearing a brace and has altered his batting stance to take pressure off the knee:
McCann downplayed the batting stance change but come on. It looks like he's about to fall over trying to take his weight off that left knee. McCann hurt his knee on August 4th and has gone 12-for-57 (.211) with a 22.6% strikeout rate since. He has hit four home runs during that time, so his power is still there, but he had an 18.8% strikeout rate before the injury. His timing seems to be off slightly following the knee injury, maybe due to that weird stance.
Then there's Alex Rodriguez, who as far as we know isn't hurt. Either way, he is not producing like he did earlier in the year. That's not really a surprise, I suppose. As great as Alex is, it was probably unrealistic to think he'd hit like an MVP candidate all season as a 40-year-old with two surgically repaired hips who didn't play at all last year and barely played the year before. A-Rod's gone 11-for-84 (.131) with two homers this month, though it worth noting the two homers both came within the last week.
Joe Girardi gave Rodriguez both Saturday and Sunday off, saying he wanted to "refresh" him. The Yankees have an off-day Thursday, so that's another day to rest, and they'll be in Atlanta for an interleague series this weekend. The team has committed to A-Rod at DH this year and there's no reason to think he'll play third (or first) base against the Braves. Assuming he starts tonight and tomorrow, Alex will still get six days off in a nine-day span. Hopefully that gets him going.
The Yankees built that big lead in the AL East thanks in large part to Teixeira, A-Rod, and McCann. Those guys were forces in the middle of the lineup for much of the season and are a huge reason why the team still ranks second in baseball with an average of 4.73 runs per game. That's even after scoring 61 runs in their last 19 games, or 3.21 per game. They were that good for most of the season. Now? Not so much. McCann and Teixeira are banged up and A-Rod's in a cold spell, perhaps due to fatigue.
The good news is things may be starting to change for the better. McCann had a great game last night, going 3-for-3 with a walk. Also, Teixeira was on deck ready to pinch-hit last night when Beltran hit his walk-off sac fly, which is an indication he is moving closer to returning to the starting lineup. A-Rod? Eh, aside from his two big homers last week — big as in long distance, they were bombs — I'm not sure if there are any positive signs there. Two outta three ain't bad, I guess.
Let's not beat around the bush: without Teixeira, McCann, and A-Rod producing at an above average clip, the Yankees have close to no chance to beat out the Blue Jays for the division title. The Yankees need to fire on all cylinders to keep pace with Toronto, and those three key middle of the order bats are hitting a combined .189/.270/.388 in 218 plate appearances this month. Yikes. Carlos Beltran can't do it all himself. Those three need to start helping out again.
The pitching has been solid this month but the offense has been a big letdown of late. These nagging injuries Teixeira and McCann are dealing with are part of baseball, and hey, when you have a 40-year-old player playing everyday, you run of risk of him hitting a wall down the stretch. Unfortunately all of this is happening at once. Hopefully McCann's big night, Teixeira being on deck, and A-Rod hitting two homers last week are signs these guys are close to getting back to where they need to be. The sooner they get going, the better the Yankees' chances of winning the AL East.