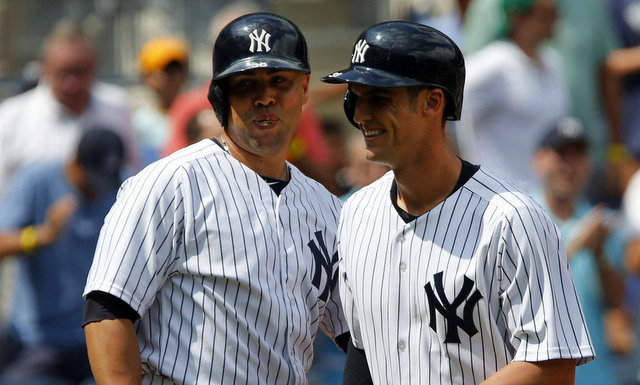 Last night the Yankees beat the Blue Jays thanks in large part to Carlos Beltran, Greg Bird, and Luis Severino. Others certainly helped, but Beltran and Bird stood out for their clutch late-inning home runs, and Severino chucked six innings of two-run ball against a great offense. They were the heavy-lifters in the team's most important win of the season (to date!).
Back in April, last night's win would have felt impossible. Beltran had a miserable opening month and looked very much like an older player on his last legs. Bird and Severino? They were in Double-A. Not Triple-A, Double-A. Calling up Severino in the second half seemed possible, sure, but Bird? I don't think anyone thought he would come up in the second half and play everyday.
Beltran, Bird, and Severino were total non-factors for the Yankees back in April. Beltran was a negative both at the plate and in the field, and the other two guys were two minor league levels away from the Bronx. The season is very long though, things change constantly over the course of 162 games, and now those three guys are all indispensable pieces as the Yankees look to clinch a postseason spot.
Let's be clear here: these are three players the Yankees can not live without right now. That's not hyperbole. Beltran and Bird have been the club's two best hitters this month and Severino has been no worse than their third best starting pitcher since he was called up. You could easily argue he's been their second best starts since being summoned. The Yankees are not hanging on to the top wildcard spot without these guys doing what they've done.
Beltran's first month was awful. You don't need me to remind you. He hit .162/.216/.265 (21 wRC+) with no homers in April. It was ugly. We all wanted him out of the lineup. Since then though, Beltran has hit .300/.361/.514 (136 wRC+) with 17 home runs in just over 400 plate appearances since May 1st (406 to be exact), including the go-ahead solo homer in the eighth inning last night. The crazy thing? It wasn't even Beltran's biggest homer against the Blue Jays this year:
Beltran's home run last night didn't stand up — Andrew Miller blew the save in the ninth, only his second blown save of the year — but the Yankees again rallied to take the lead, this time on Bird's three-run homer in the tenth. Chris Young (walk) and Slade Heathcott (catcher's interference) deserve credit for reaching base to start the rally, but it was Bird who not only hit the homer, but battled back from an 0-2 count to work it to 2-2.
In his short time as Mark Teixeira's injury replacement, Bird has hit .256/.336/.562 (142 wRC+) with ten homers in 34 games. Ten homers! He hit a dozen homers in 83 minor league games this year. Furthermore, six of Bird's ten homers have either tied the game or given the Yankees the lead. He's had some huge ones. The two-homer game against the Twins, the go-ahead blast against the Orioles, last night … Bird's been huge. Huge. Just don't ask him to talk about it.
"I'm just comfortable playing baseball. I don't really know how else to put it. But I enjoy it. I enjoy it here," he said to reporters following last night's win. That's the boring answer we're used to hearing from seasoned veterans, not a 22-year-old with barely more than month in the show. Bird is the big new thing but let's not forget how great Teixeira was before getting hurt. He was a monster and the Yankees aren't where they are without him. It could have been very bad when he went down. It hasn't been thanks to Bird.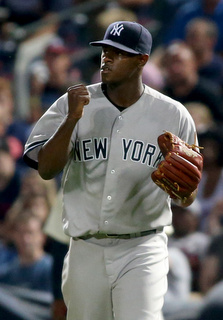 Then there's Severino, who zoomed through the system and has become a big time contributor who is only 24 months removed from rookie ball. He came up after the trade deadline — after the Yankees declined to trade for rotation help at the deadline, more precisely — and has given the team as huge boost, pitching to a 3.10 ERA (4.38 FIP) in nine starts and 49.1 innings. That's as good as it gets for a 21-year-old kid thrust into a postseason race. The Yankees have needed him too. The rotation is stretched thin due to injury.
Last night's start was Severino's third against the Blue Jays this year and easily his best. They hit him around a bit in their first meeting (three runs in six innings) then really did a number on him in their second meeting (six runs in 2.1 innings), but Severino rebounded, made the necessarily adjustments, and held them to two runs in six innings on the road last night. It would have been easy to understand if a rookie pitcher had been overwhelmed by that environment last night. Severino wasn't.
Back in April, I'm not sure anyone figured Beltran and Bird and Severino would be playing major roles down the stretch and into September. Beltran looked washed up and both Bird and Severino were sitting in Double-A, far away from the Bronx. (Well, not literally. They were only in Trenton.) The Yankees stuck with Beltran and have been rewarded in a huge way. They didn't trade for any significant help at the deadline and instead placed their trust in Bird and Severino. Again, they've been rewarded in a huge way.
Chances are the Yankees won't win the division. There's not much time left in the season and the Blue Jays are really good. They are in great position to claim a wildcard spot and return to the postseason, however. They wouldn't be where they are without Beltran, Bird, and Severino. They've all been major contributors down the stretch after it appeared none would have any impact earlier this season.