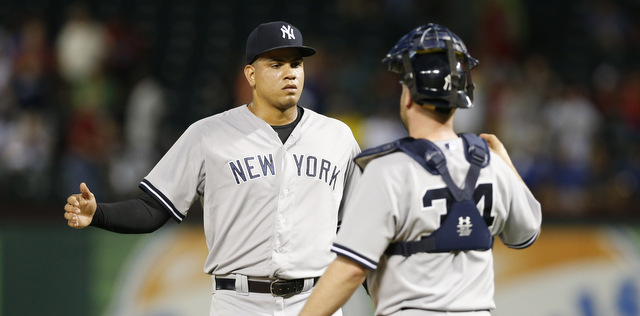 We're now into the final week of the regular season, meaning candidates for baseball's major annual awards only have a handful of games remaining to state their cases. Outside of NL MVP, which should go to Bryce Harper unanimously, the other major awards in both leagues feature some very tight races. It'll be fun to see them shake out.
The last Yankees player to win a major award was Mariano Rivera, who took home 2013 AL Comeback Player of the Year honors after tearing his ACL on the Kauffman Stadium warning track in 2012. Prior to that you have to go back to Alex Rodriguez's 2007 MVP season. There is something of a Yankee bias in the awards voting — a Yankee usually needs to have a season far superior to everyone else to receive votes, a la A-Rod in 2007. If it's close, the votes tend to go to the non-Yankee.
Anyway, as a reminder, the awards are all voted on following the end of the regular season but before the postseason. The playoffs have zero bearing on the major awards. They cover the regular season only. So, with that in mind, let's preview the awards races and see where some Yankees may fit into the picture, if any.
Most Valuable Player
Right now the MVP race is between Josh Donaldson and Mike Trout, with Donaldson seemingly in the lead. Trout, however, has equal or better offensive numbers (other than RBI, basically) and doesn't play in a hitter-friendly home park. Also, the Angels are right in the thick of the AL wildcard race. If they sneak in, will that push some voters towards Trout? The ballot literally says standings do not matter, but we all know they do. Voters consider that stuff all the time. Donaldson is the favorite but Trout could make it very interesting with a big final week to push the Halos into the postseason.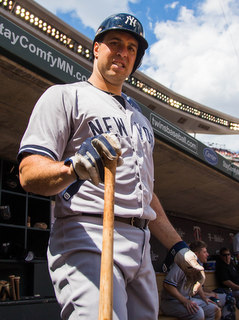 For much of the season Mark Teixeira was a legitimate MVP candidate based on old school stats. He was mashing taters and driving in runs (and playing great defense) for a first place team, which usually equals MVP candidate. Teixeira's injury — he only played 111 games this year — and the Yankees' tumble into a wildcard spot ended his long shot chances for the MVP award. Teixeira was awesome, but I thought it was a stretch to lump him into a group with Donaldson, Trout, Nelson Cruz, Manny Machado … guys like that.
The Yankees only have three other players remotely close to being considered MVP candidates, in my opinion: A-Rod, Brian McCann, and Dellin Betances. A-Rod has had a big year offensively but is still a DH, and DHs need huge years to win MVP. Not even peak Edgar Martinez and David Ortiz won an MVP, remember. McCann has been arguably the best offensive catcher in the league and a reliable defender. Betances? Even with his recent walk problems, he's been the most dominant reliever in the game this summer.
The MVP ballot includes ten spots and those last two or three spots always seem to get weird. Teixeira, A-Rod, McCann, and Betances could all get down-ballot votes. Heck, maybe Carlos Beltran and Andrew Miller will as well. Even Raul Ibanez got a tenth place vote on the 2012 MVP ballot after all those clutch late-season homers. (No, really.) I think a Yankee or three will get MVP votes in 2015. But they don't have a serious candidate to win the thing.
Cy Young
The Yankees do not have a legitmate Cy Young candidate. They probably won't even have a starter reach 170 innings — CC Sabathia leads the team with 162.1 innings with one start to go — which has never happened in a non-strike season in franchise history. Ever. Masahiro Tanaka has been the team's best starter and he's only thrown 149 innings with one start remaining. Betances and Miller could get votes — Dellin actually went into last night's game eighth in the AL in bWAR — but they won't win and shouldn't win. Too many deserving starting pitcher candidates.
At this point I'd say the AL Cy Young is a toss-up between Dallas Keuchel and David Price. The traditional stats are damn near identical — Keuchel is 19-8 with a 2.47 ERA, Price is 18-5 with a 2.45 ERA — and Keuchel has an edge in bWAR (7.3 vs. 6.0) while Price has an edge in fWAR (6.4 vs. 6.1). So pick one. I don't think there's a wrong answer. Sonny Gray, Chris Archer, and Chris Sale are among the other candidates. The Cy Young ballot includes five slots, not ten, and I suppose Dellin could steal a fifth place vote or two. He's pretty much their only hope for 2015 Cy Young votes.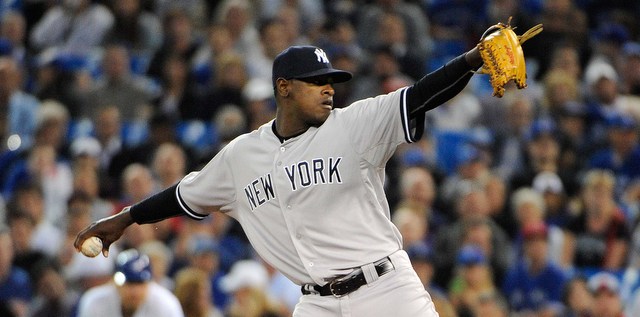 Rookie of the Year
The Yankees have used more rookies this season than at any point in the last 10-15 years or so — at a quick glance, I count 23 Yankees rookies, 16 of whom made their MLB debuts in 2015 — but they don't have a legitimate Rookie of the Year candidate. None of them have been around long enough. Chasen Shreve is the only rookie who has been on the roster more than even half the season, and he's a middle reliever. Middle relievers don't get Rookie of the Year votes.
Luis Severino is New York's best chance at Rookie of the Year votes and I don't see it happening at all. That's not meant as a knock on Severino's performance. He's been great, but ten starts and 55.1 innings just isn't enough to get love on a Rookie of the Year ballot that runs only three slots deep. Francisco Lindor and Carlos Correa will occupy the top two spots in whatever order, then the list of candidates for the third spot include Lance McCullers Jr., Roberto Osuna, Miguel Sano, Delino DeShields Jr., Devon Travis, and Billy Burns.
None of the baby Yankees have been around long enough to garner serious Rookie of the Year consideration this year. Maybe Severino steals a third place vote. Maaaybe. That's about it.
Manager of the Year
At some point in the last decade or so the Manager of the Year morphed into the "manager of the team that most exceeds expectations" award. Are the Yankees exceeding expectations this year? I think so, but more than, say, the Rangers (Jeff Banister) or Astros (A.J. Hinch) or Twins (Paul Molitor) or even the Blue Jays (John Gibbons)? That's up to the voters to decide.
The Manager of the Year ballot runs three names deep and last year seven of the 15 AL managers received a vote (Girardi got one third place vote). The year before that? Nine of 15 managers got a vote. Girardi has received at least one Manager of the Year vote every year with the Yankees except 2008, his first season. The smart money is on Girardi appearing on at least one voter's ballot. Winning it over Banister or Hinch or whoever? That's tough to see.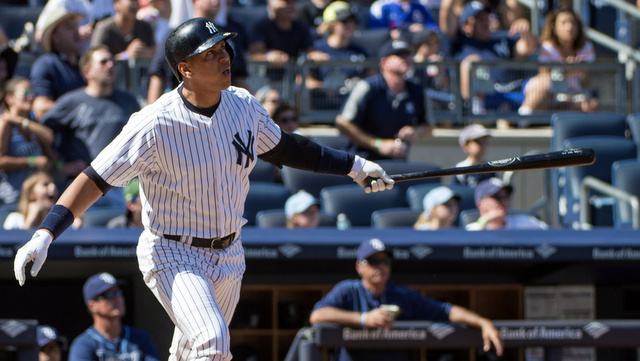 Comeback Player of the Year
Okay, now we're talking. A-Rod is a bonafide Comeback Player of the Year candidate along with Prince Fielder, Ryan Madson, and Kendrys Morales. (Jose Iglesias and Chris Davis are probably in the mix as well.) The Comeback Player of the Year used to be decided by fan voting, but it's now up to a panel of beat reporters. I'm not sure how that whole process works.
Rodriguez didn't play last season because of his suspension and there is precedent for a player being named Comeback Player of the Year following a performance-enhancing drug issues — Jason Giambi was named Comeback Player of the Year in 2005, a few months after getting caught up in the BALCO scandal. That doesn't necessarily mean the voters won't hold the PED stuff against A-Rod, but if they don't, it wouldn't be the first time it's happened.
Anyway, Madson is a non-closer reliever, which works against him. Usually closers are the only relievers to win major awards. That's not to say Madson isn't deserving — the guy missed three years after Tommy John surgery, after all — just that the history of the voting body works against him. On the other hand, A-Rod (130 wRC+), Fielder (126 wRC+), and Morales (130 wRC+) all have comparable offensive numbers and they're all DHs too. (Fielder has played only 18 games at first base this year.) Comparing them is nice and easy. Apples to apples.
The Comeback Player of the Year will come down to a matter of nitpicking. Fielder's batting average (.306) or Morales' RBI total (105) or A-Rod's homers (32)? You can slice this in any number of ways. I don't know if A-Rod will win the Comeback Player of the Year this year, but he's a legitimate candidate and the Yankees' best shot at winning a major award this season.