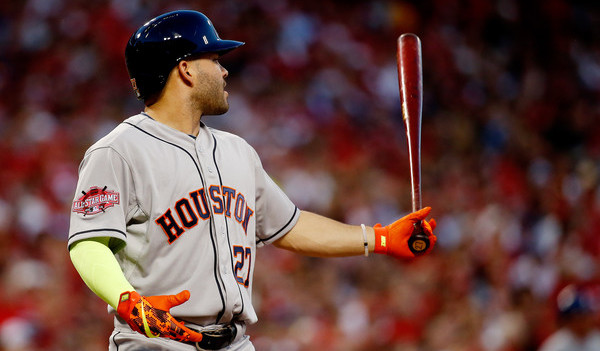 Only the Blue Jays hit more home runs than the Astros this season, yet Houston's most important offensive player is a 5-foot-6 contact machine who never hit more than seven homers in a season prior to 2015. Second baseman Jose Altuve is a catalyst from the leadoff spot, so, needless to say, Masahiro Tanaka and the Yankees will focus on keeping him off base in the wildcard game tonight.
Altuve, 25, hit .313/.353/.459 (120 wRC+) this season and broke out as a power threat with 15 homers, though it's his insane bat-to-ball skills that make him so dangerous. Altuve struck out in only 9.7% of his plate appearances this year, the fifth lowest strikeout rate among 141 qualified hitters this year, and his 89.4% contact rate was the fifth highest. If he swings the bat, chances are he will make contact.
Combined with his speed, that bat-to-ball ability makes Altuve a BABIP machine — he had a .329 BABIP in 2015, which was actually below his career average (.331) — and a straight up pest. He is not a comfortable at-bat for a pitcher or fans watching at home. That said, Altuve does have a weakness, because all hitters have a weakness. Against right-handed pitchers like Tanaka, Altuve's weakness is down and in (click the image for a larger view):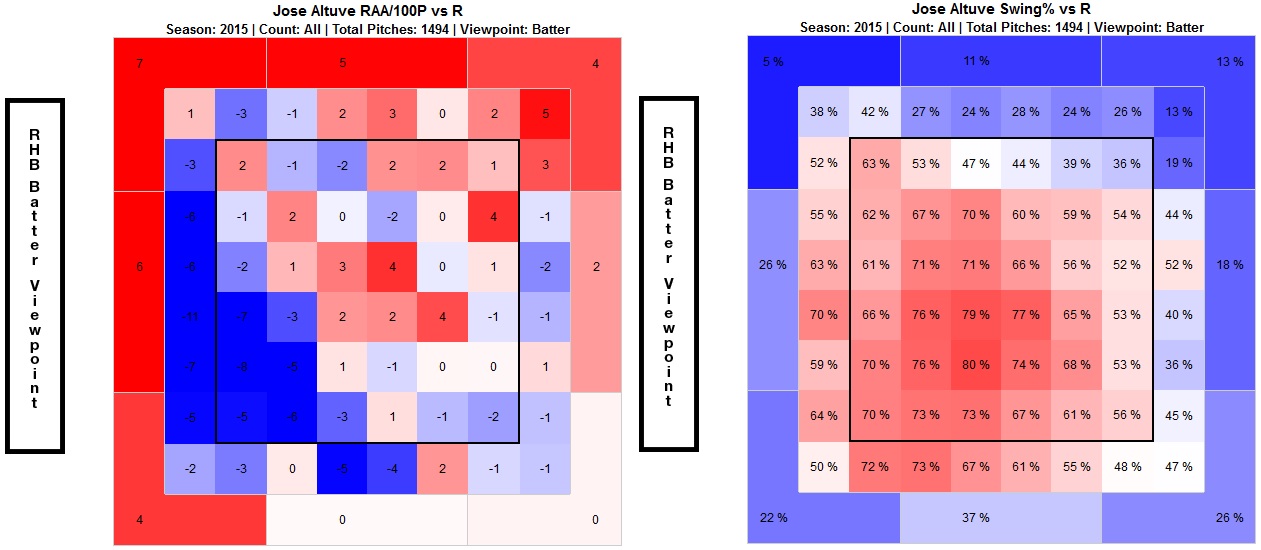 The heat map on the left shows Altuve's runs above average per 100 pitches, which in English means the brighter the red, the more damage he does on pitches in that location. The brighter the blue, the less success he has. The heat map on the right is his swing rate, so the brighter the red, the more he swings. The brighter the blue, the less he swings.
The RAA/100 heat map shows Altuve had no success against pitches down and in from right-handed batters this year. He could do nothing with those pitches, and, to be fair, not many righty hitters can do damage with a pitch in that location. At the same time, the swing rate heat map shows Altuve can't lay off those down and away pitches. He swings at them more often than not despite the lack of results.
The Yankees already know Altuve struggles against pitches down and in. Look at where they attacked him during their two regular season series this year, via Baseball Savant: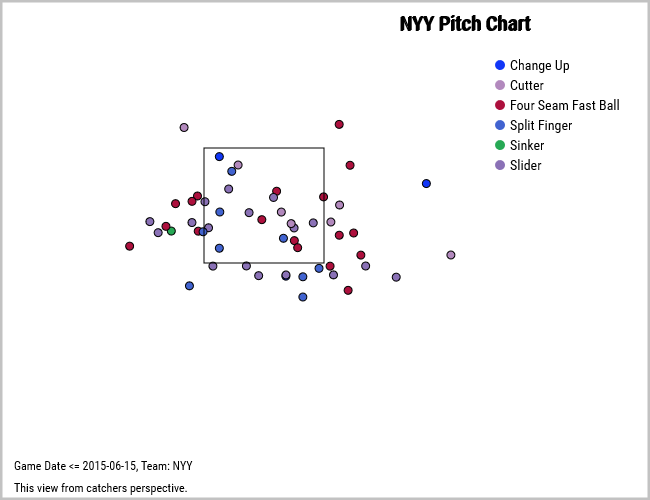 The Yankees really went after Altuve inside. Not so much down and in, but inside in general. They threw him plenty of pitches off the plate away because, well, you have to do that too. If you keep pitching a hitter in the same spot, he's eventually going to catch up and make an adjustment, especially a hitter as good as Altuve. The outside pitch sets up the inside pitch and vice versa.
Tanaka may be able to exploit Altuve's down and in weakness thanks to his splitter, which has that natural fade down and in to righties. Again, you can't throw him nothing but splitters down and in, but that's the potential out pitch. Altuve can be beat there. He's been a below average hitter against down and in pitches all season and he has trouble laying off them as well.
Altuve is pretty much the polar opposite of the rest of the Houston offense. He doesn't have a ton of power but he gets the bat on the ball and puts it in play seemingly at will. The rest of lineup? They'll swing and miss a lot. Keeping Altuve off the bases will be imperative tonight, and the best way to do that appears to be attacking down and in, under his hands.