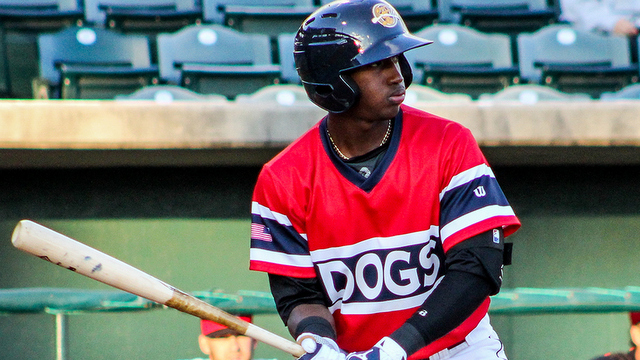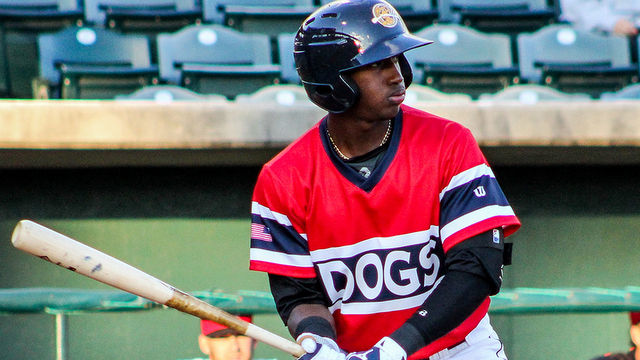 October 7th: The Yankees have indeed had Mateo take ground balls on the right side of second base during Instructional League, but only to get him used to playing the shift, reports King. "He's over there but only working on shifts," said Brian Cashman. That makes sense. Again, I don't see any harm in having Mateo work out at second at Instructs. That's the place to learn.
September 21st: According to George King, the Yankees are considering having top shortstop prospect Jorge Mateo spend some time working out at second base during Instructional League. The team isn't giving up on Mateo as a shortstop, they just want to see how he handles the other side of the bag. The decision is not even final yet.
First things first: the good news is this indicates Mateo is healthy. He finished the minor league season on the DL, remember. Mateo hurt himself running the bases about a week before the end of High-A Tampa's season and they stuck him on the DL, but apparently it's nothing serious. The Yankees not only have him scheduled to play in Instructs, but may even try him at a new position. I doubt they'd do that if he was still hurting.
Anyway, one scout told King he likes Mateo better at second — "His hands are a little too nervous for short," said the scout. "He is more suited for second base. He is a big league player. The bat is good, he can run and he will be able to play second base." — but just about every scouting report indicates he has the athleticism, quickness, and arm to remain at the position for the foreseeable future.
That said, there's no harm in giving Mateo some time at second base — he's never played a position other than shortstop (and DH) in his four-year career — and Instructs is the perfect time to do it. The games are controlled, he can get extra attention from coaches, the works. It's much easier to work on a new position there as opposed to trying to pick it up on the fly during the season.
The Yankees have been pretty aggressive with their prospects this year and I have no reason to think that won't continue going forward. Mateo almost certainly won't be big league ready next year, but he might be in 2017 if things go well, and the Yankees will need a place to play him. Didi Gregorius has been pretty awesome since May and is clearly the shortstop of the present and near future.
Instructional League started last week and runs through mid-October, according to Robert Pimpsner. Baseball America's roster shows seven shortstop prospects headed for Instructs: Mateo, Angel Aguilar, Abi Avelino, Thairo Estrada, Wilkerman Garcia, Kyle Holder, and Hyo-Jun Park. My guess is Mateo will not be the only one to work out at second base in the coming weeks.
The 20-year-old Mateo hit .278/.345/.392 (114 wRC+) with two home runs and a minor league leading 82 steals in 99 attempts (83%) in 117 games at Low-A Charleston and High-A Tampa this summer. I ranked Mateo as the fifth best prospect in New York's system following the draft and he currently ranks 91st on MLB.com's top 100 prospects list. He'll make all the usual top 100 lists next spring.