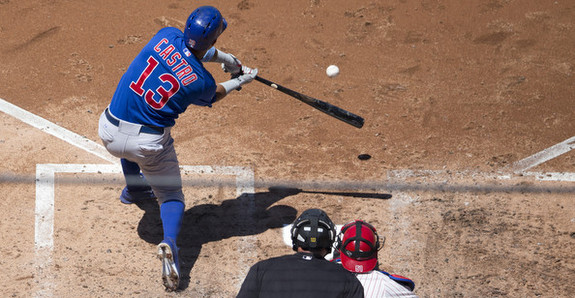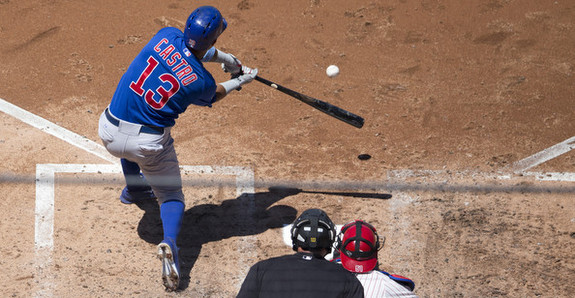 2:58pm: Feinsand says the Yankees are not interested in the Gardner-for-Castro framework. They do have some interest in Castro, just not at the cost of Gardner.
1:34pm: For what it's worth, Jon Heyman says there have been no Gardner-for-Castro talks yet. The Yankees are looking for pitching in any trade.
12:00pm: According to Mark Feinsand, the Yankees and Cubs have discussed a trade that would send Brett Gardner to Chicago for infielder Starlin Castro. The Yankees talked to the Mariners about Gardner earlier this offseason — George King says they asked for Taijuan Walker in return — and Feinsand says they've discussed Gardner with "many teams."
Last week Brian Cashman told reporters the Yankees are seeking "more balance" at second base, meaning a strong defender. They already have offense first options in Rob Refsnyder and Dustin Ackley. Castro, who turns 26 in Spring Training, played shortstop his entire career before moving to second base last August. He was a really poor defensive shortstop but the stats liked him at second, but it's only a 38-game sample, so who knows.
Of course, there's also the matter of Castro hitting .265/.269/.375 (80 wRC+) this past season and .265/.305/.383 (89 wRC+) over the last three seasons, covering nearly 2,000 plate appearances. He was very good in 2014 (117 wRC+) but awful in 2013 (74 wRC+) and slightly less awful in 2015 (80 wRC+). Castro has been one of the worst all-around regulars in baseball two of the last three years.
Gardner's contract and Castro's contract are basically a wash financially ($38M vs. $41.4M) but Castro's deal includes one extra guaranteed year, so the annual salaries are lower. That would help the luxury tax situation, which I'm sure Hal Steinbrenner would love. Over the last year the Yankees have acquired talented young players who've fallen out of favor with their teams, and Castro definitely fits the bill.
While moving Gardner is certainly possible, Gardner-for-Castro doesn't seem to pass the sniff test. It's not only the "more balance" stuff, but Castro also has a history of off-the-field problems and has been considered a bit of a headache times throughout his career. The Yankees value clubhouse chemistry and good makeup and all that stuff very highly.
That said, the Yankees have some inside information on Castro. Special advisor Jim Hendry was the Cubs GM when the team signed, developed, and summoned Castro to the big leagues. Pitching coach Larry Rothschild was there for a year with Castro too, so at least he's been in the clubhouse with him. There are some connections.
My guess is this leak came from Chicago's side. The Yankees tend to keep things very close to the vest and the Theo Epstein regime has a history of leaking lots and lots of info to the media. We'll see where this goes. I'm not a big fan of dealing Gardner for Castro but on paper it makes some sense, depending on your opinion of the two players.