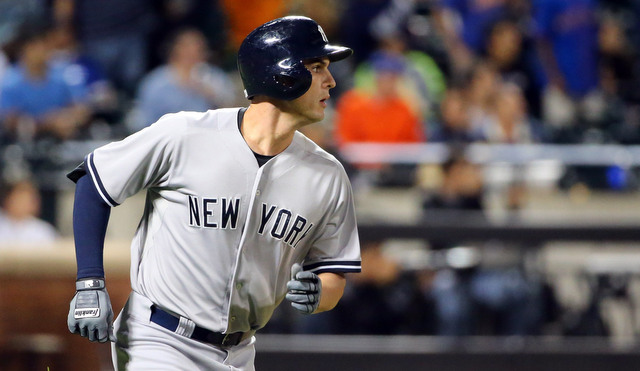 For the first time in a long time, the Yankees came into the season with some high-end prospects close to the big league level. We've spent the last few years talking about how the farm system was on the rise due to the team's lower level talent, but geez, that's lame as hell. Every team has talented players at the lower levels. That didn't make the Yankees special as much as we wanted it to.
This year was different because of that upper level talent. And, given the club's newfound commitment to young players, many of those players got an opportunity to help at the big league level this summer. Greg Bird, who I ranked as the fifth best prospect in the organization coming into the season, was one of those players even though he was what you could have considered a "blocked" prospect because of his position. Nevertheless, Bird got a chance late in the season and had an impact.
The Joys of Spring
The Yankees invited the 22-year-old Bird to Spring Training and he was arguably the most impressive young hitter during Grapefruit League play. It was either Bird or the resurgent Slade Heathcott. (Heathcott received a James P. Dawson Award as the best rookie in camp, for what it's worth.)
Either way, Bird appeared in 13 spring games and went 6-for-17 (.353) with three doubles and a home run. He stood out most for his ultra-refined approach and insanely quick hands.
Bird had almost zero chance to make the Yankees out of Spring Training. He just wasn't at the point in his career where that was a possibility. That said, young players like Bird still have a chance to make a strong impression on the front office and coaching staff in Spring Training. You might not make the team, but you can put yourself in position to be considered for a call-up during the season, and that's exactly what Bird did it in camp. He was dynamite.
Back to the Minors
The Yankees assigned Bird to Double-A Trenton to start the season — he ended last year with 27-game cameo for the Thunder — and he started slowly, going 7-for-39 (.179) with only three extra-base hits in the first eleven games of the season. Bird eventually got hot, raked for a few weeks, then landed on the DL with a right shoulder injury. He was sidelined a month.
Bird returned in early-June, crushed the ball for a month (143 wRC+ in 24 games), then was promoted to Triple-A Scranton as part of the team's mass midseason promotions. He hit .258/.358/.445 (133 wRC+) with six homers, a 14.2% strikeout rate, and an 11.3% walk rate in 49 Double-A games this year. Bird shook off the slow start and showed no ill-effects following the shoulder injury.
After the promotion to Triple-A, Bird hit .301/.353/.500 (146 wRC+) with six homers in only 34 games with the RailRiders, with an 18.0% strikeout rate and a 7.3% walk rate. It was his first taste of the level and, like pretty much every other stop in his career, Bird put up big numbers. He hit .277/.356/.469 (139 wRC+) with 12 home runs, a 15.7% strikeout rate, and a 9.7% walk rate in 83 minor games split between Double-A and Triple-A in 2015.
A Surprise Promotion
On August 13th, a little more than one week after calling up Luis Severino, the Yankees surprisingly called up Bird to bolster the bench. Trade deadline pickup Dustin Ackley was hurt and Garrett Jones hadn't been all that productive, so the Yankees saw it as an opportunity for an upgrade. A marginal upgrade — the plan was to use Bird to rest Mark Teixeira and Alex Rodriguez on occasion, that's it — but an upgrade nonetheless.
Bird made his Major League debut in Cleveland on August 13th, the day he was called up. They put him right in the lineup. Bird went 0-for-5 with two strikeouts as the seventh place hitter and first baseman. He started again two days later at first base — Teixeira sat on the 13th then served as the DH on the 15th with A-Rod resting — and went 1-for-4 with a strikeout in Toronto.
Bird's first career hit came in his ninth plate appearance. He had been making solid contact but had a knack for finding gloves early on. That's baseball. So, naturally, his first career hit was a little ground ball through the left side side of the infield.
Two days after Bird picked up his first career hit, Teixeira fouled a ball off his shin and suffered what proved to be a season-ending fracture. Bird's stint as a bench player or spot starter or whatever you want to call it lasted five days. Bird replaced Teixeira off the bench that game, then, in the tenth inning, he sparked the team's game-winning rally with a leadoff double against Glen Perkins.
That was Bird's first career extra-base hit. Later in the inning he scored his first career run to win the game. He drew his first career walk in the seventh inning, in his first at-bat after coming in for Teixeira. Bird got a lot of "firsts" out of that way that night.
We didn't know Teixeira's injury was season-ending at the time, but it looked like he was going to miss at least a few days, so Bird was going to get an opportunity to play a few games in a row. It was an unfortunate way to get him in the lineup. That's usually what it takes for a young player to get a chance though, an injury.
An Everyday Player, Suddenly
Teixeira started just one game the rest of the season. About a week later, with his shin feeling only slightly better, he started and played six innings against the Astros in a blowout loss. He pinch-hit in the ninth inning the next night. Teixeira did not play again the rest of the season.
In his first game as the starting first baseman, Bird went 2-for-4 and drove in a run. In his second, he went 2-for-4 with a pair of two-run home runs in the Yankees' 4-2 win over the Twins. He provided all of the offense with his first and second big league dingers.
Bird was, like most players, consistently inconsistent the rest of the season. He went 3-for-23 (.130) with nine strikeouts in the nine games immediately following the two-homer game. Then he went 11-for-35 (.314) with three home runs in the next ten games. A 2-for-19 (.105) stretch followed that. On and on it goes. That's pretty normal. Day-to-day consistency is a myth in baseball. The season is just a bunch of hot and cold streaks.
Bird's most dominant stretch of the season was a seven-game span from September 15th to the 22nd, when he went 9-for-26 (.346) with three doubles and five home runs, including a homer in three consecutive games at one point. The third of those three was a go-ahead three-run shot in the tenth inning in Toronto, with the Yankees desperately trying to keep pace with the Blue Jays in the AL East.
The Yankees struggled big time in the final week of the season but not because of Bird. He was one of their few reliable bats down the stretch. Bird went 7-for-21 (.333) in his final seven games of the season and finished the year with an overall .261/.343/.529 (137 wRC+) batting line in 178 plate appearances across 46 games. He hit eleven home runs and drew a lot of walks (10.7%), but also struck out quite a bit (29.8%). Pitchers attacked him relentlessly with high fastballs. Here is the pitch type and location of his 53 strike threes.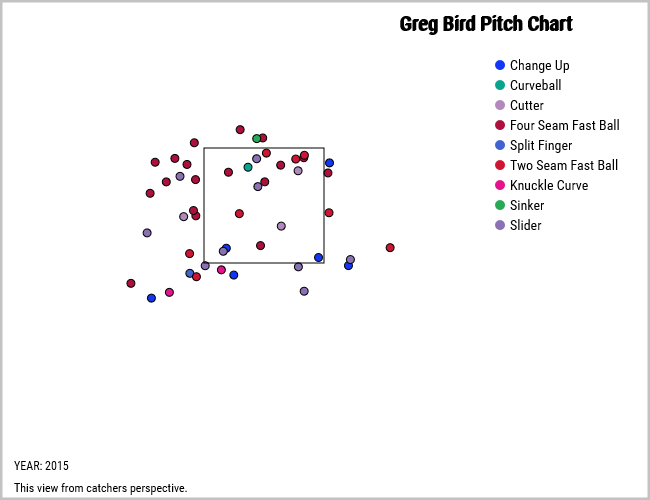 The high fastball is definitely a vulnerability for Bird right now. It is for a lot of hitters — fastballs in the upper third of the strike zone and above have a 9.1% whiff rate compared to 6.9% for all fastballs overall — so this isn't unique to Bird. Opposing teams identified it as a weakness — they were throwing Bird high fastballs in strikeout situations the day of his debut, scouting reports are crazy good these days — and now it's up to Bird to adjust.
The Yankees had only three hits against Dallas Keuchel and the Astros in the wildcard game and Bird had one of them, a solid line drive single to right in the second inning. Bird hit an acceptable .238/.347/.405 (110 wRC+) against southpaws like Keuchel overall this season — he hit .270/.341/.574 (147 wRC+) against righties — though it's both a small sample (49 plate appearances) and quite misleading. Bird crushed lefties early and then went 5-for-31 (.161) against them in the final month.
Even with those late-season struggles against lefties, Bird was an excellent fill-in for Teixeira. The original plan was the play him two or three times a week to rest Teixeira and A-Rod, but the injury forced him into everyday duty, and Bird excelled. I didn't think he would get called up at all this year coming into the season, the call-up was a total surprise to me, but Bird handled the promotion well. At least offensively. His defense remains rough around the edges.
Fly Balls & Hard Contact
Three things about Bird stood out to me during his relatively brief time as a big leaguer this season. One, he's very calm at the plate. Joe Girardi called it a "slow heartbeat." Bird seems very controlled with a bat in his hands. Two, he rarely hits the ball on the ground. And three, he hits the ball very hard. Combine two and three and you get a lot of hard hit balls in the air.
Here are Bird's batted ball rates compared to the MLB average, just to give you an idea of how extreme his fly ball/hard hit tendencies really are:
| | GB% | LD% | FB% | Soft% | Medium% | Hard% |
| --- | --- | --- | --- | --- | --- | --- |
| Bird | 26.7% | 21.9% | 51.4% | 14.3% | 41.0% | 44.8% |
| MLB Avg | 45.3% | 20.9% | 33.8% | 18.6% | 52.7% | 28.6% |
Among the 389 batters with at least 150 plate appearances this season, Bird had the lowest ground ball rate and the second highest hard contact rate. Only Giancarlo Stanton hit the ball harder, on average (49.7% … lol). Very, very few batters matched Bird's combination of hitting the ball hard and hitting the ball in the air.
Actually, a graph probably works best here. Here are those 389 batters with 150 plate appearances, with ground ball rate on the x-axis and hard contact rate on the y-axis: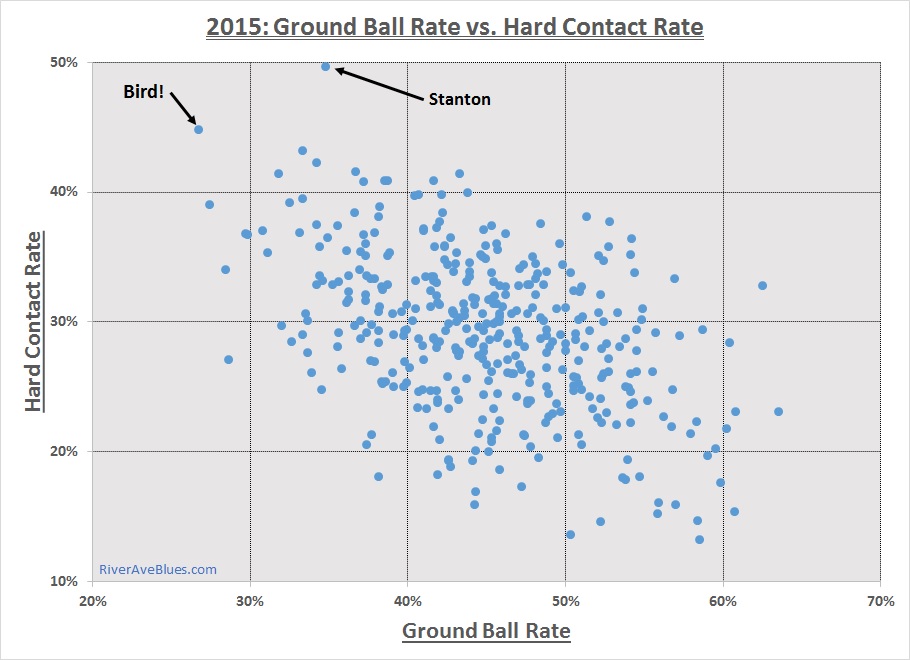 So yeah, when it came to hitting the ball hard and in the air this season, Bird was truly elite. Obviously small sample caveats apply, but I do think Bird's batted ball tendencies are notable because they match the scouting report coming into the season. Here's a piece of what Keith Law (subs. req'd) wrote in his preseason top 100 prospects list, in which he ranked Bird the 81st best prospect in the game:
Bird's swing is very short to the ball, and he accelerates his hands quickly for hard contact to all fields, rarely putting the ball on the ground because he squares it up so frequently.
Consistently hitting the ball hard and in the air is a wonderful recipe for extra-base hits. I don't know if Bird is a true talent sub-30% ground ball rate hitter, that seems very extreme — batted ball data has been recorded since 2002, and during that time only four of 729 hitters with at least 2,000 plate appearances have a sub-30% ground ball rate (Frank Thomas, Rod Barajas, Chris Carter, Jason Lane) — but the data matched the scouting report this year.
We'll find out next season whether Bird can sustain his unique hard hit fly ball profile. What we saw out of him was pretty exciting though. He has a plan at the plate, he has power, and he seems to do a lot of damage when he makes contact. The strikeouts are the only significant red flag at this point.
(I suspect Bird will always be prone to strikeouts because he works so many deep counts. It just comes with the territory. You can't drew a lot of walks and run 5+ pitch at-bats consistently without getting rung up a few times.)
Looking Ahead to 2016
Bird's role next season is TBD at this point. He played more than well enough to be in the team's future plans — he is clearly the first baseman of the future, there is little doubt about that — but Teixeira is under contract for another season, and he'll be at first base in 2016. Teixeira had a pretty awesome year, remember. The Yankees are better with him at first than Bird.
This is a problem that isn't a problem. Too many good players is a good thing. The Yankees could carry Bird as a bench bat again or they could send him to Triple-A for the time being. Teixeira, A-Rod, and Bird himself have not been the most durable players in recent years — Bird has had on and off back problems the last few seasons in addition to his shoulder injury this year — so my guess is there will be plenty of playing time for all three next year.