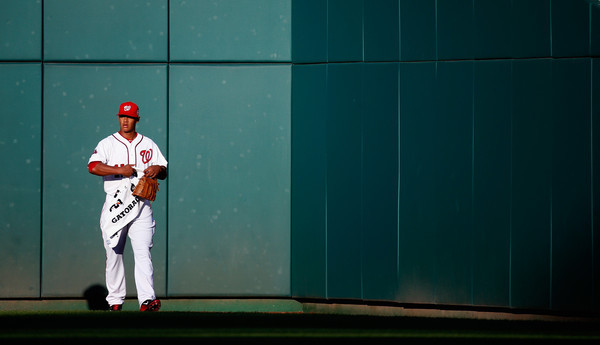 This past season the Nationals were the undisputed most disappointing team in baseball. They were expected to not only win the NL East in a landslide, but be a serious World Series contender. Instead, they went 83-79 and finished seven games back of the Mets thanks to injuries and poor individual performances. Basically everyone except Bryce Harper is to blame.
GM Mike Rizzo is tasked with picking up the pieces this offseason. He already fired the entire coaching (and training) staff and brought in Dusty Baker to run the clubhouse. Rizzo also has to replace several big name free agents, most notably Ian Desmond, Denard Span, and Jordan Zimmermann. Trea Turner can step in at short to replace Desmond, but finding a center fielder and starter will be more difficult.
Despite their disappointing season, the Nationals do still have a lot of talent on their roster, including 22-year-old right-hander Joe Ross, the younger brother of Padres righty Tyson Ross. Washington acquired the younger Ross from the Rays with Turner in the Steven Souza trade last winter. The Rays got him from the Padres in the Wil Myers deal a few days earlier. San Diego selected Ross in the first round (25th overall) of the 2011 draft.
Nick Cafardo recently reported Ross is "one of the most sought-after pitchers of the offseason," which makes sense because he's a good young starter. Those guys are always in demand. Cafardo says Rizzo is resisting all offers at the moment, but that could change depending how the offseason plays out. The Yankees are looking high and low for young controllable pitching this offseason, so is Ross a potential fit? Let's look.
2015 Performance
Ross started this season in Double-A, made nine starts (2.81 ERA and 2.80 FIP), then was called up to the Nationals for a three-game cameo. Washington eventually sent him down to Triple-A for five more starts (2.19 ERA and 3.85 FIP), then called him back to the big leagues for good in late-July. He replaced the struggling Doug Fister in the rotation.
All told, Ross had a 3.64 ERA (3.42 FIP) in 76.2 big league innings spread across 13 starts and three relief appearances. (The Nats moved him to the bullpen at the end of the season to control his workload.) He had very strong strikeout (22.0%), walk (6.7%), grounder (49.8%), and home run (0.82 HR/9) rates. I'm not sure what more you could want from a 22-year-old kid making his MLB debut.
Ross' overall numbers are impressive, so let's look at some platoon splits.
| | TBF | AVG/OBP/SLG (wOBA) | K% | BB% | GB% | HR/9 | Soft% | Hard% | FIP |
| --- | --- | --- | --- | --- | --- | --- | --- | --- | --- |
| vs. RHB | 160 | .170/.209/.252 (.205) | 26.3% | 3.8% | 63.6% | 0.62 | 24.3% | 20.7% | 2.58 |
| vs. LHB | 154 | .275/.353/.456 (.351) | 17.5% | 9.7% | 35.8% | 1.08 | 11.7% | 38.7% | 4.51 |
Obviously small sample size warnings apply, but gosh, that's a massive platoon split. Ross totally dominated right-handed batters during his time with the Nationals but got knocked around pretty good by lefties. For what it's worth, he had a negligible platoon split during his time in the minors this past season, but that's not uncommon. Good pitching prospects tend to have success against everyone in the minors.
Plenty of starters put together long careers with a platoon split, though I'm not sure anyone has done it with a platoon split quite that extreme. Ross is still only 22, so he's not a finished product. Figuring out a way to combat lefties is at the top of his (and his organization's) to-do list going forward. Holding opposite hand hitters to even league average numbers would make Ross an above-average starter given his success against righties.
The Stuff
Coming into the season, Ross was a borderline top 100 prospect who jumped into top 50 prospect territory by midseason thanks to his Double-A and Triple-A dominance (and brief MLB competence). Keith Law (subs. req'd) ranked Ross as the 23rd best prospect in the game in his midseason update while Baseball America and MLB.com had him 31st and 33rd, respectively. Here's a snippet of Baseball America's preseason scouting report:
He shows two plus pitches with consistency, though his changeup still has a long way to go for scouts to confidently peg him as a quality starter. Ross pitches at 93-94 mph and tops out at 97 with above-average riding life on his fastball, which helps him keep the ball on the ground and home runs off the board. He can alter batters' eye level with a power slider that darts out of the zone and flashes plus potential. He loses velocity in later innings and doesn't have the best feel for mixing his pitches.
That lack of a changeup — Ross threw the changeup only 6.8% of the time in the big leagues — explains the struggles against left-handed batters. This isn't anything out of the ordinary. Young pitchers often lack a reliable changeup because they never really needed one before. They dominated in high school and college and even in the minors without one. Ross is hardly an exception here.
Even if he improves the changeup down the road, the fastball and slider will always be Ross' bread and butter. He's similar to Michael Pineda in that sense. (And his brother Tyson, in fact.) Pineda has done a nice job developing a usable changeup the last two years but it's always going to lag behind his heater and slider. The same will likely be true for Ross.
Anyway, here's some video of Ross in action so you can actually see what his pitches look like:
Interestingly, the PitchFX gurus at
Brooks Baseball
classify Ross' fastball as a sinker because it moves so much. That's the "above-average riding life" mentioned in the Baseball America scouting report. And you can see that movement in the video. Ross' fastball runs back in on righties and that's a great way to get ground balls and limit extra-base hits. The movement helps keep the ball off the barrel.
The video sure makes Ross' fastball-slider combination look great — I don't remember seeing any changeups in there — but it is a highlight video, so it's only going to show good pitches. Here are some numbers that paint a broader picture. (There are his numbers as a starter only. I removed those three relief appearances at the end of the season.)
| | % Thrown | Avg Velo | Max Velo | Whiff% (MLB Avg) | GB% (MLB Avg) |
| --- | --- | --- | --- | --- | --- |
| Sinker | 57.4% | 93.7 | 97.7 | 4.7% (5.4%) | 51.8% (49.5%) |
| Slider | 35.8% | 84.2 | 88.3 | 24.9% (15.2%) | 52.4% (43.9%) |
| Changeup | 6.8% | 87.4 | 90.7 | 7.1% (14.9%) | 40.0% (47.8%) |
For at least this past season, Ross had an elite slider in terms of swing-and-miss rate and ground ball rate. Both numbers were well-above-average compared to the league averages for sliders. The sinker was more or less average and the changeup … well the changeup was bad. Leave it at that.
Much like Pineda and Nathan Eovaldi, the idea with Ross would be acquiring a guy with good raw ability and helping him get to the next level by teaching him an offspeed pitch. Pineda's made some progress with the changeup and Eovaldi really took to the splitter this summer. Ross' fastball and slider are a great starting point. Get him to develop and trust a usable third pitch changeup and you've got yourself a nice looking young starter.
Injury History
Ross is a pretty big guy at 6-foot-4 and 205 lbs., so he has the look of a workhorse, but size doesn't always equal durability. He's had two notable injuries in his career. Shoulder tendinitis forced Ross to miss close to two months in the middle of the 2012 season, and shoulder fatigue ended his 2014 season in early-August.
Shoulder woes are always a red flag, though the good news is Ross hasn't had any kind of strain or structural damage that required surgery. Just a little tendinitis and fatigue. (He was healthy in 2015 as well.) Not great news but not the end of the world either. The Baseball America scouting report noted Ross struggles to hold his velocity deep into games and that was certainly true this summer, so stamina is a concern.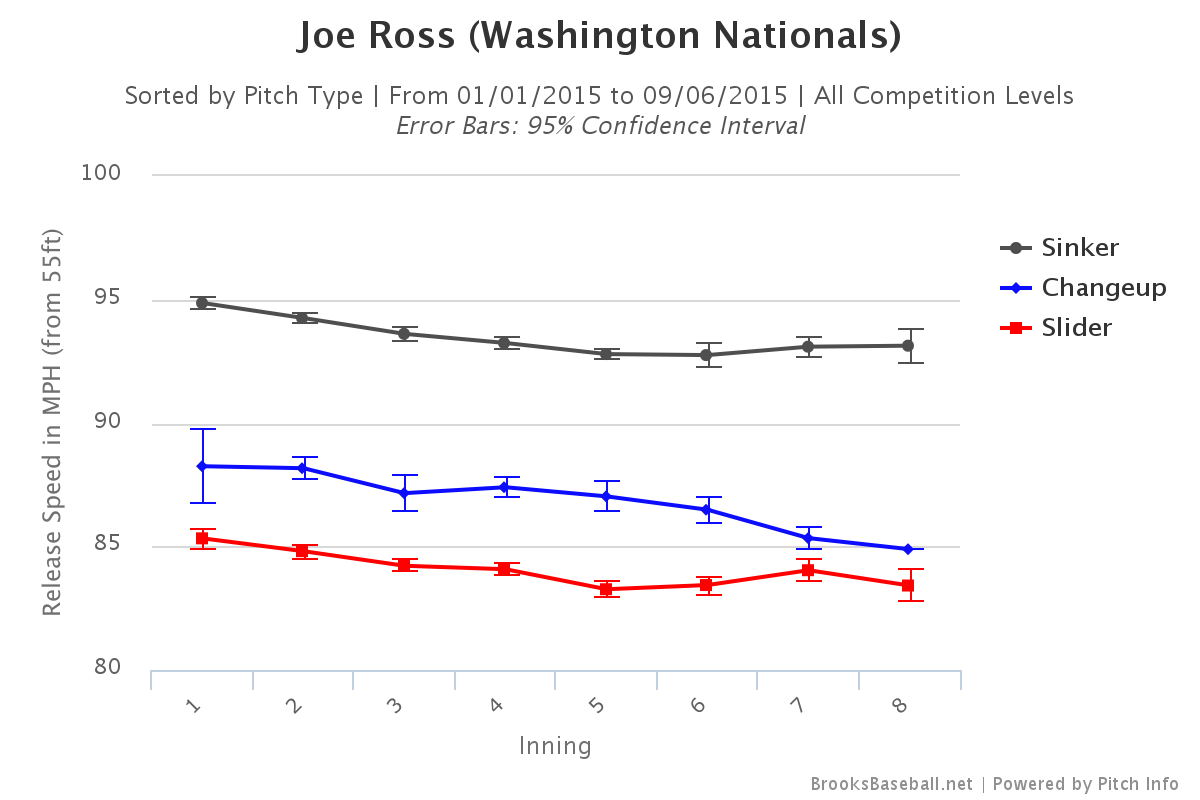 That's his time as a starter only. It doesn't include those three relief appearances in September, when the Nationals basically shut Ross down for workload reasons.
There's some who believe Ross is destined for the bullpen long-term because he lacks a changeup and doesn't hold his velocity deep into starts, and that's a valid opinion. I do think it's way too early to say Ross is destined for the bullpen, however. He's only thrown 452.1 innings in his entire career. Gotta give him more time than that to work on his changeup and other stuff, right?
Contract Situation
This is easy: Ross was added to the 40-man roster and called up to MLB for the first time this June. He is sitting on 94 days of service time, meaning he has all six years of team control remaining and is not on pace to be a Super Two player if he never returns to the minors, so you'd be getting three pre-arbitration and three arbitration years. Ross did burn a minor league option when he was sent back to Triple-A in late-June, so he has two left.
Possible Cost
This is always the tricky part, coming up with comparable players who were traded, giving us an idea of Ross' trade value. Ross himself was traded twice this past offseason, which helps a little, but not much because he was a prospect then and now he's a guy with some MLB success under his belt. That makes a big difference. Also, Ross was part of a package of players each time, so isolating his trade value is tough.
Ross shot up and became a consensus top 50 prospect this summer, and he has six full years of team control left, so that's our starting point. Here are similar top 50-ish pitching prospects (per Baseball America) who were traded in recent years:
Daniel Norris: Part of a three-player package for a half-season of David Price.
Matt Wisler: Part of a four-player package for three years of Craig Kimbrel and Melvin Upton.
Andrew Heaney Part I: Part of a four-player package for four years of Dee Gordon and one year of Dan Haren.
Andrew Heaney Part II: Straight up for one year of Howie Kendrick.
Chris Archer: Part of a four-player package for three years of Matt Garza.
Casey Kelly: Part of a three-player package for one year of Adrian Gonzalez.
Zack Wheeler: Straight up for a half-season of Carlos Beltran.
Does this help us any? Eh, not really. Only Norris (30 innings) and Heaney (29.1 innings) had MLB experience at the time of their trades. Wheeler was in High-A, Archer and Kelly were in Double-A, and Wisler was in Triple-A. Not many young pitchers like Ross — under control for six years but with some big league success and experience under their belt — get traded these days.
Wrapping Up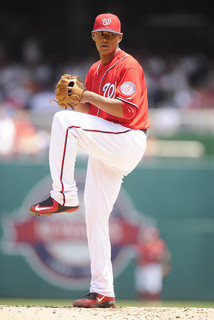 It's very hard to ignore the Yankees and Nationals match up really well for a trade. Washington needs a center fielder and leadoff hitter to replace Span (Brett Gardner …. or Jacoby Ellsbury?), they want another high-end reliever (Andrew Miller), and they could use rotation depth after losing Zimmermann and Fister (Ivan Nova).
The Yankees are not necessarily shopping Gardner, Miller, or Nova, but their names are out there and the team seems very willing to listen to offers. A young controllable starter like Ross is said to be atop their wish list. Of course, the Nats need a young and controllable starter too since Zimmermann's gone and Stephen Strasburg will be a free agent next offseason.
The lack of a changeup and the shoulder woes are definite red flags, but Ross is the kind of pitcher the Yankees have been targeting in recent years: big fastball, low walk rate, and physically big. They're obviously confident in pitching coach Larry Rothschild's ability to teach an offspeed pitch — they wouldn't have acquired Pineda and Eovaldi if they weren't — so I doubt the lack of a changeup scares them. They've accepted that challenge before, multiple times.
Maybe there is a deal to be built around the Gardner-for-Ross or Miller-for-Ross framework. I wouldn't say each team is dealing from a position of depth — is Ross a surplus for the Nationals? is Miller a surplus for the Yankees? — but they would be addressing a clear need. The real question isn't Ross' talent and ability. It's whether the Nationals and Rizzo are even open to moving him.