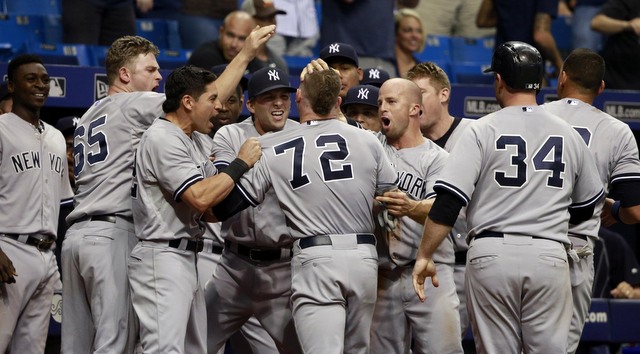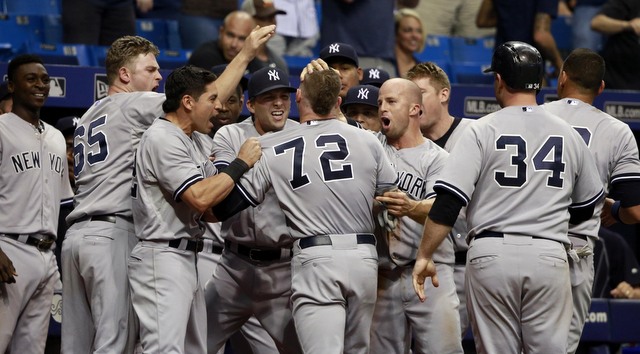 Thanks mostly to Jacoby Ellsbury's knee injury, the Yankees had an opportunity to audition several of their young outfielders this past season. Of course several of the young guys then got hurt as well. The center field position was cursed for a few weeks there. Whoever played the position kept getting hurt.
I'm not sure many folks expected Slade Heathcott and Mason Williams to make their MLB debuts this summer, but the Yankees dipped into their system for help time and time again, and both got the call. Both made solid impressions before the injuries too. Those two plus Ramon Flores spent time with the Yankees this summer and all three helped in their own way.
First Up: Heathcott
At this time last year, the Yankees were about to non-tender Heathcott and remove him from the 40-man roster. The plan was to non-tender him, re-sign him to a minor league contract, and keep him as a non-40-man player. Heathcott leveraged his sudden free agency into a pretty sweet deal and returned to the organization a few days later.
Injuries, specifically knee and shoulder surgeries, limited Heathcott to nine games in 2014 and 117 games total from 2012-14. It was a long shot he would be able to contribute, but Slade came to Spring Training healthy and in great shape, and he mashed. He hit .333/.450/.545 in 23 Grapefruit League games and received the James P. Dawson Award as the best rookie in camp.
The Yankees planned to sent Heathcott to Double-A Trenton to start the season, but his strong spring convinced them he was ready for Triple-A Scranton, so he instead opened the year with the RailRiders. He stayed healthy and continued to hit early in the regular season, putting up a .285/.335/.358 (102 wRC+) batting line in his first 37 Triple-A games. On May 19th, after Ellsbury hurt his knee, the Yankees called Slade to the show for the first time.
Heathcott did not start that first game on May 20th, instead making his MLB debut by coming off the bench in the late innings for defense. He started in center field the next day and went 2-for-3 with a double. The double was his first career hit in his first career at-bat. Three days later, Heathcott launched his first career big league home run.
The kid was on fire. Slade went 6-for-17 (.353) with a double and a home run in his first six big league games … and then he got hurt. All the air was let out of the balloon. A strained quad was the culprit this time, and I guess the good news is it was only a muscle pull, not serious structural damage that required surgery like the knee or shoulder.
The quad injury sidelined Heathcott for two months — he was actually placed on the 60-day DL at one point to clear 40-man roster space — and, once healthy, he returned to Triple-A Scranton. Slade hit a disappointing .257/.300/.336 (84 wRC+) in his final 30 Triple-A games of the season. The Yankees did not call him up on September 1st either. They wanted him to get regular at-bats and not sit on the big league bench.
Heathcott remained with the RailRiders through the end of the minor league season before being called up on September 12th. On September 14th, after entering a game against the Rays as a defensive replacement in the eighth inning, Heathcott hit a go-ahead three-run home run in the top of the ninth. It was, as Michael Kay would say, a UUUGE hit.
That was one of the coolest moments of the season, hands down. Forget the enormity of the hit — the Yankees were desperately trying to stay in the AL East race and needed every win possible — just think about everything Heathcott had gone through in his career up to that point. All the injuries, all the off-the-field problems. He had to overcome an awful lot to get to that point. It was so awesome.
The home run didn't earn Heathcott more playing time — he received only eleven plate appearances the rest of the way — but he did see time as a defensive replacement and in the late innings of blowouts. The Yankees were in the postseason race and stuck with their regular veteran outfielders. I can't fault Joe Girardi for that.
In 17 big league games this summer, Slade went 10-for-25 (.400) with two doubles, two home runs, and mean defense in right and center fields. He was also on the wildcard game roster but did not play. Heathcott hit .267/.315/.343 (90 wRC+) with two homers in 64 Triple-A games around the quad injury as well. All things considered, it was a successful bounceback from his injury plaque 2014 season.
Heathcott remains on the 40-man roster and he has a minor league option remaining for next season. If he stays healthy — that will always be a big if — Slade figures to again start the season with Triple-A Scranton, though a Brett Gardner trade could open up a big league roster spot. We'll see how that works out. For now, he's put himself in position to be a call-up candidate.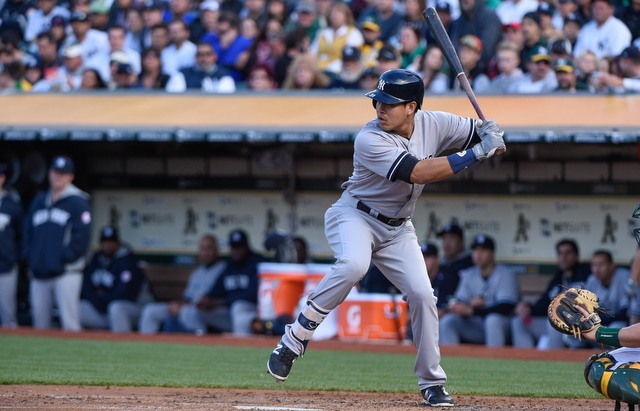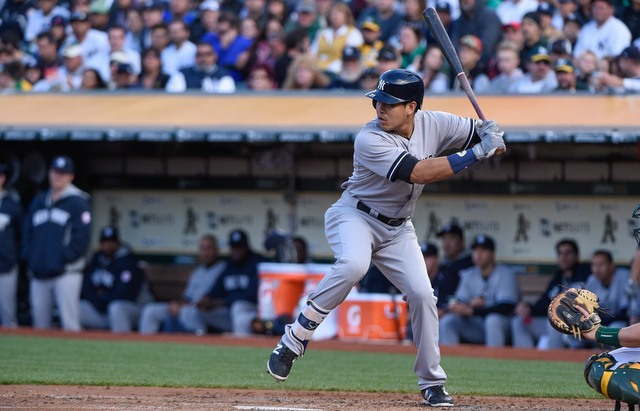 Next Up: Flores
Although he didn't offer the same tools, Flores had been more productive than either Heathcott or Williams the last few years in the minors. He played well in Spring Training — he even hit a walk-off Grapefruit League homer (video) — and started the season with Triple-A Scranton. After Ellsbury and Heathcott got hurt, Flores was called up to the big leagues for the first time in late-May.
Flores made his MLB debut on May 30th in Oakland, and he stood out more for his glove than his bat at first. He made several stellar defensive plays in the spacious O.co Coliseum, including throwing a runner out at the plate (video) and making a diving catch in foul territory (video). The Yankees traveled to Seattle next and Flores threw another runner out at the plate, coincidentally Dustin Ackley.
Flores recorded his first career big league hit on a ground ball single against Jesse Chavez, and in his first nine games with the team, he went 7-for-26 (.269) with a double. That includes a 3-for-4 game against the Nationals on June 9th. The Yankees eventually decided to bring up a center field capable defender and Flores was sent back to Triple-A for a few weeks. He rejoined the Yankees in early-July for a few games after Carlos Beltran landed on the DL with an oblique strain. On July 4th, Flores bunted into a walk-off error.
The Yankees sent Flores back to Triple-A shortly thereafter, where he stayed until being traded to the Mariners with Jose Ramirez for Ackley at the deadline. Flores went 7-for-32 (.219) in 12 games with the Yankees and hit .286/.377/.417 (133 wRC+) with seven home runs in 73 Triple-A games before the trade. He played 14 games with Seattle's Triple-A affiliate before suffering a season-ending ankle injury. The Mariners flipped him to the Brewers for infielder Luis Sardinas last week.
The Yankees have a lot of upper level outfield depth and something had to give. Flores was arguably the most productive of the group and I think he's got a good chance to carve out a lengthy career as a platoon bat, but he'll be out of minor league options next season and the Yankees don't have a spot for him on the big league roster. Using him to get a piece who fits the roster better made perfect sense.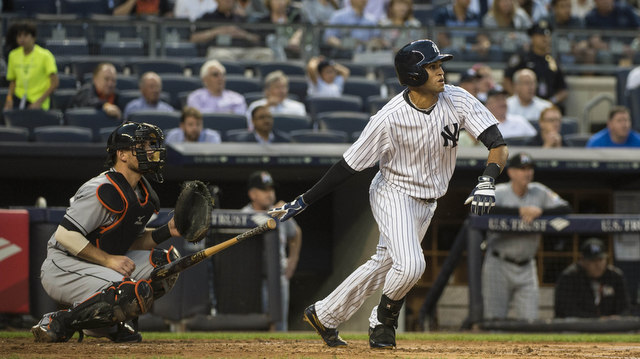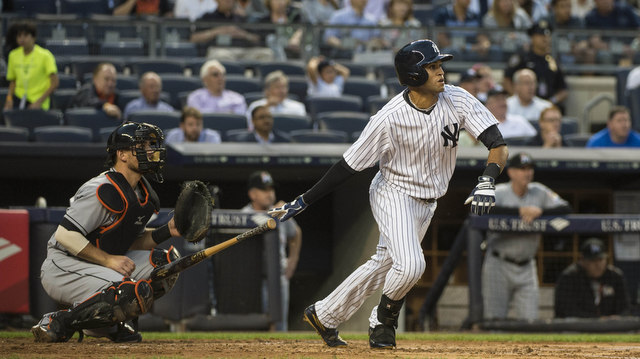 Third In Line: Williams
Like Heathcott, Williams is a tooled up outfielder whose stock had fallen big time in recent years. Slade's stock fell because he kept getting hurt. Williams? His stock fell because he didn't hit — .236/.298/.319 (74 wRC+) in over 1,200 minor league plate appearances from 2013-14 — and had attitude problems in the minors. The Yankees believed in the talent though and added him to the 40-man roster last offseason.
Williams did not play as much as Heathcott in Spring Training but he did play well, hitting .313/.400/.625 with three doubles and a triple in 15 Grapefruit League games. The Yankees assigned him to Double-A Trenton once again — Williams was there for part of 2013 and all of 2014 — and his hot spring carried over. Williams hit .317/.407/.375 (131 wRC+) with more walks (13.2%) than strikeouts (11.8%) in 34 games with the Thunder.
The Yankees bumped Williams up to Triple-A in mid-May to replace the called up Heathcott, then, after a few weeks with the RailRiders, Williams was called up to the big leagues, this time to replace Flores. He made his MLB debut as the starting center fielder on June 12th and hit a two-run home run for his first career hit in his second at-bat. Not a bad debut, eh?
Williams stayed in the lineup as the starting center fielder and, after a little three-game cold streak, he went 5-for-10 with three doubles, a walk, and no strikeouts during a four-game tear in mid-June. Through eight big league games, Williams had gone 6-for-21 (.286) with three doubles and a home run. He also made several spectacular catches in the outfield.
Unfortunately, Williams' season came to a premature end on June 19th. He suffered a pretty fluke right (throwing) shoulder injury sliding back into first base on a pickoff throw. It was an innocent looking play. Williams just landed awkwardly and his shoulder popped in and out of the socket. He stayed in the game to run the bases but was lifted after the inning.
The Yankees placed Williams on the 15-day DL with inflammation and the injury wasn't considered serious. The inflammation and discomfort never did go away though. On July 17th, almost exactly one month after getting hurt, the Yankees announced Williams needed season-ending surgery to clean up the shoulder. They slid him to the 60-day DL to clear 40-man space around that time as well.
Williams went 6-for-21 (.286) with those three doubles and that home run in eight MLB games before getting hurt. He hit .318/.397/.398 (133 wRC+) with 14 doubles, 13 steals, and more walks (11.5%) than strikeouts (9.8%) in 54 total minor league games. It's a shame he got hurt because Williams was doing a really great job re-establishing himself as a prospect.
Front shoulder injuries are tricky for hitters and it may take Williams some time to get back to 100% next year. He's expected to be ready to go for Spring Training, but that doesn't mean he'll be all the way back. Either way, Williams is still on the 40-man roster and he has two option years left. He'll stick around for a while, even if Heathcott is ahead of him on the call-up depth chart.