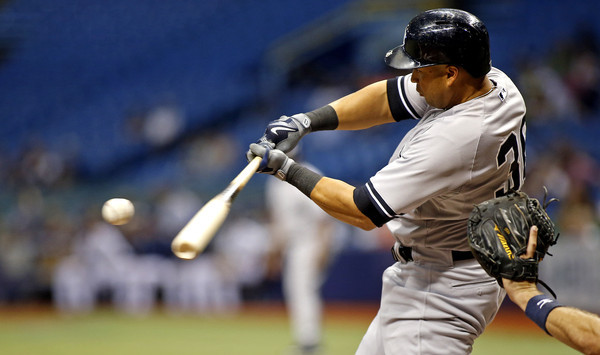 This past season, MLB and MLBAM made Statcast data available to the public for the first time. Things like spin rate and batted ball velocity were suddenly right at our fingertips. The info as presented still lacks context — I have no idea if a 96.8% route efficiency is good or bad or average — but it's a start. More information is a good thing.
Batted ball velocity is an interesting one because intuitively, the harder you hit the ball, the better. There's something to be said to having the ability to place the ball in a good location, but hitting the ball hard is a positive. There's a pretty strong correlation between exit velocity and BABIP. From Rob Arthur: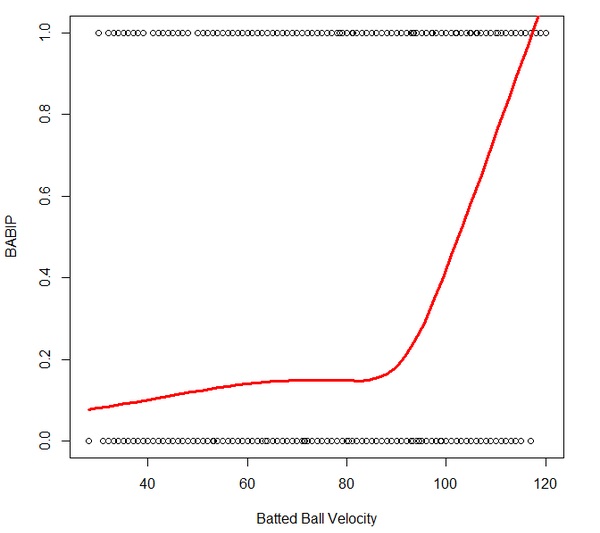 The averaged batted ball velocity in the AL this season was approximately 88.7 mph. The Yankees as a team had an 88.6 mph average exit velocity, but that doesn't help us much. The individual players are most important, so we're going to look at them. Specifically, we're going to look at where each Yankee hit the ball the hardest, which for our purposes means 100+ mph. That sound good?
Before we start, it's important to note exit velocity by itself is only so useful. Things like launch angle are important — it's possible to hit a 100+ mph infield pop-up, for example — but there still hasn't been a ton of research in that department. We're going to keep it simple and just look at the pitch locations of the 100+ mph batted balls by each Yankee this past season. Got it? Good. So with a big assist from Baseball Savant, let's dive in. (Click any image in this post for a larger view.)
Carlos Beltran

Beltran led the Yankees with exactly 100 batted balls with a 100+ mph exit velocity in 2015. Seventy-eight of them came against right-handed pitchers, which makes sense since 71% of his plate appearances came as a left-handed batter. Those numbers are in line with each other.
There isn't much data against southpaws, so that doesn't tell us a whole lot, other than Beltran liking the ball over the plate. The pitch locations against right-handed pitchers is far more interesting. Beltran hit away pitches the hardest this past season. Almost all of his 100+ mph batted balls as a lefty batter came on pitches in the middle of the zone or away. There's very few on the inner half.
Beltran is not an extreme pull hitter from the left side but he definitely doesn't use the field a whole lot — only 20.3% of his batted balls as a lefty were to the opposite field in 2015. He pulled 45.2% and the other 34.5% went back up the middle. He's able to do that despite hitting away pitches harder than inside pitches. Interesting! Being able to hammer outside pitches is cool, but would taking slight step back away from the plate better allow him to cover the inner half?
Alex Rodriguez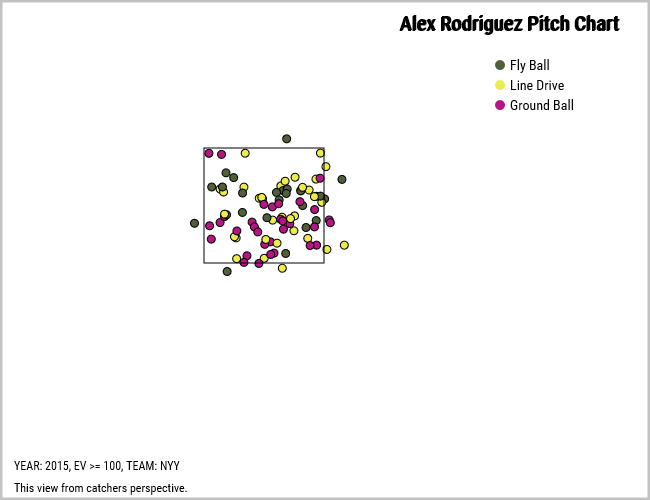 A-Rod was second on the team in 100+ mph batted balls with 92. It appears he hits the ball the hardest in the lower half of the strike zone, and he also does a better job driving balls on the outer half of the plate, which is also interesting. Pulling inside pitches is anecdotally a good way to create exit velocity.
Chase Headley

Headley was third on the team with 69 batted balls of 100+ mph, so yeah, the gap between Beltran and A-Rod and everyone else was massive. Twenty-five of Headley's 69 100+ mph batted balls, or 36.2%, came as a right-handed batter, which matches up with his plate appearance split (31% as a righty).
Again, the "vs. LHP" plot doesn't tell us much because there's not a ton of data, but wow, look at the "vs. RHP" plot. Headley loves down and away pitches, huh? Or at least that's where he hit the ball the hardest in 2015. He didn't drive anything — and by drive I mean hit a ball 100+ mph — up in the zone or in the inner half. So far the data has been the exact opposite of what I expected. I figured we'd see most 100+ mph batted balls on pitches up and/or in.
Mark Teixeira

If not for the shin injury, Teixeira would have been among the team leaders in 100+ mph batted balls, if not the leader outright. He had 66 of 'em. Teixeira has that big long swing from both sides of the plate so he loves outside pitches. The vast majority of his 100+ mph batted balls came on pitches on the outer half if not off the plate entirely. Let Teixeira extend his arms and he can do major damage.
Brian McCann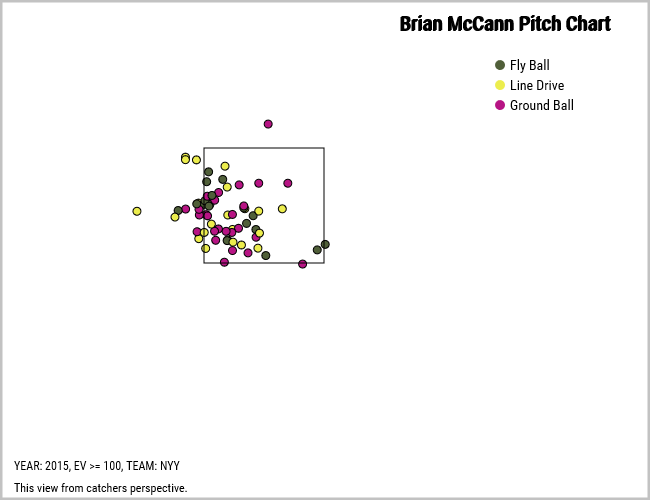 Another outer half guy. The Yankees have all these pull hitters and yet most of them seem to hit outside pitches the hardest, and McCann is no exception. He tied Teixeira with 66 balls in play at 100+ mph. It's amazing to me McCann and the other guys can reach out and pull a pitch that far away from them with such authority. So if you want to limit hard contact, I guess the best way to pitch these guys is inside? That sounds a little weird given their pull tendencies, but the pitch location plots don't lie.
Brett Gardner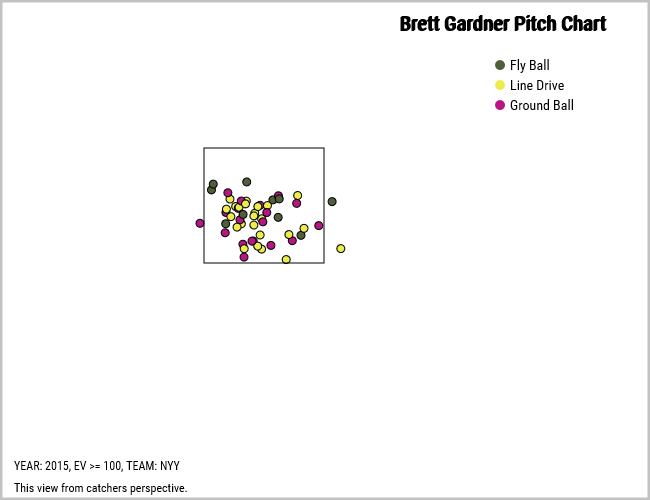 Okay, this is more like what I expected. Gardner is an all-fields hitter and the majority of his 53 100+ mph batted balls came on middle-middle pitches. There are a few on the inner half and a few on the outer half, but in general, Gardner hit the ball the hardest when it was right down the middle. That makes perfect sense. Brett's not a brute masher like most of the other guys ahead of him in this post. He makes the hardest contact on mistake pitches over the plate.
Jacoby Ellsbury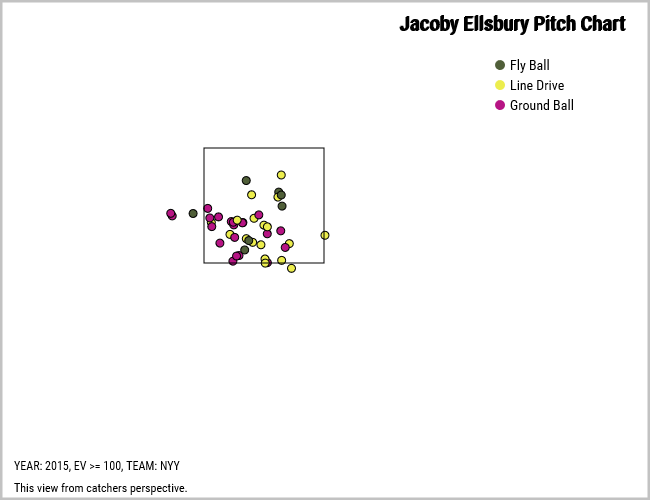 Ellsbury had 46 batted balls register 100 mph or better and, like Gardner, most of them came on middle-middle pitches. He did some more damage on down and away pitches and less on inside pitches than Brett, but generally the pitch locations are similar. These two aren't power hitters. The pitcher has to give them something in the heart of the plate for them to really drive it.
Didi Gregorius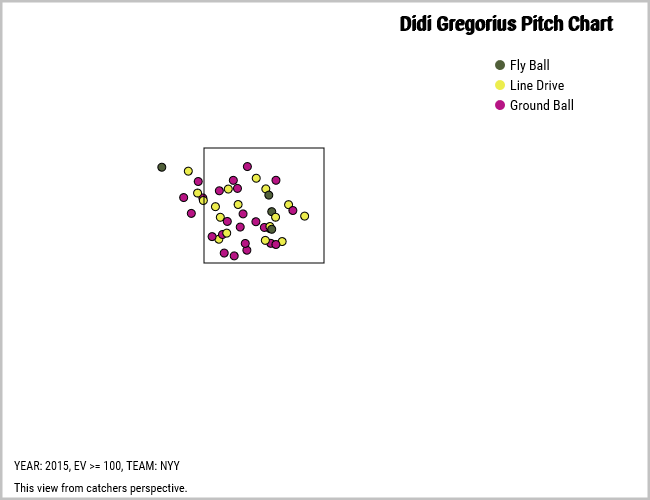 Ellsbury had one more 100+ mph batted ball than Gregorius in 77 fewer plate appearances. Didi is another guy who does most of his damage on pitches out over the plate, but he also showed the ability to reach out and drive pitches on the outer half this past season. Well beyond the outer half too. Gregorius had a handful of 100+ mph batted balls on pitches off the plate. Pretty crazy.
The Yankees worked with Didi this summer and in June or so he seemed to make a concerted effort to use the opposite field more often. His plot of 100+ mph batted balls ostensibly reflects that approach.
Dustin Ackley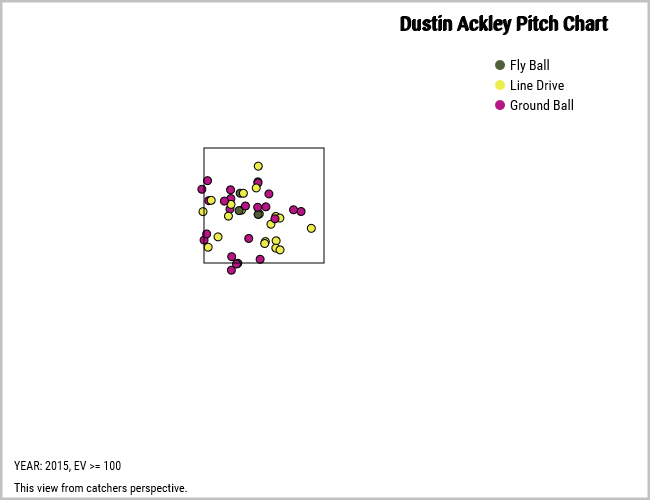 This plot covers Ackley's entire season, not just his time with the Yankees. He had 47 total 100+ mph batted balls in 2015, including nine with the Yankees. Ackley has tremendous natural hitting ability, and although it hasn't shown up in the stats yet, he does a good job of covering the entire plate based on the plot. He hit balls 100+ mph that were in, out, down, middle-middle … basically everywhere but up, which doesn't appear to be uncommon.
I am really curious to see a full season of Ackley next year, and not just because of this plot. Getting away from the Mariners and into hitter friendly Yankee Stadium is one hell of a change of scenery for a talented left-handed hitter.
Greg Bird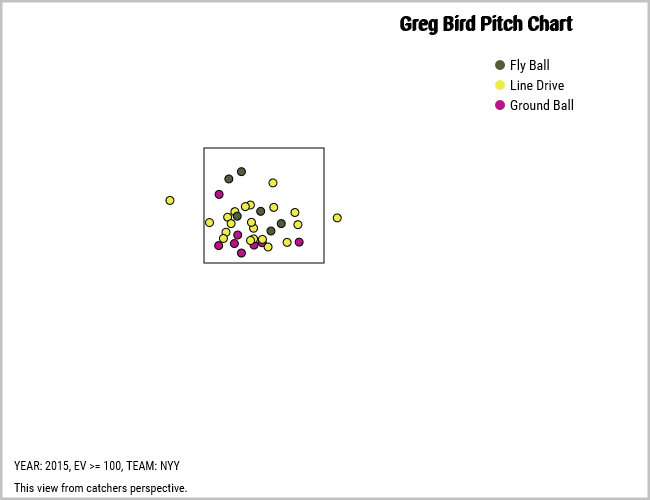 Bird wasn't around very long this past season but his 35 batted balls with a three-figure exit velocity were ninth most on the team, ahead of guys with (many) more plate appearances like Chris Young (30) and Stephen Drew (24).
Based on the pitch location plot, Bird does his most damage on pitches down in the zone, which sorta jibes with opponents trying to beat him upstairs with fastballs all the time. I don't think Bird has an uppercut swing, or at least not an extreme one like McCann or Teixeira, but the lower half of the strike zone is his wheelhouse. He can go down and golf pitches.
Aaron Hicks

Hicks, who so far is the Yankees' only notable pickup of the offseason, had 35 batted balls of 100+ mph last season. As a right-handed batter, he was all about the low pitch. He could really go down and drive low pitches with authority from the right side of the plate.
As a left-handed batter, Hicks had the hardest contact on pitches middle and away. Not so much inside. That is his weaker side of the plate, historically, but being a left-handed hitter in Yankee Stadium comes with some perks. I'm looking forward to seeing what the Yankees and the hitting coaches do with him next season. There are reasons to believe Hicks is on the verge of really breaking out.
* * *
The Yankees had a bunch of other guys on the roster this past season who are still with the team, but they didn't hit many 100+ mph batted balls at all. That group includes Rob Refsnyder (seven 100+ batted balls), Slade Heathcott (seven), Brendan Ryan (four), and Mason Williams (three). Click the links in parentheses for each player's pitch location plot, if you're interested.