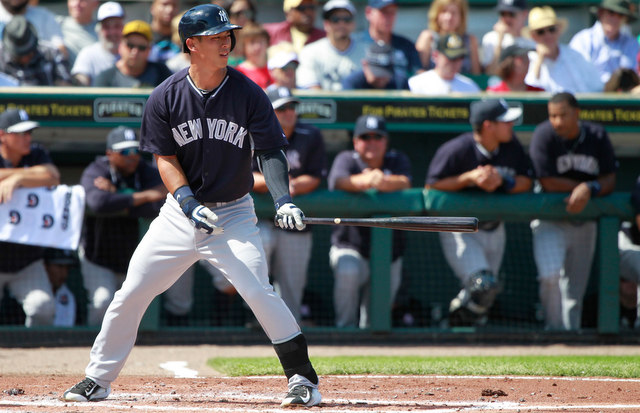 MLB.com's look at the top ten prospects at each position continued yesterday with second base. Red Sox 2B Yoan Moncada predictably topped the list, and was followed by Reds IF Jose Peraza and Cubs 2B Ian Happ in the top three. Rob Refsnyder placed ninth on the top ten list. MLB.com's scouting reports are free, as always.
"An outfielder at Arizona, Refsnyder's transition to second base has been slow and steady. It's always encouraging when a solid hitter in the Minors performs well in his big league debut, and that's exactly what Refsnyder did in 2015," said the write-up. Here's a piece of their latest scouting report:
He recognizes pitches and manages the strike zone better than most players. Refsnyder's compact right-handed stroke yields line drives to all fields and he projects to top out at 12-15 homers per season … While Refsnyder has improved at second base, he's not a smooth defender and likely won't ever be more than adequate there. He's not suited for the left side of the infield, though he has the average speed and arm strength to get the job done on an outfield corner.
Like it or not, the Yankees have made it pretty clear they're not comfortable with Refsnyder playing a full-time role at this point in time. They didn't give him much of a look despite Stephen Drew's long stretches of nothing last year, then they acquired Starlin Castro to be their long-term second baseman earlier this offseason.
That isn't to say the Yankees will never be okay with Refsnyder playing regularly. It might happen someday. Right now though, there's no obvious place for him on the 25-man roster, which means another season in Triple-A. There are pretty much only two ways Refsnyder can have an impact for the 2016 Yankees: 1) Castro or Didi Gregorius get hurt, or 2) as a trade chip. That's about it.
Gary Sanchez ranked second on the MLB.com's catchers list and the Yankees did not have any representatives on the right-handers, left-handers, or first basemen lists. (Greg Bird no longer qualifies as a prospect. Too much MLB time.) The third base list comes out later today and the Yankees won't have anyone on that either. Shortstops is tomorrow and Jorge Mateo figures to crack the top ten, though shortstop is always a super deep prospect position.