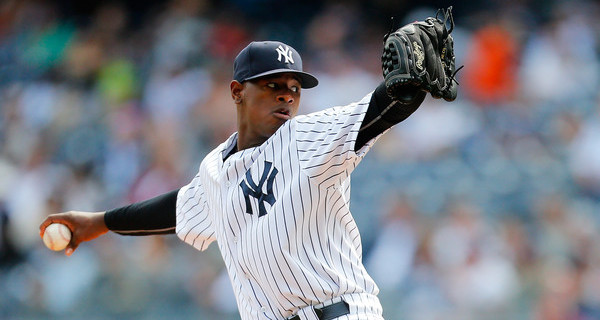 During his annual end-of-season press conference, Joe Girardi said one of the ways the Yankees expect to improve next season is by having a full year of Luis Severino. Severino came up in early-August this past season and gave the team 62.1 innings of 2.89 ERA (4.37 FIP) ball. He was no worse than the Yankees' second best starter down the stretch. It was pretty cool.
The Yankees will indeed have a full season of Severino in 2016, at least in the sense that he will be with the big league team from Day One. The team will have to monitor his workload to some extent, and unlike last season, the Yankees won't be able to take advantage of his minor league time. Last summer they limited Severino to short starts in Double-A and Triple-A to make sure enough innings were left for the MLB team.
"I don't know if there's a limit, if there is, it's very short. I don't know how many innings he ended up with this year, I think 140-ish," said Girardi at the Winter Meetings last week when asked about Severino's workload. "We'll have to watch him, because the rigors of a big league season is different than a minor league season because it's longer, but I don't expect a huge limit on him."
Severino threw 161.2 total innings in 2015, an increase of 48.2 innings from 2014. The Verducci Effect, which says no pitcher should increase their workload by more than 30 innings from one year to the next, is a bit outdated, though obviously there is a point where a big workload increase is dangerous. Every pitcher is different though. The Yankees were comfortable letting Severino increase his workload by 50-ish innings in 2015.
Would the Yankees let Severino increase his workload by another 50 innings next year? That seems unlikely. I can't imagine they'll let this kid throw ~210 innings in his age 22 season. Only ten guys have done that in the last quarter century. In fact, if the Yankees let Severino throw even 170 innings next year, he'll join a pretty exclusive club. Only 25 pitchers have thrown 170 MLB innings in their age 22 season since 2000.
Based on everything I've seen the last few years, I'm not sure there's a good way to limit a pitcher's workload at the big league level. Well, other than being out of contention and shutting him down in September. That works fine. Skipping starts, short starts … every method comes with its own headaches. Figuring out how to do it with Severino will be a challenge. The Yankees will need him to contend but can't run him into the ground either.
The Yankees used a spot sixth starter whenever possible this past season and I have no reason to think they won't do it again next year. That's one way to control Severino's workload. I also think the All-Star break is a pretty good opportunity to give a young guy an extended break. It would be possible to give Severino a breather from July 6th until July 19th thanks to the break. It could be July 5th until the 20th with a sixth starter.
Either way, this is something the Yankees will have to address this summer. They did a good job controlling Severino's workload this season because he started the year in the minors. That won't be the case next season. The Yankees will have to balance his long-term health with contention, because Severino will be a very important part of the team in both 2016 and beyond.