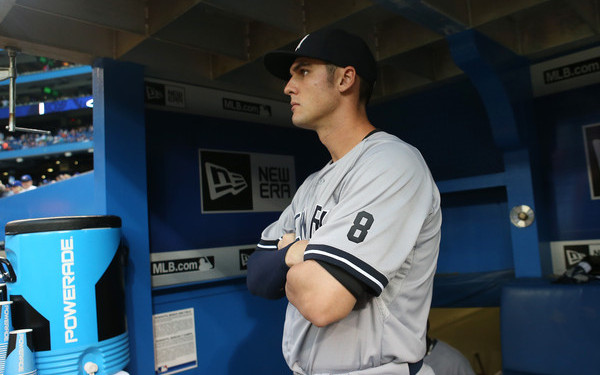 As it stands right now, Greg Bird will likely open the 2016 season with Triple-A Scranton. Brian Cashman said that's "the optimal" outcome, mostly because it means everyone got through Spring Training healthy. An injury to Mark Teixeira or Alex Rodriguez would land Bird on the Opening Day roster. Otherwise he doesn't make much sense for that final bench spot because he lacks versatility.
Bird turned 23 earlier this offseason and he is so very clearly the Yankees' first baseman of the future. He mashed during his brief MLB cameo last year (137 wRC+) and Teixeira's contract is up after the season. It's not hard to see where this is going. The Yankees are trying to get younger and create more financial flexibility, so replacing the aging and expensive Teixeira with the younger and cheaper Bird makes total sense. It's a no-brainer.
There is still a season to be played between now and then though, and in 2016 it seems like Bird is destined to wait things out in Triple-A with the RailRiders. He'll come up when there's an injury and he'll surely be up when rosters expand in September, but otherwise there's no obvious role for him next year. A pure backup first baseman/DH is not something you find on the bench these days. Dustin Ackley will back up Teixeira for the time being.
"The thing you always have to measure is is it more important for him to play everyday, or play a couple days a week," said Joe Girardi during a recent YES Network interview (video link). "And I think you also have to let Spring Training play out to see how things work out for us before you make a decision. There's been talk he might go back to Triple-A. Let's let us get through Spring Training because things a lot of time have a way of ironing out."
Getting stuck in Triple-A is unfortunate for Bird — for what it's worth, he's said all the right things about his situation (check out this video interview) — but it could benefit the Yankees long-term. For starters, it'll give Bird a chance to play every single day and work on some things, particularly his defense and ability to handle lefties. Southpaws chewed him up down the stretch in 2015.
There's also the service time aspect, which is complicated and yet oh so simple at the same time. With enough time in Triple-A next year Bird's free agency will be delayed from the 2021-22 offseason to the 2022-23 offseason. Doing that is a no-brainer, right? The system is broken and teams are rewarded with an extra year of control by leaving their top young players in the minors juuust long enough.
At the same time, I would hope the Yankees would put Bird's service time situation on the back burner next year. If Teixeira or A-Rod gets hurt and Bird is the best option to replace them, then he should be called up to help the team win. Right? Right. Bird accrued 53 days of service time last year, meaning he'll have to spent about 65 days in the minors in 2016 to delay free agency. Two months. That's it.
The Kris Bryant situation really brought to light the silliness of the service time rules. It couldn't have been more obvious he was big league ready in Spring Training, and yet the Cubs sent him to Triple-A for two weeks to start the season, delaying his free agency. They made up some dumb excuse about working on defense. Bryant clearly was ready to help Chicago, yet, at the same time, the Cubbies would have been stupid not to send him down for those two weeks to gain the extra year of control.
The Yankees are in a slightly different situation with Bird. Bryant had to go down for two weeks. Bird has to go down for two months. Good health and good production from Teixeira and A-Rod would make that possible, and really, it would be best for the Yankees for that to happen. They want Teixeira and A-Rod healthy and productive and they want the extra year of Bird. It would be the best of both worlds.
What happens if Teixeira or A-Rod gets hurt? That's where it gets tricky, and I guess it depends on the timing. If they get hurt early in the season, calling up Bird is the obvious move. But, if it happens later in the summer, say when Bird is a week or two shy of having his free agency delayed, then what? The temptation to keep him down just a bit longer would be mighty strong. And again, who could blame the Yankees?
Either way, Bird is in position to become a core player for the Yankees long-term. The team has only had four primary first basemen over the last 32 years — Don Mattingly (1983-95), Tino Martinez (1996-2001), Jason Giambi (2002-08), Teixeira (2009-present) — and Bird looks like he could take over the position for the next decade. That's pretty exciting.
The Yankees have plenty of money, so Bird's service time situation is not critical. This isn't a small market team that needs to do whatever they can to keep their best young players. Bird's service time is worth keeping an eye on though. As much as it would suck for Bird, keeping him in Triple-A those 65 or so days in 2016 would be very beneficial to the Yankees.