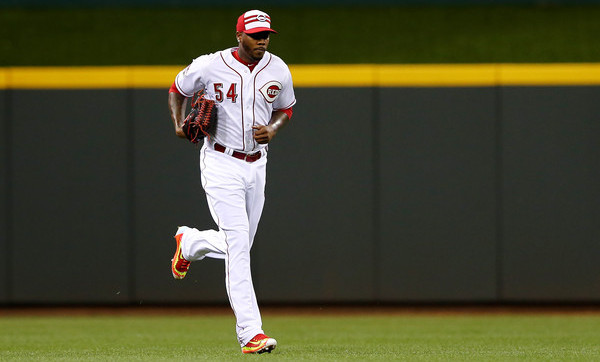 According to Ken Rosenthal, it is "probable" Aroldis Chapman's suspension under the league's domestic violence policy will be announced before Spring Training opens in six weeks. March 1st is likely the absolute latest the announcement will be made, according to Rosenthal.
A few weeks ago we heard it is unlikely Chapman will receive a lengthy suspension, though one person's idea of lengthy might be different than another's. The domestic violence policy is new and no one has been suspended yet. There is no precedent and the policy does not include minimum or maximum suspensions.
There has been some speculation commissioner Rob Manfred would come down hard on the first set of offenders — Jose Reyes (for this) and Yasiel Puig (for this) are also being investigated — to establish a standard and hopefully create a deterrent. No one was arrested and Chapman was not charged with a crime following his incident.
Rosenthal notes the domestic violence policy does not explicitly say whether a suspended player can participate in Spring Training. I guess that will be covered when the suspension is announced. For what it's worth, players suspended for performance-enhancing drugs can play in Spring Training and Extended Spring Training games.
Players do not accrue service time while suspended under the domestic violence policy. Chapman is due to become a free agent next offseason, though a suspension of at least 46 days would push his free agency back a year. Brian Cashman said the Yankees did their due diligence prior to acquiring Chapman and understand the risk.
At this point, there's nothing more the Yankees or fans can do other than wait. Hoping a player is suspended more than 46 days for a domestic violence incident so you can keep him another year is kinda icky. I'm hoping Chapman's suspension will be short so the Yankees can get 60+ high-impact innings from him, then move on next winter.