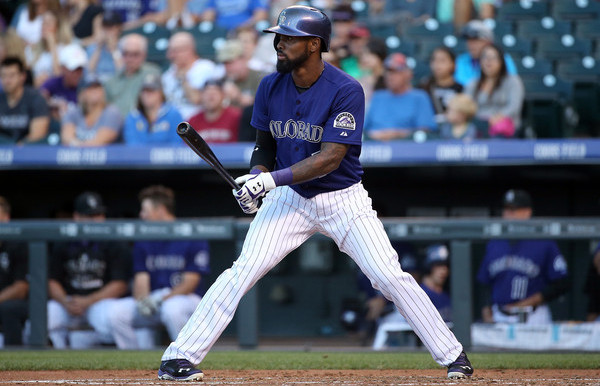 Early in the offseason the Yankees engaged the Rockies in trade talks about Jose Reyes, reports Ken Rosenthal. The Yankees were planning to play him at second base had a deal gone down. The Bombers eventually moved on and acquired Starlin Castro after a trade with Colorado failed to come together.
Here's a little more on the trade talks from Rosenthal:
The teams talked about different ways to make a Reyes trade work, according to major-league sources. The Yankees, who wanted Reyes to play second base, would have required the Rockies to pay a significant portion of his remaining salary. But the two sides never got close to a deal, sources said.
Reyes, 32, is owed $48M over the next two seasons, assuming his $22M option for 2018 is bought out. He was arrested in Hawaii on domestic abuse charges in early-November — Reyes and his wife got into an argument and she ended up in the hospital with injuries to her face, neck, and leg — and his trial is scheduled to begin on Opening Day.
I have to think trade talks with the Rockies took place before that, so very early in the offseason. I know the Yankees used Aroldis Chapman's domestic dispute to get him at a bargain price, but man, Reyes put his wife in the hospital and he's facing criminal charges. (Chapman is not.) Nope. Nope nope nope. Reyes has to be a non-option after that.
From a pure baseball perspective, Reyes is starting to slow down, and I don't just mean on the bases. He hit .274/.310/.378 (80 wRC+) last year with seven homers and 24 steals, and his defense has been on the decline for a few years now. He did play some second base with the Mets very early in his career. It's one thing to hope a young guy like Castro rebounds. Reyes might be in irreversible decline.
Earlier this offseason Brian Cashman said "if it's old and expensive, it's more likely that we didn't check in on that," so Reyes was one of the exceptions. Rosenthal says the Yankees wanted the Rockies to pay down a ton of that $48M, and in that case I guess Reyes qualifies as old and cheap. Either way, the Yankees didn't get him. Phew.