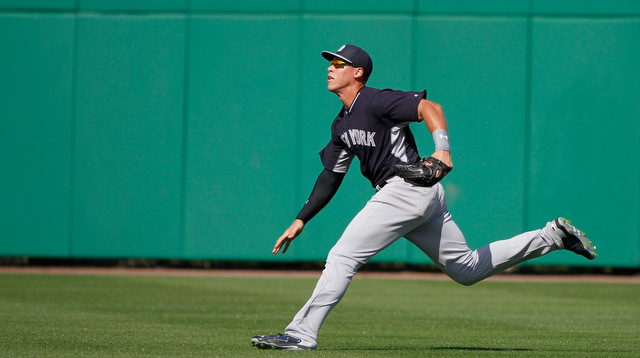 MLB.com's look at the top ten prospects at each position wrapped up yesterday with the outfield. Twins OF Byron Buxton claimed the top spot — doesn't it feel like he's been around forever? hard to believe 2016 will only be his fourth full year of pro ball — and is followed by two Rangers prospects, OF Lewis Brinson and OF Nomar Mazara. OF Aaron Judge ranks eighth.
"He scuffled (in Triple-A), but even though he profiles as a potential slugging run producer, he's also shown an ability in the past to make adjustments. Once Judge does that, he should be ready for his New York debut," said the write-up. MLB.com's scouting reports are free, as always. Here's a snippet of their latest report on Judge:
Built along the lines of Giancarlo Stanton, Judge has similar strength, leverage and huge raw power. He focused on working counts and the middle of the field during his 2014 pro debut, but he started to turn his right-handed swing loose more often last season … An excellent athlete for his size, Judge has average speed and a strong arm. He has spent the bulk of his pro career in right field, but he could play left and fill in in center if needed.
Judge, 23, did hit .224/.308/.373 (98 wRC+) in 61 Triple-A games last year, but he still finished the season with a .258/.332/.446 (124 wRC+) line and 20 homers in 127 total games. He'll return to the RailRiders this year and work specifically on controlling the outer half of the plate. Experienced Triple-A pitchers chewed him up with soft stuff away last summer.
I still consider Judge the Yankees' top prospect but that is not the consensus. He struggled in Triple-A and Jorge Mateo is the new hotness. (And Gary Sanchez raked in the Arizona Fall League.) This is a what have you done for me lately world. Anyway, the long-term right field job is wide open. After some more tune-up time in Triple-A, I'm sure Judge will get an opportunity in the Bronx. The Yankees seem dedicated to their youth movement.
Sanchez ranked second on the catcher list and Rob Refsnyder ranked ninth on the second base list. Mateo was an honorable mention for the shortstop list. The Yankees did not have any players among the top ten righty pitcher, lefty pitcher, first base, or third base prospects.