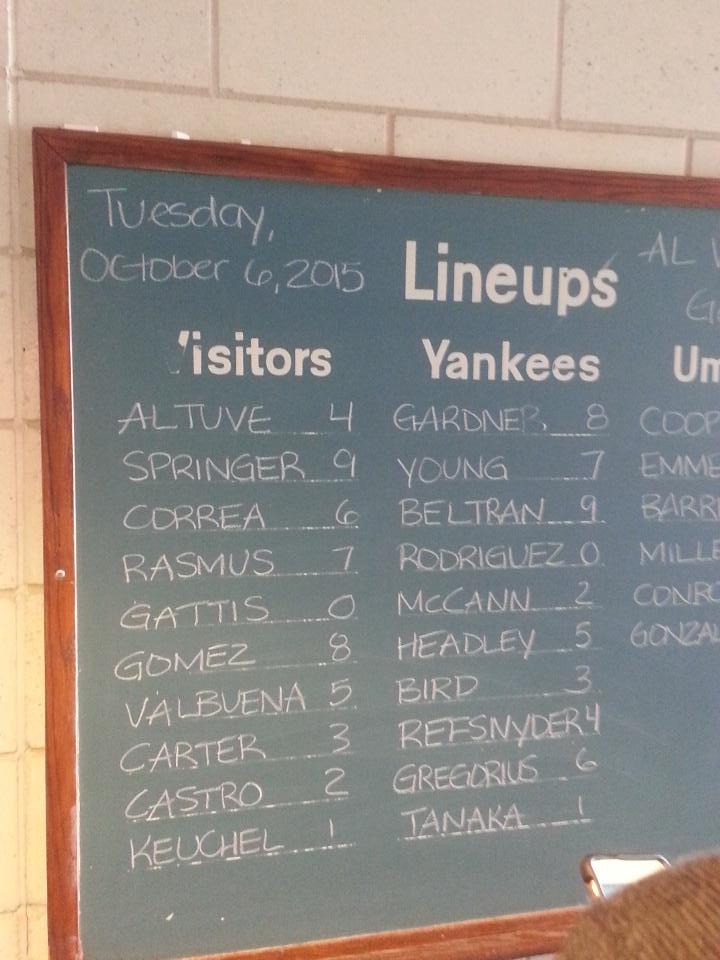 Spring Training may still be about a month away and, despite their relative quietness this Hot Stove season, the Yankees may not be done adding to or tinkering with their team. However, it's never too early to start dreaming on the lineups we'll see throughout the year, even with the general knowledge that lineup construction doesn't always have a big effect on the macro level.
Over the last few seasons, the Yankees have a had a good deal of year-to-year lineup turnover due to players leaving the team or leaving the game altogether–or returning to it in Alex Rodriguez's case. Before this three year stretch of 2013-2015, we'd usually see the Yankees cycle out a DH or a random position here or there, but things were generally consistent and well-balanced. That hasn't been the case for the last few years, though we could see a return to that in 2016.
The return of Mark Teixeria will help restore some needed right-handed power to the lineup, and Aaron Hicks will look to replicate what Chris Young did. Hicks also joins two other switch hitters, Carlos Beltran and Chase Headley. Starlin Castro gives the Yankees a dedicated righty hitter in their infield who can hopefully fit into the lineup in a variety of ways.
There is no shortage of ways the Yankees could deploy their hitters against right handed pitchers. Joe Girardi could stack lefty/switch hitters in the first four spots of the lineup and not give the other team a platoon advantage until fifth, or even sixth if he really wanted to:
1. Brett Gardner
2. Jacoby Ellsbury
3. Carlos Beltran
4. Mark Teixeira
5. Brian McCann
6. Alex Rodriguez
7. Chase Headley
8. Didi Gregorius
9. Starlin Castro
You could flip Didi and Castro if you'd like, but I imagine Girardi would want to break up the lefties at the turn of the lineup. Of course, swapping Ellsbury and Gardner is possible as well. Given Gardner's slight power advantage over Ellsbury, that might make some sense, provided Ellsbury returns to his non-2015 form. The 3-4-5-6 spots are also fairly interchangeable; at their best, any of those players can carry a team offensively and having them anchor the lineup, even at their advanced age, is an okay thing.
Against lefties, there's an opportunity for Girardi to really shake things up and get pretty frisky. It all hinges on just how much he plans on platooning Gardner/Ellsbury/Hicks. It's very likely that Aaron Hicks winds up playing in a ton of games–like Chris Young did this year–just as a defensive replacement for Carlos Beltran late in games. But he's also here to hit lefties, something Ellsbury struggled with in 2015, leading to a benching in the Wild Card game. If we assume Ellsbury sits a fair amount against lefties, we could see something like this:
1. Gardner
2. Hicks
3. Beltran
4. Teixeira
5. Rodriguez
6. McCann
7. Castro
8. Headley
9. Gregorius
If it's Gardner who ends up sitting against lefties, it's likely that Ellsbury would still hit at the top of the lineup. After all, he's got the name and he's got the big contract. But, in a more "just" world, perhaps this lineup could be trotted out:
1. Castro
2. Hicks
3. Beltran
4. Tex
5. A-Rod
6. McCann
7. Ellsbury
8. Headley
9. Gregorius
Regardless of who sits and who doesn't, the Yankees will likely feature a more balanced attack against lefties than they did in the second half and the Wild Card game last year. Their inability to hit lefties consistently certainly cost them and the front office seems to have recognized that with the acquisitions of Hicks and Castro. There are a ton of other permutations for each lineup, but I'm choosing to stay positive and assume some health for the Yankees (trust me, I know this could all fall apart very, very quickly).  What lineup combinations do you favor? Which ones did I forget? What are you dying to see, even if you know it's probably a bit unrealistic? Even if we know they don't make much of a difference, it's still fun to play manager and adjust a lineup to our own liking. And at this time of year, when we're all optimists, it's easy to dream.