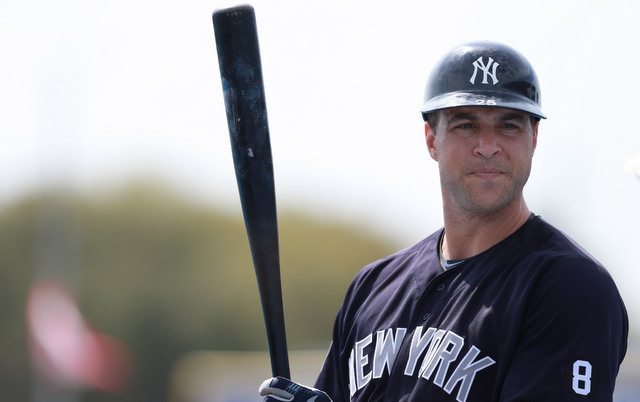 This has been a good Spring Training for Mark Teixeira. He missed the end of last season with a small fracture in his shin, and the rehab was pretty lengthy. Teixeira fouled the pitch into his shin in August, the fracture wasn't found until September, and it wasn't until January that he was cleared to run. So far this spring the shin has been a total non-issue and that's pretty damn important.
This has not been a good Spring Training for Teixeira statistically. The shin is healthy, but he's gone 5-for-39 (.128) at the plate with only two extra-base hits — he hit his first homer last night — and Opening Day is now less than a week away. At some point he would like to get going, even if for no other reason than to build confidence. Spring Training stats are ultimately meaningless, but that doesn't mean players are happy hitting .128, especially when they're a pending free agent like Teixeira.
"My timing has been off all spring and we found something (Friday) in the video. The first couple of weeks you are trying to knock off some rust. I keep grounding out and I did it twice today," said Teixeira to George King over the weekend. Teixeira has 22 ground outs and only eight fly outs this spring, a 2.75 GO/FO ratio. He had a 0.92 GO/FO ratio last year, so he's way off in limited time this spring. Then again, he had a 2.25 GB/FO last spring and mashed during the regular season, so who knows.
"There is a little thing in my swing that is making my timing off," added Teixeira while talking to King. "We have another week to fix it and I feel really good we will do that. I am not getting into my legs on my timing mechanism. My whole timing is sinking back and getting under my back leg. Because of that I am jumping at the ball a little bit. I am swinging at good pitches and I should be getting better results."
Here are the obligatory before and after GIFs. The GIF on the left is from earlier in Spring Training (April 19th, to be exact), and the GIF on the right is from this past Saturday, after Teixeira told reporters about his video work and mechanical flaw discovery.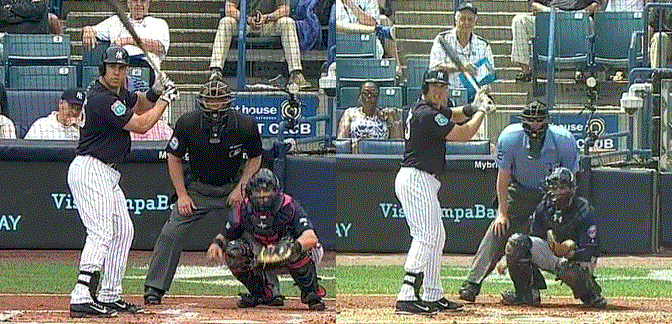 The GIFs are synced up at the point when Teixeira picks up his foot to begin his little leg kick. You can see that in the GIF on the right, the one from this past Saturday, he begins to lean back a little earlier than he does in the GIF on the left. To use Teixeira's words, he was "sinking back and getting under my back leg" a split second earlier Saturday.
I am no hitting coach or hitting guru, so what follows is speculation: by "sinking back and getting under my back leg" a bit earlier, Teixeira is putting himself in a better position to hit. He transfers his weight to his back leg, then can explode forward with his swing. When he's "sinking back and getting under my back leg" a tad late, he has to rush into his swing. Teixeira's timing is off, basically. That make sense? Am I in the ballpark you think?
Getting at-bats won't be an issue even though Opening Day is only six days away. The Yankees could always send Teixeira over to minor league camp and let him get, like, ten at-bats a day. I don't think that will happen though, not unless Teixeira feels he really, really needs the extra work. The team has five exhibition games remaining — well, they have seven games left, but he can't play in both split squad games today and Thursday — and that might be enough.
Teixeira has started pretty well the last few seasons — remember when he was a slow starter? nowadays we're happy when he's healthy in April — even though his Spring Trainings haven't been great. He didn't hit his first homer until his very last Grapefruit League game last year, if I'm remembering correctly. Teixeira is obviously extremely important to both the offense and defense, so another hot start is more necessity than luxury. He's identified some sort of mechanical flaw and is working to fix, and if last night's homer is any indication, the results are already starting to come.