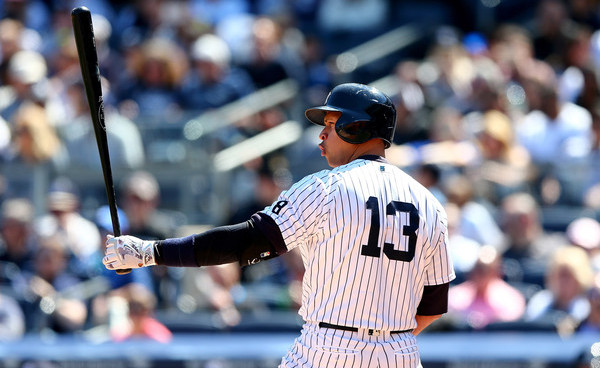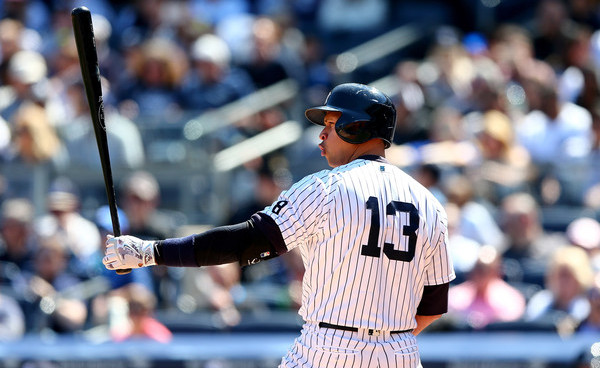 The just completed nine-game homestand did not go well for the Yankees. Not at all. They lost six times in the nine games, and, over the weekend, they lost both Alex Rodriguez and Aaron Hicks to injury. A-Rod hurt his oblique taking swings in the indoor batting cage between at-bats Sunday, and Hicks jammed his shoulder attempting a diving catch Friday.
The good news is neither A-Rod nor Hicks suffered a serious long-term injury. The MRI on A-Rod's oblique came back negative, and he did travel with the team to Texas for their upcoming series with the Rangers. Hicks' MRI showed "traumatic bursitis," which sounds a lot worse than it really is. He received a cortisone shot and is only expected to miss a few days.
That A-Rod and Hicks only suffered day-to-day injuries is good news. The bad news is the two simultaneous injuries create some roster headaches for the Yankees. They have 23 healthy players on their 25-man roster right now, which means only a two-man bench. Playing short for a few days while one player nurses an injury is one thing. Playing short two position players is very different.
"That would be pretty hard to do … Playing two short would be really difficult," said Joe Girardi to Daniel Popper following yesterday's game. The Yankees said they were not going to make an immediate roster move when they announced the results of A-Rod's MRI last night, but the key word there is immediate. They could still make a move prior to tonight's game and I expect they will.
What I think will happen and what I think should happen are different things. I think the Yankees will place Hicks on the DL and ride out A-Rod's injury for a few days. I think the Yankees should place both Hicks and A-Rod on the DL to not only avoid playing short-handed, but also to give the two players as much time as necessary to get healthy. A DL stint means no temptation to bring them back early.
Remember, oblique injuries are very tricky and very easy to re-aggravate. Plus A-Rod is 40 now, and 40-year-olds tend to take longer to heal that 25-year-olds. I can't help but feel like something the Yankees believe will keep Alex out for, say, four or five days will end up sidelining him for nine or ten days. Same with Hicks to a lesser extent. He won't be back until the end of the week at the earliest based on the five or six day timetable the team threw out there.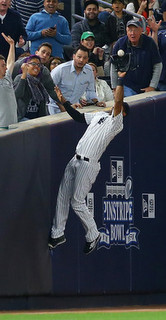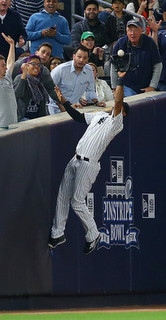 The Yankees have 40-man roster flexibility — they have one open spot thanks to Aroldis Chapman's suspension, plus two 60-day DL candidates (Greg Bird, Bryan Mitchell) and likely a third (Branden Pinder) — and a bunch of call-up options in Triple-A. A right-handed hitter(s) who can play a little outfield would be ideal, though not completely necessary. Here are the main candidates:
1. Nick Swisher. Swisher has raked in his short time with Triple-A Scranton (175 wRC+), which is good to see, but be careful not to read too much into a 12-year veteran mashing Triple-A pitching. He's healthy and that's good. Swisher also stunk the last two years and his knees are shot, so he's basically a first baseman and DH at this point. (He hasn't played the outfield at all with Scranton.) Also, Swisher can't be sent back down when Hicks and A-Rod are healthy.
2. Ben Gamel. Gamel is a left-handed hitter and the Yankees already have three of those in the outfield if you include Dustin Ackley. He has hit this year though (118 wRC+), and he's far better suited to play right field than Ackley. In a perfect world Carlos Beltran will slide into the DH spot full-time while A-Rod is on the shelf. Gamel may be the best option in terms of expected performance on both sides of the ball.
3. Aaron Judge. Well, if the Yankees want a right-handed batter, Judge would fit the bill. He's played well in the early going (125 wRC+) despite some strikeout issues (30.9%). The Yankees have been going young whenever possible lately, and Judge would be a better fit than Gamel because he is a righty. That said, he's not on the 40-man roster, and sending him back down when Hicks and A-Rod return would burn his first minor league option year. Also, Judge simply might need more time in Triple-A. That strikeout rate is no bueno. You'd hate to rush a guy this talented before he's ready.
4. Lane Adams. The Yankees claimed Adams off waivers this winter specifically because he's a right-handed hitting outfielder, something they lacked at the upper levels. He started the year in Double-A before moving up to Triple-A when Cesar Puello got hurt, and so far he hasn't stood out with the bat (78 wRC+). Adams is the best defender among the team's outfield options, which is not nothing. It's unknown how much any of these guys will contribute with the bat right now. Adams could help the most in the field.
5. Rob Refsnyder? Once upon a time Refsnyder was a right fielder, though he has played only nine games at the position since 2013. The Yankees had him work out exclusively at second and third base in Spring Training and Triple-A. That said, he's a right-handed hitter, and he did some damage against lefties late last year. The Yankees could use the help against southpaws. Would they stick Refsnyder in right field for a few days until Hicks returns? My guess is no, but it is an option.
Gamel is the easy move because he's already on the 40-man roster and is playing the best on both sides of the ball right now. Swisher is the "old Yankees" move in that he's a veteran who would be getting priority over younger players. Adams is the boring option, Judge is the bold option, and Refsnyder is the out of the box option. If the Yankees do stick someone (Hicks) on the DL, I think Gamel would get the call. I'm wrong all the time though.
Neither A-Rod nor Hicks have been hitting all that much in the early going, so it's possible whoever gets called up will actually improve the team in the short-term. Still, the Yankees want to get those two going, and they're at their best when those two guys are playing up to their potential. A-Rod and Hicks won't be able to snap out of their funks while injured. There's nothing the team can do about that though. They just have to hope they can return soon.
Point is, having A-Rod and Hicks hurt at the same time really creates some problems. The injuries remove two right-handed bats from a team struggling against lefties (74 wRC+) and they could be left playing shorthanded for a few days. These are only day-to-day injuries, but the fact both happened at the same time gives the Yankees little choice but to stick someone on the DL for the time being.