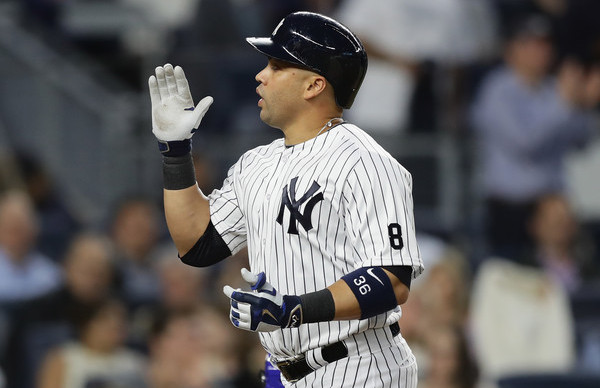 Following last night's win over the Blue Jays, the Yankees are 22-22 on the season and three games back of a playoff spot. Their current postseason odds are 25.2% according to FanGraphs, down from 31.7% on Opening Day but up from 10.7% on May 13th. It's still a little too early to worry about that stuff, but we shouldn't forget about it completely either. The season is almost one-third complete.
Carlos Beltran has played a huge role in getting the Yankees back on track, specifically by hitting .299/.333/.649 (162 wRC+) in the month of May. He's wanted to wear pinstripes for a very long time. Remember when Beltran was willing to take a discount to sign with the Yankees back in 2005? He wanted to sign with the Yankees in 2011 too. It wasn't until 2014 that he got his wish, and now he's in year three of his three-year contract.
If the Yankees are going to continue to climb back into contention this summer, Beltran will have to be a big part of it, regardless of whether he's playing right field or DH. And if the Yankees don't get back into the race, Beltran has to be one of the players the Yankees put on the trade market. I've said this a million times already. The Yankees have to be honest with themselves and move some of their veterans if they're out of it. That includes Beltran.
As it turns out, Beltran has a limited no-trade clause rather than a full no-trade clause like most of the team's veteran players. Buster Olney (subs. req'd) reports the Yankees can trade Beltran to 14 teams without his permission. Among those 14 teams are the Indians, Nationals, Royals, Cardinals, Rays, Tigers, and Dodgers. I'm not sure who the other seven clubs are. What does this mean for Beltran's future in pinstripes? Let's talk it out.
1. Would any of those teams actually want Beltran? A lot of things are going to have to fall into place for a Beltran trade, even beyond the Yankees falling out of the race and ownership giving the thumbs up to sell. (I think both of those things are unlikely.) The Yankees will have to navigate Beltran's no-trade clause, which won't be easy even though it is limited, and find a trade partner willing to meet their asking price, whatever that may be.
Obviously the only teams that will show interest in Beltran are contenders. Contenders will want him as that veteran bat to solidify the lineup. The Tigers, Cardinals, and Dodgers do not have openings in the outfield (or in Detroit's case, at DH) — a spot could always open through injury, but right now there aren't any openings — and the Yankees aren't trading with the Rays, so right off the bat that 14-team list is a ten-team list.
The Indians have a need in the outfield and so do the Royals, especially now that Alex Gordon is injured. Kansas City prioritizes defense but they did pursue Beltran as a free agent three years ago. Their window to win is right now and Beltran would be an upgrade over Jarrod Dyson in right field. The Nationals could always play Bryce Harper in center and put Beltran in right if Ben Revere doesn't start hitting. That definitely seems like a thing they'd do.
Point is, there are complications even beyond Beltran's limited no-trade clause. He's a limited player positionally and that's going to shrink his market. The Royals seem like the best fit and no doubt it's because of his history there. (Would we even be talking about Beltran and the Royals if he hadn't played there?) When the Mets traded Beltran to the Giants years ago, he had plenty of suitors because he could still play right field. Now Beltran is an unignorable defensive liability.
2. What about keeping him and making the qualifying offer? Well, first of all the qualifying offer might not even exist this coming offseason. It could be changed or wiped out completely as part of the upcoming Collective Bargaining Agreement. At the very least, I think the free agent compensation system will be changed in some way. Too many good players are getting hung out to try in January and February. This year that group included Dexter Fowler, Ian Desmond, Yovani Gallardo, and Howie Kendrick. The MLBPA doesn't like that.
For the sake of argument, let's just assume CBA talks drag on and the offseason begins with the current qualifying offer system in place. The qualifying offer is set at the average of the top 125 salaries in baseball, and based on my quick math, that will be $17.1M this winter. Could you see Beltran passing up a one-year deal at $17.1M this offseason? I can't. He's going to turn 40 years old in April and 40-year-olds ain't getting that kind of money on the free agent market. If the Yankees make Beltran the qualifying offer he'll be back next season at a very inflated salary.
3. What about re-signing him? I can't see this happening at all. Beltran could rake the rest of the season and the Yankees will probably still give him a nice thank you, then move on after the season. The team is trying to get younger and trying to get under the luxury tax threshold. Beltran helps them accomplish neither. The Yankees have several young outfielders in Triple-A (Ben Gamel, Aaron Judge, etc.) plus Aaron Hicks at the big league level, and at some point they need to give those guys a chance. If Alex Rodriguez was not around clogging the DH spot, then maybe re-signing Beltran could happen. That is not the case though.
* * *
One way or another, Beltran's time with the Yankees figures to come to an end at some point this year. Either the team will trade him at the deadline or, much more likely, they'll let him walk as a free agent. For now the focus is on Beltran helping the Yankees win and turn their season around. The more he does that, the longer the questions about his future in New York will be put off.