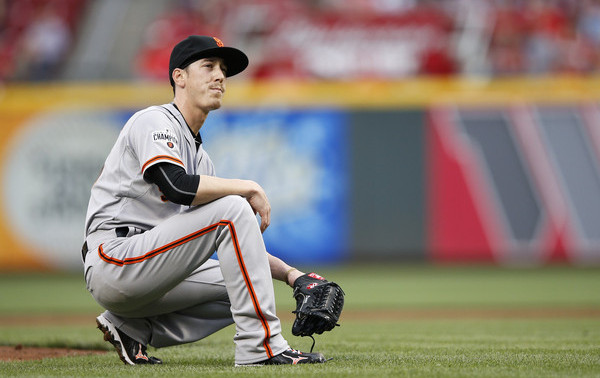 Tomorrow free agent right-hander Tim Lincecum will hold a workout for scouts at the Giants' Spring Training complex in Arizona. Lincecum is looking to show teams he's at full strength following September hip labrum surgery. Jon Heyman says ESPN may televise the workout, which is, uh, odd.
Almost every team in the league will attend Lincecum's workout, though Heyman says the Yankees are one of the few clubs yet to reach out with legitimate interest. That could always change and it doesn't mean they won't attend the workout either. They could send a pair of eyes out of due diligence, like what they see, and then decide to get involved. (Lincecum has pushed his showcase back a few times, which seems like a bit of a red flag.)
Lincecum, who will turn 32 in June, has not been good since the 2011 season. CC Sabathia has been an above-average starter more recently. Lincecum was arguably the best pitcher in the world from 2008-11, then everything fell apart as his velocity and stuff started to fade.
| | IP | ERA | FIP | K% | BB% | GB% | HR/9 | bWAR | fWAR |
| --- | --- | --- | --- | --- | --- | --- | --- | --- | --- |
| 2008-11 | 881.2 | 2.81 | 2.81 | 26.9% | 8.7% | 47.1% | 0.55 | +23.3 | +23.1 |
| 2012-15 | 615.2 | 4.68 | 4.08 | 21.6% | 10.0% | 45.9% | 1.02 | -2.7 | +3.1 |
If the Yankees really wanted to, they could offer Lincecum a full-time rotation spot. Sending Luis Severino to Triple-A would not be unjustified at this point. I have more interest in Lincecum as a reliever at this point — here's our Scouting The Market post — because even when he's been healthy the last few years, he's been awful.
Lincecum would reportedly like to stay on the West Coast, and besides, pitchers looking to rebuild value usually don't come to Yankee Stadium and the AL East unless it's a last resort. Think Bartolo Colon or Freddy Garcia a few years back. Reclamation project pitchers usually seek out big ballparks, not bandboxes.
My guess right now is Lincecum ends up back with the Giants, especially with Jake Peavy (45 ERA+) and Matt Cain (58 ERA+) struggling to much. Those two are best off with each other. Lincecum is still a rock star in San Francisco and the Giants benefit from all the additional fan support. Plus they get a depth arm out of it as well. It's a win-win.
There's never anything wrong with adding pitching depth, and right now Lincecum might be the best scrap heap starter available. It's either him or Kyle Lohse since both Chad Billingsley and Josh Johnson are rehabbing elbow injuries. John Danks, who was designated for assignment earlier this week, figures to hit the market soon as well. The Yankees have had interest in him in the past.