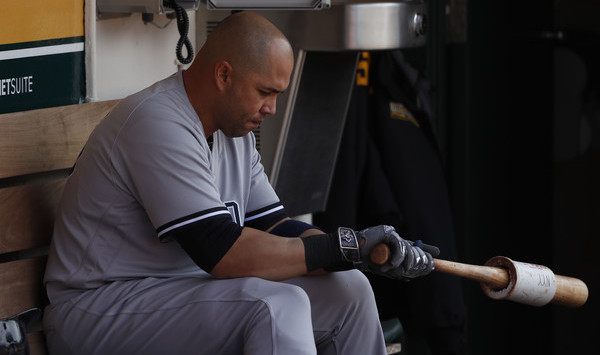 There are now less than 30 hours until the 2016 non-waiver trade deadline. The Yankees dealt Aroldis Chapman to the Cubs earlier this week, and, in case you missed it earlier this morning, they agreed to trade Andrew Miller to the Indians for four prospects. The Yankees are officially on #TeamSell. What a world.
Yet again, we're going to keep track of the day's trade rumblings right here, in this one post. I'm going to be busy most of the day, but I'll do my best to update things in a timely manner. Here are Saturday's rumors and here is all of today's news. All time stamps are ET.
10:00am: The Yankees are listening to offers for Carlos Beltran, but right now other clubs find the asking price to be high. Aside from maybe Jay Bruce, Beltran is the best hitter rumored to be on the market right now. There's still another day for some team to blink and meet the asking price for the impact bat who might get them over the hump. [Buster Olney]
10:11am: The Yankees are looking to add a veteran reliever to replace Miller. It sounds silly to buy, but you know what? Trading away one or two of those spare upper level outfield prospects for a non-rental bullpen arm makes a lot of sense. [Joel Sherman]
10:19am: The Yankees are indeed close to adding a veteran reliever. Who? And for what? Your guess is as good as mine. [Jack Curry]
10:21am: With Miller gone, the Yankees are expected to make multiple moves prior to Monday's trade deadline. Beltran is very much in play. [Curry]
12:42pm: A trade sending Brian McCann to the Braves is far from a sure thing. Atlanta wants the Yankees to eat money while not giving up top prospects. McCann has not yet been asked to waive his no-trade clause. [Ken Rosenthal, Mark Feinsand]
12:45pm: The Yankees are still trying to find a taker for Ivan Nova prior to Monday's deadline. That's not a surprise. [Joel Sherman]
12:46pm: "Stay tuned. A lot more things could happen," said Brian Cashman on a conference call this afternoon. He added he has "not been pre-green-lighted on anything," however.
Reminder before you comment: Your trade proposal sucks.