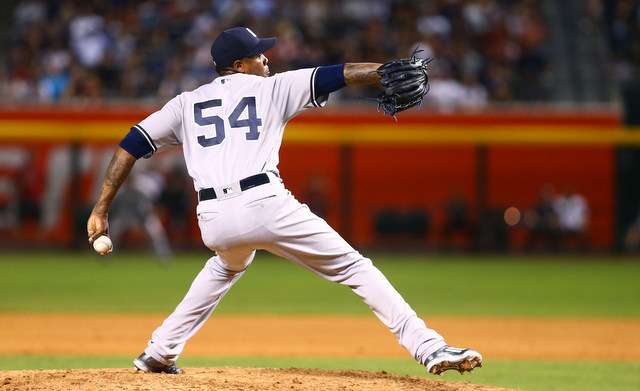 According to Joe Frisaro, the Marlins reached out to the Yankees and "kicked the tires" on lefty relief ace Aroldis Chapman in recent weeks. The Yankees sought big league players in return, not prospects, which pretty much ended things. Miami instead traded for Fernando Rodney a few days ago.
The Marlins are right in the thick of the wildcard race, but they probably need to add some pitching to stay in it all season. We first heard about their interest in Chapman a few days ago, and I wondered whether the Yankees would ask for big league players in return given Miami's shallow farm system. They wound up surrendering one of their better prospects for Rodney.
I mentioned outfielder Marcell Ozuna, lefty Adam Conley, and utility man Derek Dietrich as possible targets for the Yankees in trade talks with the Marlins. It's hard to think they'd get Ozuna or Conley for a rental reliever, even one as good as Chapman, but maybe Dietrich could be had. I'm not sure what other big league Marlins the Yankees could have targeted. Lefty Justin Nicolino? They know Christian Yelich wasn't happening.
For what it's worth, Jon Heyman says the general feeling within the game is that Brian Cashman is "more receptive" to selling at the trade deadline than ownership despite his public comments to the contrary. Hal Steinbrenner, Randy Levine, and all of the other head honchos are not yet to ready to throw in the towel and trade away veteran players at the deadline. That's not a surprise.
The trade deadline is four weeks and two days away, and the Yankees will play an absolutely brutal schedule immediately after the All-Star break (Red Sox, Orioles, Giants, Astros). If nothing else, that should help clarify the team's position in the postseason race by the end of the month. My biggest concern is the Yankees will be just close enough to the race that they do nothing, neither buy nor sell. That would be bad.