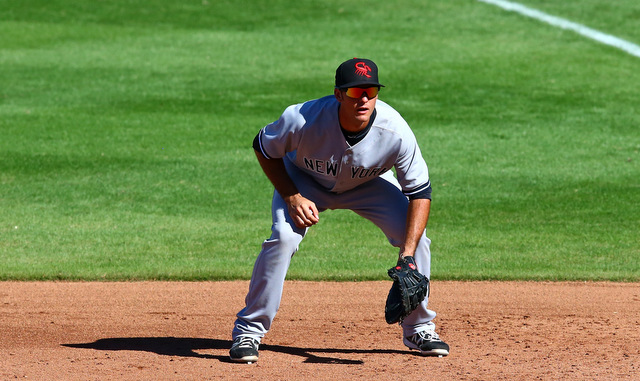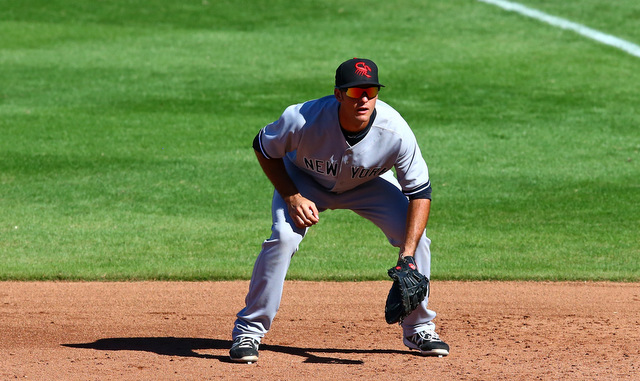 4:28pm: The rosters have been officially announced. The Yankees are sending RHP Brody Koerner to the AzFL in addition to Bird, Torres, Andujar, and Wade. They have three pitching spots listed as TBA. Wade is listed as an outfielder, so that's interesting.
2:30pm: According to Josh Norris, the Yankees are sending first baseman Greg Bird to the Arizona Fall League this season. I imagine this is still a tentative assignment, but it does suggest Bird's rehab from shoulder surgery is going well. The Yankees wouldn't plan on sending him to the AzFL if there was serious concern he wouldn't be ready in time.
Bird, 23, has missed the entire season after having shoulder surgery in February. He had a shoulder injury in the minors last year, raked during his second half cameo with the Yankees, then re-injured the shoulder during an offseason workout. Given how poorly Mark Teixeira and Alex Rodriguez hit this year, the Yankees really missed Bird this summer.
This will be Bird's second AzFL stint, though the circumstances are very different. He's a rehabbing player now. Two years ago he was a prospect getting extra at-bats. Bird hit .313/.391/.556 (176 wRC+) with six homers in 26 games during his first AzFL stint. He was named the league's 2014 Most Valuable Player, then made his MLB debut a few months later.
Norris says the Yankees are also sending third baseman Miguel Andujar and shortstops Gleyber Torres and Tyler Wade to the desert as well. All three are among the clubs better prospects and the Yankees are sending them to the desert for extra at-bats. Andujar is Rule 5 Draft eligible after the season and I imagine the team will use the AzFL stint to further evaluate him and make their 40-man roster decision.
The Yankees still have 3-4 pitching spots to fill and it could be a while before those are announced. James Kaprielian would be an ideal candidate if he gets healthy in time, though I doubt the Yankees will rush him back from a flexor injury. AzFL pitching assignments tend to be boring. Most top pitching prospects are already bumping up against their innings limit, so there are a lot of third and four tier pitching prospects in the league.
The AzFL season begins on Tuesday, October 11th, and runs through Thursday, November 17th. Yankees prospects will suit up for the Scottsdale Scorpions this year. They'll be on a team with Phillies, Angels, Giants, and Mets prospects. There will be days Scottsdale has an all-Yankees infield. Pretty cool.