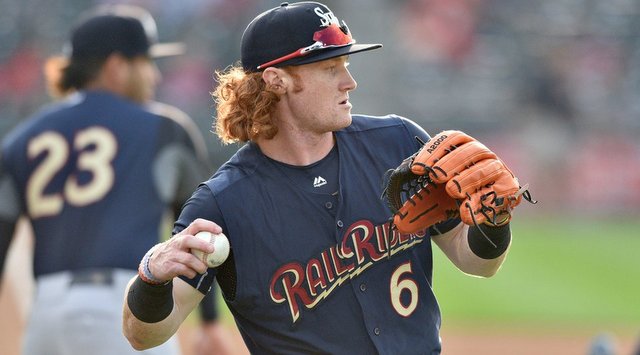 According to Joel Sherman, the Yankees are not planning to call up any prospects this week who are a year away from Rule 5 Draft eligibility. This applies mostly to two players: outfielder Clint Frazier and righty reliever Jonathan Holder. It also applies to guys like Jordan Montgomery and Chance Adams.
Rosters expand tomorrow and right now we know with near certainty Luis Severino will be among the first wave of call-ups. I'd expect other prominent shuttle riders to come up this week as well, namely Nick Goody and Rob Refsnyder. There will be many more additions in September too. Don't worry. Anyway, I have some quick thoughts on this.
1. The Yankees are facing a severe 40-man roster crunch this offseason. The Yankees got a head start on their Rule 5 Draft protection by calling up Aaron Judge, Tyler Austin, and Ben Heller earlier this month. Other notable prospects like Jorge Mateo and Miguel Andujar are Rule 5 Draft eligible this winter, ditto countless other second and third tier prospects.
When I wrote our September call-up preview, I said I think the Yankees will protect five more prospects after the season: Mateo, Andujar, Dietrich Enns, Tyler Webb, and Kyle Higashioka. On top of that, the Yankees will need to clear four 40-man spots for 60-day DL players the day after the World Series ends: Greg Bird, Branden Pinder, Conor Mullee, and Dustin Ackley. Chances are Nathan Eovaldi will land on the 60-day DL soon enough too.
Based on all of that, the Yankees will need to clear ten 40-man spots after the season, assuming Eovaldi finds himself on the 60-day DL. They only have one impending free agent too: Mark Teixeira. That's it. Nine guys are losing their 40-man spots after the season. Nine! Some are obvious (Anthony Swarzak, J.R. Graham, Blake Parker, Richard Bleier, etc.) but many of them won't be. The Yankees are going to have some tough decisions to make*.
* My guess is the Yankees will get a head start on non-tendering Eovaldi and Ackley by releasing them the day after the end of the World Series to clear 40-man space. They won't have the luxury of waiting until the December 2nd tender deadline. That's still only two extra spots.
Point is, the Yankees don't have the luxury of adding players like Holder and Frazier to the 40-man early. Roster spots are going to be at a premium. (It would also unnecessarily burn an option, unless they both make the 2017 Opening Day roster.) I know we all want to see prospects in September. Who doesn't? But the Yankees have to think big picture here. Roster spots are finite resource. They can't call up the prospect flavor of the week just because.
2. The Holder hype is getting a little out of control. Earlier this week Holder turned in one of the most dominant pitching performances I've seen in all my time following the minors. He struck out 12 of 13 batters faced en route to a four-out postseason berth clinching save with Triple-A Scranton. It was incredible. Sheer dominance.
Holder has had a phenomenal season this year, pitching to a 1.65 ERA (1.30 FIP) in 65.1 innings while climbing from High-A to Triple-A. He's struck out 101 and walked only seven. That works out to a 42.4 K% and 2.9 BB%. Insanity. Holder's been as good as any reliever in the minors this season, and because of that, he's viewed as a potential late-inning option in the near future.
While I'm certain Holder will get a big league opportunity soon, likely early next year, I think maybe he's getting a little too much prospect love thanks to his minor league numbers. Holder's a 92-94 mph fastball guy with a good but occasionally loopy curveball. He thrives by getting minor league batters to chase heaters up and out of the zone, as you can see in the video of his eleven straight strikeouts.
I'm not sure how well that strategy will work in the show, because big leaguers will do a better job laying off those pitches than minor leaguers. That said, Holder is still a quality relief prospect and the Yankees should be happy to have him. I just feel that, on the team's righty relief prospect depth chart, Holder definitely falls behind Heller, and also Goody, Johnny Barbato, and even healthy Nick Rumbelow as well. Goody has a much better breaking ball and his minor league numbers are off the charts too (40.2 K% and 4.6 BB% in Triple-A in 2016).
It seems like every season we fall in love with a different minor league reliever who is carving up two or three levels. I could be completely wrong about Holder. Maybe he is a future relief ace. I was dead wrong about David Robertson, after all. (I thought his minor league control issues would keep him out of high-leverage work.) I'm just always skeptical of dominant minor league bullpeners. These guys are all over the place.
3. The Frazier hypothetical sure is fun. Frazier is currently on the Triple-A DL with a hamstring problem and isn't a call-up candidate right now anyway. Also, he hasn't exactly torn up Triple-A. He's hitting only .229/.282/.375 (85 wRC+) since the trade and .231/.274/.368 (80 wRC+) in 29 Triple-A games overall. Frazier hasn't forced the issue. He's a top prospect because his tools are off the charts, not because his numbers are good.
Still, I can't help but wonder if the Yankees would have gone all-in on youth and called up Frazier in September had be been performing better in Triple-A. They could have stuck him in left field everyday and taken playing time away from Brett Gardner and Jacoby Ellsbury the same way they've taken playing time away from Teixeira and Brian McCann. Gary Sanchez has been a smashing success and Judge has had his moments too. Frazier is a potential impact bat who might have helped. Fun hypothetical, I think.