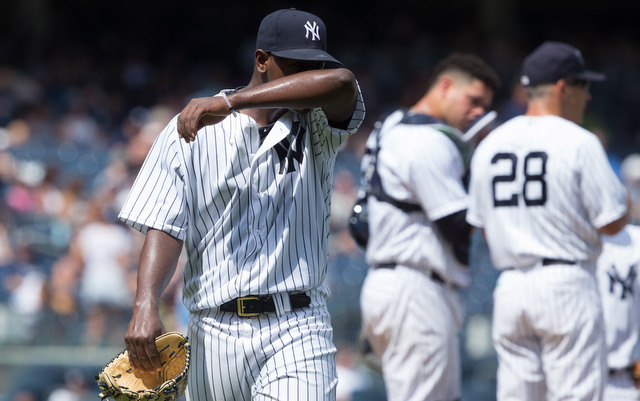 For all the attention the Yankees received this year for selling at the deadline and going young in the second half, the youth movement actually started last season. Rather than make a trade to aid the 2015 postseason push, the Yankees called up some of their very best prospects and gave them prominent roles in the final two months of the season. That was a change from the previous, oh, two decades or so.
No young player received a more prominent role in the second half last season than Luis Severino, who stepped into the rotation and gave the Yankees eleven high-quality starts. The then-21-year-old had a 2.89 ERA (4.37 FIP) in 62.1 innings and established himself as a fixture in the 2016 rotation. Rather than build on that success this year, Severino took a step back in almost every single way this past summer.
Seven Starts in the Show
Despite a rough first outing, Severino was very good in Spring Training, leaving no doubt that he belonged in the rotation. He actually started the fourth game of the season — there were some folks pining for an Opening Day start — ahead of CC Sabathia, which tells you what the Yankees thought of Severino (and Sabathia).
Severino's first start of the season was not good. Not terrible, but not good either. He allowed three runs on ten hits in five innings against the Tigers, including four consecutive singles in the fourth inning. One bad start is one bad start. It happens to everyone. But then, next time out, Severino got hit hard again, this time allowing four runs on eight hits and a walk in 5.2 innings.
It never got any better. Severino allowed at least four runs in four of his next five starts, including seven runs on seven hits and four walks in 2.2 innings against the White Sox on May 13th. He left that start with an injury, and ominously pointed to his elbow when trainer Steve Donohue came out to visit him.
The injury ended an absolute nightmare start to the season for Severino. He pitched to a 7.46 ERA (5.52 FIP) in 35 innings in his first seven starts of 2016, and he wasn't missing bats (16.8% strikeout rate) or keeping the ball in the park (2.06 HR/9). Home runs were up all around the league this season, but that's an extreme dinger rate.
Injury or no injury, it seemed like there was a pretty good chance that disaster start against the White Sox was going to be Severino's final big league start for a while. There was chatter the Yankees would move him to the bullpen or demote him to Tripe-A, and it would have been in no way unjustified. He was terrible and costing the Yankees games. The injury provided a temporary reprieve.
A Dozen Starts in the Minors
Thankfully, the injury was nothing serious. The first thing that crosses everyone's mind when they see a pitcher grab their elbow like that is Tommy John surgery, and I understand why. Lots and lots of pitchers are blowing out their elbows these days. Severino avoided a serious injury and instead went down with a mild triceps strain. Ex-friggin-hale.
The triceps only required two weeks of rest and one minor league rehab start, but rather than bring him back to the big leagues, the Yankees activated Severino off the disabled list on May 30th and optioned him to Triple-A. He was sent down with the goal of improving his command, specifically of his secondary stuff. Look at his slider location during those first seven starts: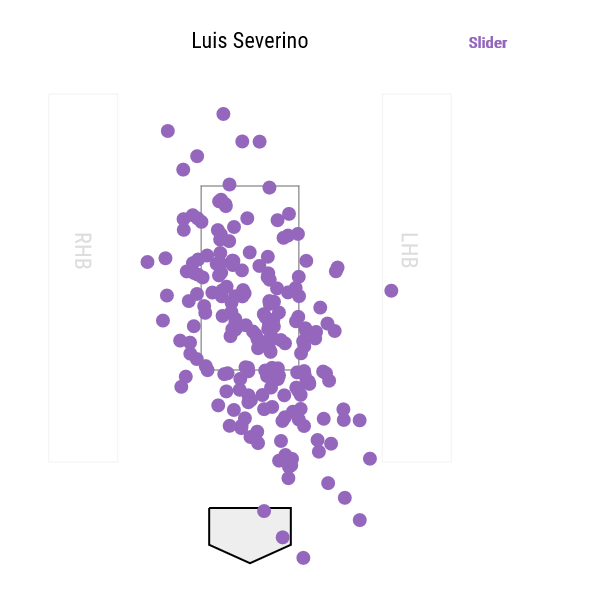 Yikes. That's not good. Severino make a lot of mistakes in the middle of zone — with all his pitches, really, not just his slider — and he seemed to pay for every single one. Opponents hit .327/.373/.547 against him in those seven starts. That's slightly better than what AL MVP candidate Mookie Betts did this year (.318/.363/.534). Severino was bad. Bad bad bad.
The Yankees sent Severino to Triple-A and they kept him there for a while. It wasn't one of those "one or two starts and you're coming back up" deals. Severino made ten starts with the RailRiders and his numbers were very good: 3.25 ERA (3.00 FIP) with 22.0% strikeouts and 5.8% walks in 63.2 innings. Did he actually improve his command while down there? Who knew. We were going to have to see Severino with our own eyes to find out.
"I did look at it," said Joe Girardi in early June after one of Severino's best Triple-A starts. "He threw some better sliders, some better changeups, but I still think there's work to be done with location of fastball and consistency of his offspeed. I did see some better sliders."
Back, Temporarily
Following those ten Triple-A starts, the Yankees called Severino back to the big leagues to replace Aroldis Chapman after he was traded to the Cubs. I thought it was a temporary call-up until Adam Warren reported, but nope, Severino stuck around even after that. The Yankees did not use him as a starter though. He returned as a reliever and made three mop-up appearances.
The first two of those three appearances were solid. Two scoreless innings each time. The third appearance was the masterpiece, the one that had folks thinking Severino deserved another chance to start. He replaced Chad Green in the fourth inning and fired 4.1 innings of one-hit ball against the Mets on August 3rd. Severino struck out five and allowed just one unearned run.
The Yankees were apparently among those convinced Severino was ready to start again, so they gave him the ball after Nathan Eovaldi went down with his elbow injury a week later. The results were, somewhat predictably, not good. He allowed 12 runs on 15 hits and one walk in eight innings in two starts. Yuck. So back to Triple-A Severino went for three more starts before rosters expanded.
Return as a Reliever
Once rosters expanded, the Yankees recalled Severino and again used him as a reliever, though this time he wasn't limited to mop-up duty. Severino essentially took over as Girardi's secondary setup man. On days Warren and Tyler Clippard weren't available, it was Severino who got the ball in high-leverage spots, and he was excellent. One run allowed on seven hits and seven walks in 15 innings. He struck out 15. A few too many walks, but otherwise beautiful.
The Yankees gave Severino two starts at the very end of the season because Green got hurt, and that was basically out of necessity. They had no one else to start. The first of those two starts was rather eventful. Severino unintentionally hit Josh Donaldson with a pitch, J.A. Happ retaliated by hitting Chase Headley, then Severino retaliated for the retaliation by drilling Justin Smoak. Madness ensued.
Severino was ejected from the game but was somehow not suspended, which is, uh, weird. He was very obviously throwing at Smoak intentionally and the benches had already been warned. Usually that equals an automatic suspension. Severino managed to escape with just a fine. Weird. Too bad he couldn't limit the damage on the mound the same way he limited the discipline after intentionally throwing at a guy nyuk nyuk nyuk.
Anyway, Severino made one last ineffective start (three runs in 3.2 innings) to close out his season. The total damage: 5.83 ERA (4.49 FIP) in 71 innings spread across eleven starts and eleven relief appearances. That, my friends, is a -0.3 bWAR and +0.6 fWAR pitcher. Pretty much replacement level. Worse than that as a starter, much better than that as a reliever.
| | IP | ERA | FIP | K% | BB% | GB% | HR/9 | Opp. Line |
| --- | --- | --- | --- | --- | --- | --- | --- | --- |
| as SP | 47.2 | 8.50 | 5.52 | 16.8% | 6.2% | 44.3% | 2.06 | .337/.389/.587 |
| as RP | 23.1 | 0.39 | 3.48 | 25.8% | 9.9% | 47.9% | 0.75 | .105/.209/.158 |
This year, Severino became only the 23rd pitcher in history to make at least ten starts in the single season with an 8.50+ ERA. One of those 23 is Roy Halladay, who had to be broken down and built back up completely by the Blue Jays before becoming a two-time Cy Young award winner. Most of the others are broken down dudes trying to hang on. Not good company to keep.
At no point this season did Severino look like a competent Major League starter. Young starters struggle. It's what they do. Usually you're willing to live with the growing pains because you see the occasional flashes of brilliance. There were no flashes of brilliance with Severino this year. Not when he was in the rotation. His best start this season was two runs on seven hits in six innings. Yeah.
Whither the Changeup?
When the Yankees sent Severino down to Triple-A following the injury, the goal was improving the command of his secondary pitches. His slider in particular. I thought we saw improved slider location after he was called back up later in the season too. Severino did a better job burying it down and away to righties. There's still work to be done, but there was progress.
The changeup, however, went backwards. Severino did not throw the pitch at all in relief — why would he? he was asked to get important outs in September and he leaned on the fastball and slider, his two best pitches — and he admitted he lost confidence in the pitch. He has a good changeup! It's a quality pitch. But Severino lost confidence in it. He said as much. That's a problem.
What Severino went through this season was not normal growing pains. He went backwards. We didn't see any signs that he could be an effective starter, and any gains he made in slider command he gave back by losing confidence in his changeup. All he did was shift the problem. The Yankees really rushed Severino up the minor league ladder and I do think that played a role in his poor year. It doesn't explain everything, but I do think it was a factor.
Outlook for 2017
There's no way the Yankees can bring Severino to Spring Training counting on him to be one of their five starters next year. It made sense to give him a rotation spot last year. He pitched himself out of the rotation though. That isn't to say he shouldn't be given the opportunity to win a rotation spot in camp, because he should. The Yankees just can't hand it to him though. Severino hasn't earned it.
If nothing else, Severino showed this year he can be a pretty great reliever. It's still way too early to give up on him as a starter. The Yankees should send him to Triple-A to start before keeping him in the big leagues as a reliever. Severino will turn 23 in February and he showed last season he can be a successful starting pitcher in the show. He got thrown off track this year. It happens. As ugly this season was for Severino, it shouldn't be the end of his career as a starter. Hopefully it's a learning experience and he's better for it in the long run.