Now that the 2016 season is complete and the dust has settled, it's time to begin our annual season review series. This year was a complicated one. That's for sure.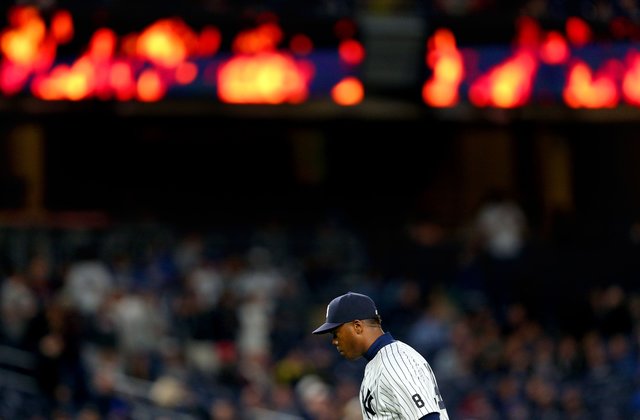 Over the last few seasons the Yankees have made a habit of carrying at least two elite relievers on their roster. The cast of characters changed — it was Mariano Rivera and Phil Hughes in 2009, Rafael Soriano and David Robertson in 2012, Dellin Betances and Andrew Miller in 2015, etc. — but Joe Girardi always had a pair of high-end arms in his bullpen. It was quite the luxury.
This past season the Yankees set themselves up to carry three top notch relievers. Aroldis Chapman was brought in over the winter to join Betances and Miller, forming what might have been the most devastating 1-2-3 bullpen punch in history. Those three held up their end of the bargain. They were excellent. The rest of the team did not. When time came to make a change at midseason, Chapman was the first one traded away. His short time in pinstripes was … eventful.
The First Trade
It was only three years ago that the Reds were in the postseason, you know. They went 90-72 in 2013, but lost the NL Wildcard Game to the Pirates, which more or less marked the beginning of their rebuild. Cincinnati went 76-86 in 2014 and 64-98 in 2015. Johnny Cueto and Todd Frazier were traded away. Brandon Phillips would have gone too had he not invoked his no-trade clause. The Reds decided to start over.
The rebuild continued this offseason with the Chapman trade. The Reds and Dodgers agreed to a trade that would have sent Chapman to Los Angeles at the Winter Meetings in December. The trade was done. The two teams agreed to the players and figuratively shook on it. The trade then hit a snag, and for a while no one knew why. Everyone kinda assumed something popped up in the medicals somewhere. That's usually what happens.
Then, on December 7th, Jeff Passan and Tim Brown reported Chapman was being investigated by police for an alleged domestic abuse incident at his home in Miami back in October. His girlfriend claimed he pushed and choked her, then fired a handgun in his garage. Chapman denied pushing and choking her but admitted to police he fired eight shots from his handgun in his house. No arrests were made that night.
That was enough for the Dodgers. The club backed out of the trade and the Reds were left with a very good player, albeit an extremely devalued accident. The domestic violence incident became public knowledge and Chapman became persona non grata around the league. The Reds tried for weeks to trade him after the deal with the Dodgers fell apart and had no luck. It wasn't until after Christmas that the Yankees came calling.
On December 28th, three weeks after the news of Chapman's domestic violence incident broke, the Yankees acquired the hard-throwing southpaw from Cincinnati for four non-top prospects. "Given the circumstances that exist, the price point on the acquisition has been modified," said Brian Cashman during the trade conference call. "We felt this was an opportunity to add a big arm to our bullpen."
Translation: the domestic violence incident lowered the asking price and we took advantage. That's what happened. There's no need to dance around it. Every team in baseball wanted Chapman in their bullpen. Few were willing to take the PR hit that came with acquiring a player being investigated for domestic violence. The Yankees, seeing this as an opportunity to buy low, made the trade. Gross.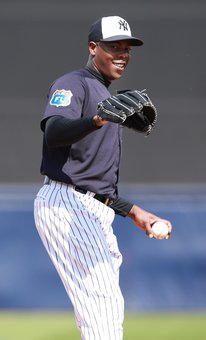 At the time of the trade Chapman was still being investigated by police. It wasn't clear whether he would face criminal charges or be suspended by MLB under the new domestic violence policy. Ultimately, Chapman was not charged with a crime because witnesses changed their stories. The handgun was registered and owned legally, and from what I understand there's no law against shooting a gun on your own private property in Florida.
The Yankees took the PR hit — "Certainly, there is some serious issues here that are in play … There's risk, and I understand that," said Cashman — but added a truly great reliever to the bullpen. They were a better team after the trade, unquestionably. They also upset more than a few fans because, as it turns out, people don't like domestic violence, especially those who have had it in their lives. The team hoped the allure of 105 mph fastballs would make everything better. That was the plan.
MLB's investigation into the incident carried over into Spring Training, and on March 1st, commissioner Rob Manfred announced Chapman would be suspended 30 games for the incident. "I am gratified that Mr. Chapman has taken responsibility for his conduct, that he has agreed not to appeal the 30-game suspension, and that he has agreed to comply with the confidential directives of the Joint Policy Board established under the parties' Policy to ensure that a similar incident does not occur in the future," said the press release.
Chapman became the first player suspended under the league's new domestic violence policy. He agreed to the 30-game suspension for one reason: to avoid having his free agency pushed back. Had Chapman continued to fight the suspension, the league could have suspended him even longer, and a ban of 46 games would have prevented him from becoming a free agent after the season. The 30-day ban and forfeiting $1.7M in salary was worth it to maintain free agent eligibility after 2016.
Because this whole thing wasn't weird and gross enough, Chapman was allowed to continue partipating in Spring Training. How about that? He went through team workouts and even pitched in Grapefruit League games. Eight of them, in fact. At the end of camp, the rest of the Yankees went north and Chapman stayed behind in Tampa to stay sharp during his suspension. He threw bullpens and pitched in simulated games against Extended Spring Training kids.
Eleven Weeks of Dominance
The Yankees went 11-18 during Chapman's suspension — a rainout meant he missed only 29 games — though that was hardly a product of missing a reliever. The offense stunk. That was the problem. Chapman returned to the Yankees on May 9th, and he made his season debut that night, in a four-run game. It was exactly what Girardi wanted. A relatively low stress outing to ease him back in.
Chapman immediately took over as the team's closer, as planned. Girardi said that was going to be the case in Spring Training and that's exactly how it played out. Miller did nothing to lose the closer's job — Chapman actually allowed a run before Miller this season — but because he's a swell guy, Andrew moved into a setup role with zero complaints. The three-headed bullpen monster was intact.
Chapman's first save with the Yankees came in his second appearance; he struck out one in a scoreless inning against the Royals on May 10th to protect a three-run lead. Over his first 25 appearances in pinstripes, Chapman went 17-for-18 in save chances and fanned 34 batters in 23 innings. He allowed only eight runs (seven earned) and opponents hit a weak .207/.250/.322 against him. Chapman was as advertised on the mound. Utterly dominant.
On July 9th in Cleveland, Aroldis had his finest moment as a Yankee. The Yankees and Indians were tied 6-6 in the ninth inning, and Girardi went to his closer on the road in a tie game. Chapman recorded the final out of the ninth with the winning run at second, tossed a perfect tenth inning, then went back out for the 11th after the Yankees took the lead on Brian McCann's double. He threw 32 pitches and struck out four in 2.1 scoreless innings.
That was Chapman's final appearance before the All-Star break and ultimately his sixth to last appearance as a Yankee. He appeared in five more games after the break, throwing six scoreless innings. All told, Chapman pitched to a 2.01 ERA (1.93 FIP) with a 36.7% strikeout rate and a 6.7% walk rate in 31.1 innings with New York. He also went 20-for-21 in save chances. Three things stood out to me about Chapman during his short time with the Yankees.
1. The raw velocity is jaw-dropping. On July 18th against the Orioles, Chapman threw a fastball that PitchFX measured at 105.85 mph. That's the fastest pitch ever recorded. Chapman broke his own record, a 105.81 mph heater he threw back in 2010. His slowest fastest pitch in a game the Yankees was 99.13 mph. Chapman threw 254 pitches at 100+ mph with the Yankees. The rest of baseball threw 407 such pitches during that time. He accounted for 38% percent of the league's 100+ mph pitches from Opening Day through July 25th in only 31.1 innings. That's nuts.
2. He's an incredibly strong and athletic human. The raw radar gun readings were impressive enough. What really stood out to me was Chapman's ability to throw that hard even while fatigued. Girardi used Chapman on back-to-back days an awful lot — there were several instances in which he warmed up to pitch a third straight day too — yet his velocity never waned. Chapman pitched five times in a seven-day span from June 2nd through June 9th, and in the fifth appearance he averaged 100.10 mph and topped out at 102.27 mph. Ridiculous. It's a shame the term freak of nature has been so overused because Chapman is a true freak of nature. Humans aren't supposed to throw this hard. He's an incredible athlete and so powerful.
3. He gives up a lot of foul balls for a guy who throws 100 mph. Among the 359 pitchers to throw at least 750 pitches during the regular season, Chapman ranked eighth with a 23.4% foul ball rate. So despite that high octane fastball and sneaky good slider, hitters were still able to foul off roughly one quarter of Chapman's pitches. Maybe this isn't such a big deal — Kenley Jansen is first at 25.95% and he's pretty darn good too — I was just surprised at how often hitters were able to spoil those triple-digit fastballs. I guess I kinda expected Chapman to come in and throw fastballs by everyone. That's a me problem, not a Chapman problem. Still, lots of foul balls.
The Second Trade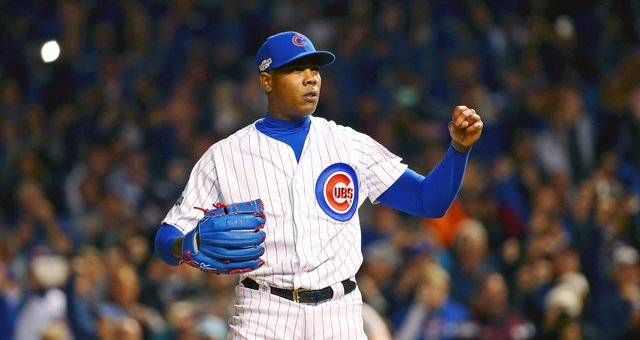 Chapman was available to the Yankees for 69 total games, and in those 69 games the Yankees went 39-30. That's pretty good! Too bad that only improved them to 50-48 on the season overall. On the morning of July 25th, the day the Yankees traded Chapman away, the team was 7.5 games back in the division and 4.5 games back of a wildcard spot with four teams ahead of them. FanGraphs put their postseason odds at 8.3%.
The Yankees were going nowhere fast leading up to the trade deadline, so rumblings of a Chapman trade grew louder. I thought it made sense to trade him even if the Yankees were in the race. They got him at a discounted rate and were in position to flip him for much more than they gave up. The various investigations were over and he'd served his suspension. When the Yankees acquired him, they had no idea whether he would be suspended five games, 30 games, or 162 games. That mystery was gone.
As expected, there was no shortage of interested teams. Basically every contender was connected to Chapman at some point. The Cubs were said to be the most aggressive suitor, which made sense. They were having a fantastic season and Chapman was someone who could help put them over the top. Two months of a great closer is not something you give up the farm to acquire when you're on the postseason bubble. That's someone you go get when you want to win the World Series, like the Cubs.
So, after a weekend of negotiations, the Yankees and Cubs finalized the Chapman trade on Monday, July 25th, one week prior to the trade deadline. Chapman went to Chicago for old pal Adam Warren, shortstop prospect Gleyber Torres, and outfield prospects Billy McKinney and Rashad Crawford. Torres was the real prize. Baseball America ranked him as the 27th best prospect in baseball at midseason. Warren is Warren, and McKinney was a top 100 prospect a year ago. Crawford, the fourth piece, is a toolsy lottery ticket.
From a pure baseball perspective, the series of Chapman trades was masterful. The Yankees got him for pennies on the dollar, then traded him for about $1.75 on the dollar. They turned four non-top prospects into 31.1 innings of Chapman, Warren, an elite prospect, and two other prospects. How is that anything but a smashing success? Given what they received in the trade, keeping Chapman in hopes of contention and taking the draft pick at the end of the season would have been a big mistake.
What About The Prospects?
We'll cover Warren and the three prospects the Yankees received in the Chapman trade later in the season review series. This section is about the four prospects the Yankees gave up to get Chapman last December. Here's the list and a brief recap of their seasons:
RHP Caleb Cotham: Made the Reds' Opening Day roster and had a 7.40 ERA (4.87 FIP) in 24.1 relief innings before going down with shoulder and knee problems.
RHP Rookie Davis: Had a 3.71 ERA (4.27 FIP) in 131 innings between Double-A and Triple-A. He struck out only 15.5% of batters faced.
3B Eric Jagielo: Hit an unfathomable .205/.305/.310 (83 wRC+) with seven homers in 111 games at Double-A. I have no idea what in the world happened here.
IF Tony Renda: Hit .311/.363/.434 (132 wRC+) between Double-A and Triple-A, then got called up to the show late in the season. He picked up his first MLB hit three days after the fact thanks to a scoring change.
I have no idea what happened to Jagielo. That's the same guy who hit .284/.367/.495 (141 wRC+) with nine homers in 58 Double-A games in 2015 before going down with a knee injury. I guess the injury took that much out of him? Davis broke out last year but didn't build on it this year. Cotham and Renda were so far down the depth chart the Yankees didn't even notice they were gone.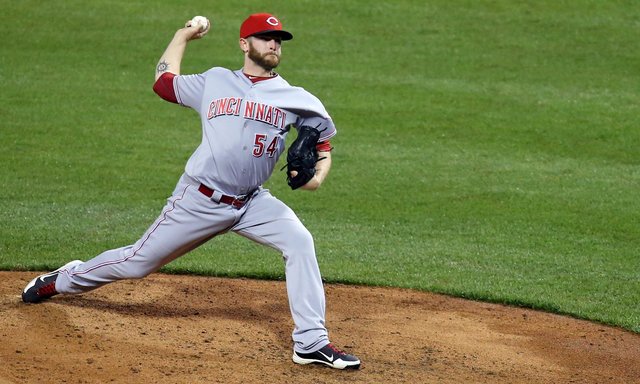 From Cincinnati's perspective, this trade is a total disaster. They had the opportunity to trade Chapman at the deadline last year, decided to wait until the offseason, and it came back to bite them. The Reds ended up settling for four meh at best pieces for one of the best closers in the game, then watched the Yankees flip him for a ton seven months later. Woof. Needless to say, the Yankees are pretty thrilled with how things turned out.
Outlook for 2017
Well, Chapman is not with the Yankees at the moment, but he might be back next season. He'll be a free agent this winter, and thanks to the trade, the Cubs can not make him the qualifying offer. That means teams will not have to forfeit a draft pick to sign Chapman this offseason. All he's going to cost is straight cash homey, and the Yankees have a lot of that lying around.
"My job is to get as much as we can find. In the front end of the season 7-8-9 was special," said Cashman at his end-of-season press conference when asked about signing a top notch reliever. "So my job is just to find as much quality arms, whether they're fireballers or sidewinders or soft-tossers. The only important thing is getting outs … The more the merrier."
Soon after the Yankees traded Chapman to the Cubs, I said I expect them to pursue one of the top free agent relievers this offseason, be it Chapman or Jansen or whoever else. Chapman won't cost a draft pick and the Yankees know him, which I think makes him their top target. Remember, they tried to sign him to an extension earlier this summer. It was only after Chapman said no to an extension that Hal Steinbrener okayed the trade, reportedly.
We'll see what happens with Chapman and the Yankees this offseason. Either way, I expect him to shatter Jonathan Papelbon's record contract for a reliever (four years, $50M). Jansen's going to eclipse that too. The Yankees love having multiple elite relievers, and with Miller also traded away, signing one this offseason feels inevitable. Chapman was extremely productive in his short time in pinstripes and a reunion very well may be in order. Expect to hear a lot about these two this offseason.