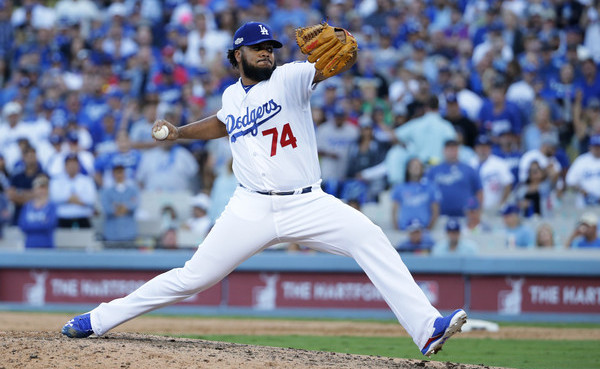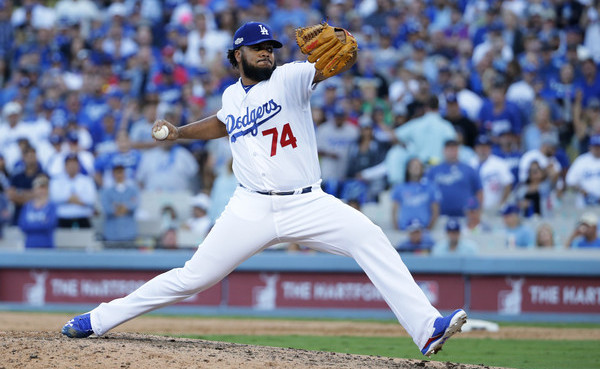 According to Jon Heyman, the Yankees are planning to target one of the top free agent relievers this upcoming offseason. That means either Aroldis Chapman or Kenley Jansen, or possibly Mark Melancon. They're the three big names out there this winter. Heyman says the Yankees also want to bolster their rotation, though that's not a shock. That applies to every team ever.
Anyway, this doesn't surprise me at all. In fact, I said I expect the Yankees to pursue a top free agent reliever the day after the Chapman trade. The Yankees, like every other team, enjoy having multiple elite relievers in their bullpen. This offseason is an opportunity to add one (or two!) using nothing but cash, and the Yankees sure have a lot of that. In fact, I would be surprised if they don't land a top reliever this winter. Here are some more thoughts on this.
1. The Yankees will have some money to spend. Let's do some really quick and dirty math. The Yankees opened the season with a $226M payroll, or thereabouts. Carlos Beltran ($15M), Mark Teixeira ($22.5M), and Andrew Miller ($9M) will all be off the books next season. So will non-tender candidates Nathan Eovaldi ($5.6M) and Dustin Ackley ($3.2M). That's a lot of big salaries going away.
That all adds up to $55.3M in savings, but, not counting Eovaldi and Ackley, the Yankees are facing roughly $12M in arbitration raises, so it's really $43.3M in savings. That can buy you some great relievers, but we know the Yankees are going to want to get under the luxury tax threshold, whatever it may be. We'll find out in a few weeks once the new Collective Bargaining Agreement is finalized. Hopefully it's north of $200M.
Assuming the new threshold is right around $200M, the Yankees will have about $18M to spend this offseason based on my back of the envelope math. That's enough to give Chapman or Jansen the highest annual salary for a reliever in history, though there wouldn't be much left over. For what it's worth, Hal Steinbrenner recently told Joel Sherman he doesn't anticipate getting under the luxury tax threshold until 2018. We'll see.
2. Chapman and Melancon won't cost a pick. Because they were traded at midseason, neither Chapman nor Melancon are eligible for the qualifying offer. They won't cost anything other than a money. Jansen is going to get the qualifying offer, so teams will have to forfeit their first round pick to sign him. That assumes the new CBA doesn't eliminate the qualifying offer system. I don't think it will.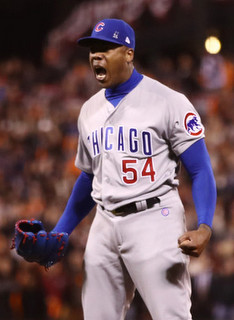 In a vacuum, giving up a draft pick to sign Jansen isn't a big deal. He's an elite player and a stupid little draft pick shouldn't stand in the way of acquiring a player of his caliber. He's a difference maker. This isn't a vacuum though. Chapman and Melancon are excellent pitchers themselves. Why give up the pick for Jansen when you can sign a comparable reliever and keep your first round pick? I can definitely see Chapman and Melancon generating a ton of interest early in the offseason as teams try to nab a top reliever and keep their top pick.
3. Signing a top reliever doesn't fix everything. Adding a great reliever to the bullpen is always a good thing. There's not a team in baseball that wouldn't benefit from signing one of these guys. The Yankees are not one reliever away though. Heck, just this season the Yankees had arguably the best 7-8-9 combination in the history of baseball, and it didn't help them much because the offense stunk and the rotation was spotty.
The Yankees should sign one of those great free agent relievers because they have the money, they have the need, and because guys like that are unbelievably valuable in the postseason, which is where the Yankees ultimately want to go. They still need to address the offense and the rotation, however. And even the middle relief too. As long as signing a top reliever is just one move this offseason and not the move, the Yankees should be all-in on this free agent bullpen class.
4. Signing a free agent reliever doesn't mean the trades were a mistake. With both Chapman and Miller helping their new teams to the League Championship Series, I've seen more than a few folks suggest trading one or both away was a mistake. No. Just, no. The Yankees were going nowhere at midseason and there was little reason to believe they'd climb back into the race in August and September.
Both Chapman and Miller were traded for monster prospect packages. We're talking three top 100 caliber guys plus several more pieces. And Adam Warren too. He's cool. The bullpen trade market was outrageous and the Yankees would have been foolish not to take advantage, especially given the free agent class. The Yankees finished five games back of the second wildcard spot. Dellin Betances struggled late in the season, but not enough that keeping Chapman and/or Miller would have been worth it. Trading those guys was 100% the right move. Zero questions asked. That they can sign a replacement elite reliever(s) this winter is gravy.