The mailbag inbox was pretty empty this week thanks to the holidays. That's okay, because every so often we get a great question that is worth its own post, and that was the case this week. So, rather than the usual multi-question format, we've got one question and one big answer this week. RABmailbag (at) gmail (dot) com is the place to send us questions.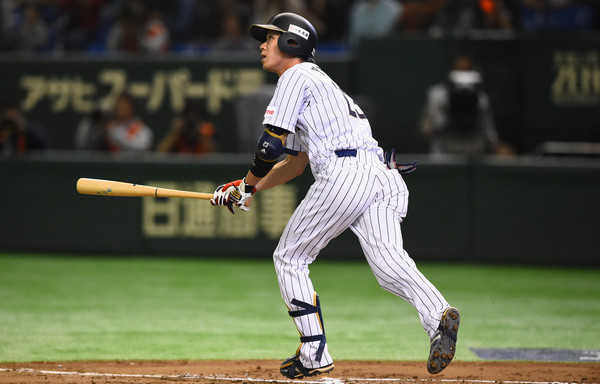 Dan asks: Are there any other players on the Japanese market besides Otani that we can be excited about in the future?
There are definitely a few, but none come close to Shohei Otani in terms of potential big league impact. He is truly in a class all by himself right now. Otani is the best player in Japan and has the tools to be an ace-caliber pitcher in MLB, if not a reliable hitter as well. I'm curious to see if a team will let him hit and pitch when the time comes. That just might be what it takes to sign him.
Anyway, most of the top talent in Japan in terms of big league potential is on the mound right now. These things to tend to be cyclical, and right now there are more high-end arms than high-end bats. Check back in a few years and the opposite will probably be true. So, with that in mind, here are five non-Otani players in Nippon Pro Baseball who could interest MLB teams in the near future. This isn't a comprehensive list. It's just a few of the most notable. The players are listed alphabetically.
RHP Kohei Arihara
Arihara, 24, just finished his second season with the Nippon Ham Fighters, during which he had a 2.94 ERA with 103 strikeouts (16.1 K%) and 38 walks (5.9 BB%) in 22 starts and 156 innings. He runs his fastball up to 96 mph and uses a wide array of offspeed pitches, and while nothing he throws is a truly dominant offering, Arihara has good command and really knows how to pitch.
Arihara has gotten plenty of extra scouting exposure recently as Otani's teammate. Once he gets some more experience under his belt — he missed time in college with elbow injury, which is obviously a red flag — Arihara will be a candidate to come over to MLB. His upside may be limited, but there's a chance for mid-rotation production here.
RHP Shintaro Fujinami
Back in 2012, Otani and Fujinami were the top two prospects in the NPB draft, and plenty of folks at the time preferred Fujinami because his secondary pitchers were more advanced. Otani went first overall — Fujinami was selected by four teams in the first round, then was awarded to the Hanshin Tigers after a lottery drawing (the NPB draft is weird) — and has since developed into the better NPB player and MLB prospect, but Fujinami is damn good himself.
The 22-year-old Fujinami had a 3.25 ERA in 26 starts and 169 innings in 2016, striking out 176 (24.0 K%) and walking 70 (9.6 BB%). Control has been his biggest issue — he's walked 9.2% of batters faced in his four NPB seasons — but he misses plenty of bats with a 92-95 mph fastball, a mid-80s splitter, and a low-80s slider. His 221 strikeouts a year ago were by far the most in the Central League, Japan's non-DH league. Only one other player had more than 175 strikeouts. (Randy Messenger had 194.)
Fujinami is widely considered the second best MLB prospect in Japan, but he's in the same boat as Otani. He's only 22, which means he'll be subject to the international hard cap for the next three years. Also, Fujinami is five years away from qualifying for international free agency, so he'll have to go through the posting system to come over at any point before the 2021-22 offseason. It's not only Otani who is getting screwed over by the hard cap.
LHP Yusei Kikuchi
A few years ago Kikuchi, now 25, was considering jumping to MLB straight out of high school, which would have been unprecedented. (Junichi Tazawa was undrafted out of high school, played one year in a Japanese independent league, then chose to forego NPB for MLB.) NPB doesn't like the idea of the best young Japanese players not playing in Japan, so nowadays anyone who signs with an MLB team out of high school is banned from NPB for at least three years. Not surprisingly, no one has done it.
Anyway, Kikuchi has spent the last six seasons with the Seibu Lions and has career has been up and down, mostly due to shoulder problems. He had a 2.58 ERA with 127 strikeouts (21.3 K%) and 67 walks (11.3 K%) in 22 starts and 143 innings this past season, though the blazing mid-to-upper-90s fastball that made him such a hot commodity as a teenager now resides mostly in the low-90s. Kikuchi relies on his three offspeed pitches (curveball, slider, changeup) to get most of his outs these days.
It's no secret Kikuchi wants to come over to MLB at some point — he met with several clubs,
including the Yankees
, back in 2009 when he considered coming over after high school — and since he's 25, the international hard cap won't apply to him. It's up to Seibu to post him because he's still three years from international free agency. Kikuchi is not the tippy top MLB prospect he was a few years ago, but lefties who can miss bats are always going to get a look.
RHP Takahiro Norimoto
Three years ago the 26-year-old Norimoto took over as staff ace of the Rakuten Golden Eagles after Masahiro Tanaka left via the posting system. His last two seasons have been eerily similar:
| | IP | ERA | Strikeouts | Walks | Homers |
| --- | --- | --- | --- | --- | --- |
| 2015 | 194.2 | 2.91 | 215 (26.9%) | 48 (6.0%) | 14 (0.65 HR/9) |
| 2016 | 195 | 2.91 | 216 (26.3%) | 50 (6.1%) | 12 (0.55 HR/9) |
Freaky. Norimoto has big stuff but not big size. He's listed at 5-foot-10 and 178 lbs., and fair or not, teams are always wary of undersized righties. Durability is a concern, and so is fastball plane. Teams worry short pitchers will be fly ball and home run prone because they can't pitch downhill. Still, Norimoto has a mid-90s fastball and can miss bats with both his splitter and slider. That'll play.
Norimoto signed a three-year extension worth $1.72M per season last month, so he's not coming over to MLB anytime soon. That's a shame. He wouldn't have been subject to any international spending restrictions because of his age. Not the bonus pools this signing period or the hard cap that takes effect next signing period. Womp womp. Norimoto will be 29 before he's eligible to come over to MLB.
IF Tetsuto Yamada
Over the last three years, and especially the last two, Yamada has established himself as one of the most dominant hitters in Japan. Last season he hit .329/.416/.610 with 38 home runs and 34 stolen bases en route to being named Central League MVP. He was the first player in NPB history to win both the home run and stolen base titles. Yamada also had a Reggie Jackson moment in the postseason, swatting three home runs in three consecutive plate appearances in Game Three of the Japan Series.
This past season the 24-year-old Yamada managed a .304/.425/.607 batting line with 38 homers and 30 stolen bases for the Yakult Swallows. He's a right-handed hitter with tremendous bat speed and quick twitch athleticism, plus he knows how to control the strike zone (17.2 K% and 14.4 BB% from 2015-16). While going 30-30 in the big leagues might not happen, Yamada has 20-20 potential, which would be pretty damn valuable from a good defensive middle infielder. (Reports indicate he fits best at second.)
Yamada has supposedly expressed interest in coming over to MLB, and since he'll turn 25 in July, he won't be subject to the international hard cap next offseason. The Swallows can post him and Yamada can sign a contract of any size. Unless the posting agreement gets changed again, that is. MLB seems to like making it difficult for top overseas players to play in their league for whatever reason.
It's worth noting most of the biggest busts among Japanese players in MLB have been infielders (Kaz Matsui, Tsuyoshi Nishioka, etc.), and I've seen speculation that the game is so much faster here that infielders have a tough time adjusting, and their defensive issues carry over at the plate. Who knows whether that's true. There's risk with every signing, and it is fair to wonder whether Yamada's big leg kick will play over here. My guess is some team will bet millions on his power-speed combination.
* * *
The Yankees have shown they will get involved in the Japanese market if there's a player they really like, though they're going to do their homework first. They won't rush into anything like they did with Kei Igawa again. Otani is clearly the best Japan has to offer for a few years. Others like Fujinami and Norimoto are intriguing, though they face obstacles coming over (hard cap for Fujinami, contract extension for Norimoto).
Yamada could end up being a very big deal next offseason, assuming the Swallows agree to post him for MLB teams, which is far from a given. Middle infielders in their mid-20s with power and speed are always in demand. Even with Didi Gregorius and Starlin Castro up the middle, plus a ton of shortstop prospects in the system, the Yankees may get involved should Yamada be posted. Third base is a question long-term and Yamada could help solve that (Yamada at second, Castro to third?).