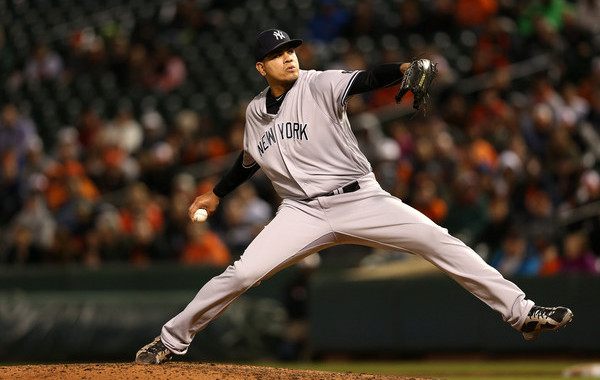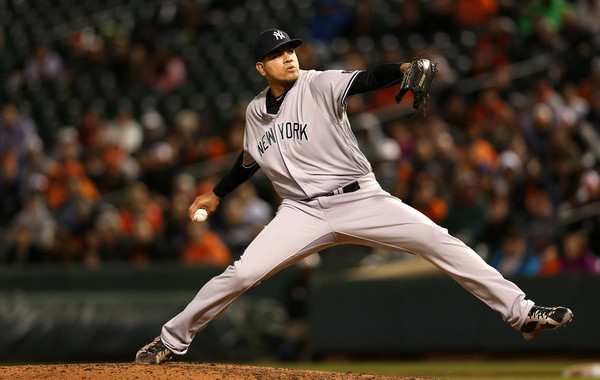 According to Brendan Kuty, yesterday afternoon Brian Cashman confirmed the Yankees and Dellin Betances are indeed heading to an arbitration hearing. Betances filed a $5M salary prior to last week's deadline and the team countered with $3M. Cashman says the $2M gap is simply too big to bridge, so they'll let the arbitration panel make the decision.
"We're not going to reach a resolution with Dellin," said Cashman to Kuty. "The conversations we had with our representatives were if we file, we trial. Based on all of our discussions, it was clear that the different perspectives were such a wide bridge. We'll go out and just basically have a polite discussion about market value and history of where the marketplace sits versus attempts for new market creation. We're going to wind up in an arbitration hearing with Dellin."
Arbitration hearings usually take place in early-to-mid February and the two sides could still negotiate a contract of any size prior to a hearing (and even after), though Cashman indicated that won't happen. At the hearing, each side will state their case and the three-person panel will chose either the $5M or $3M for Dellin's 2017 salary. Nothing in-between. I have some quick thoughts on this.
1. Dellin's case is very unique. Arbitration salaries are based on the salaries of similar players at similar service time levels, so Betances is referencing other top relievers when they went through arbitration the first time. The problem? He has very few peers in terms of performance, and those that have been this good are closers. When a pitcher comes up and dominates like Betances has, he tends to wind up in the ninth inning. That hasn't happened with Dellin because the Yankees have always had multiple high-end relievers, and the veteran got the ninth inning. Saves matter in arbitration and Betances doesn't have many.
2. The Yankees seem to have an easier case. I broke this down earlier this week, but it's worth repeating: the Yankees are offering Betances what sure seems to be a record salary for a first year arbitration-eligible non-closing reliever. I can't find another setup man at $2M in their first arbitration year, nevermind $3M. That $5M ask by Dellin's camp says he wants to be paid like a top closer. The Yankees are instead offering an unprecedented salary for a setup man. Because of that and Betances' general lack of saves, I think the team has an easier salary to defend. Dellin's camp will have some convincing to do at the hearing.
3. Arbitration hearings can be ugly. Maybe uncomfortable is a better word than ugly. Like I said earlier, during the hearing itself, the two sides will state their case to the arbitration panel. For the team, that means detailing the player's shortcomings and explaining why he deserves the lower salary while he sits in the room. Awkward! Cashman said they'll have a "polite discussion," but who knows.
Here's what Vinnie Pestano, former Yankees non-roster invitee to Spring Training, told Jordan Bastian following his arbitration hearing with the Indians a few years ago:
"You're being honest and accountable and saying the right things and being there," Pestano said, "and then later you find your own words in the paper, and somebody is trying to use your words against you to drive your value down. Whether that played a big role in the decision, I don't know.

"That was the only thing that I didn't care for. I definitely think it'll affect how I see things going forward. I don't really know if I can be as honest and up-front anymore. I've got three more years of arbitration left. I don't know what they'll pick to use against me next year or two years from now."
At the end of the day, this is a business, and the player is making the decision to go to a hearing by not agreeing to a contract beforehand. Betances knows what he's getting into, just like last year, when he rejected the team's modest raise to $540,000 and instead had his contract renewed for the $507,500 league minimum. He knew that was a possibility and he accepted it. Same with the hearing.
4. A hearing doesn't have to ruin a relationship, though. I can understand why Yankees fans would worry an arbitration hearing would damage the team's relationship with Betances, one of their best and most popular players. And you know what? I'm sure it's happened in the past, a team going to a hearing and their relationship with the player never quite being the same afterward.
It doesn't have to be that way, however. The Yankees haven't been to an arbitration hearing since 2008, when they beat Chien-Ming Wang and saved $600,000 ($4M vs. $4.6M). The team's last arbitration hearing before that? Mariano Rivera in 2000. The last two before that? Rivera and Derek Jeter, both in 1999. The Yankees and those players went on to live happily ever after following the hearings. (Injuries ruined Wang's career, not an arbitration hearing.)
Point is, even though avoiding an arbitration hearing is always preferred, sometimes they are necessary because the two sides value the player very differently. It doesn't have ruin relationships. The Yankees offered Betances a record first year arbitration salary for a setup man as best I can tell, but he wants to be paid like a closer, and that's his right. He'll allowed to try to get it. And because salaries carry over from year to year and affect raises, there's a lot more on the line here than $2M in 2017. It adds up in future years.