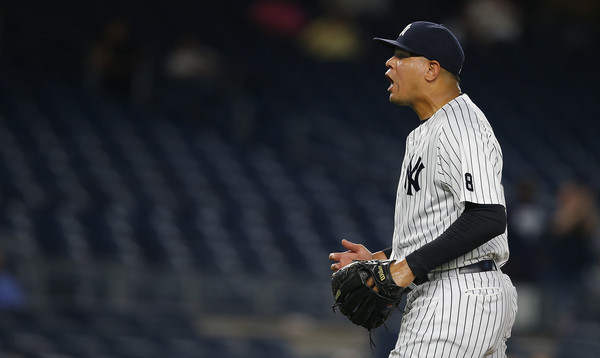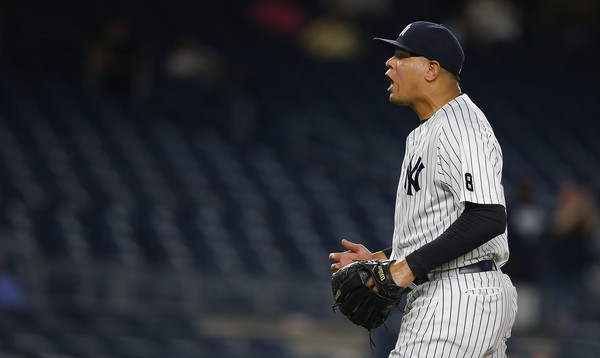 Last Friday, the Yankees signed all their arbitration-eligible players prior to the salary filing deadline except one: Dellin Betances. Betances, who is up for arbitration for the first time, filed a $5M salary with the panel. The Yankees countered with $3M. The $2M gap is enormous. In fact, it's the second biggest gap in filing figures this offseason. (Drew Pomeranz and the Red Sox are $2.1M apart.)
Before we go any further, I should make it clear the Yankees and Betances are not automatically going to an arbitration hearing now that they've filed salary figures. They can still negotiate a contract of any size. Last offseason the Yankees and Aroldis Chapman were a whopping $4.1M apart with their filing figures ($13.1M vs. $9M), yet they hammered out an $11.32M deal before a hearing. The Yankees and Betances could do the same.
Now, that said, the Yankees and Betances have had difficult contract negotiations in the past. Last offseason the team offered a $540,000 salary, which was only slightly above the $507,500 league minimum. Betances rejected the modest raise because he believed he deserved more, so the Yankees renewed him at the minimum. Dellin took a stand, which was his right, and the Yankees renewed his contract at a salary of their choosing, which was their right.
Things are different this offseason because of arbitration, so if Betances is not happy with what the Yankees are offering, he can take them to a hearing and state his case. If it does get to a hearing — the Yankees haven't been to an arbitration hearing since beating Chien-Ming Wang in 2008 — the two sides will make their arguments, and the three-personal panel will chose either the $5M or $3M for 2017, nothing in-between.
The big gap in filing figures tells us a few things. First and foremost, it tells us Betances and his representatives believe he deserves to be paid not just like a closer, but like a great closer. Consider that just last offseason, established closers like Jeurys Familia ($4.05M), Cody Allen ($4.15M), and Hector Rondon ($4.2M) all signed for less than Dellin's filing figure in their first trip through arbitration. He's looking for an unprecedented payday for a non-closer reliever.
Secondly, the filing figures tell us the Yankees are willing to pay Betances a top salary for a non-closer. That $3M is pretty damn high. Top setup relievers like David Robertson ($1.6M), Kelvin Herrera ($1.6M), and Tony Watson ($1.75M) all signed for way less than $3M in their first trip through arbitration. The Yankees are willing to pay Betances handsomely relative to other non-closers. He wants to be paid like a closer though. A great closer.
It's important to note the arbitration process is very archaic. Things like WAR and FIP are pointless. Saves matter more than anything for relievers. Strikeouts are good, but not as good as saves. All-Star appearances matter too. Betances is going into arbitration with three All-Star Game selections, a handful of saves (22 to be exact), and a boatload of strikeouts. (Dellin led all relievers with 392 strikeouts from 2014-16. Andrew Miller is second with 326.) His case is strong, but it would be stronger with more saves.
How exactly did Betances and his representatives come up with that $5M salary? It's not like they pulled a number out of thin air. Arbitration is based on the salaries of other players at the same service time level, and Dellin's camp had to come up with a number they can defend in a hearing. Go too high, and the arbitration panel will side with the Yankees. This is where I'm guessing that $5M comes from:
| | SV | IP | ERA | WHIP | FIP | K% | BB% | GB% | HR/9 | bWAR | fWAR | ASG |
| --- | --- | --- | --- | --- | --- | --- | --- | --- | --- | --- | --- | --- |
| Dellin at Arb1 | 22 | 254.2 | 2.16 | 1.00 | 2.06 | 39.8 | 9.9 | 48.3 | 0.57 | 8.3 | 8.5 | 3 |
| Aroldis at Arb1 | 77 | 198.2 | 2.40 | 1.02 | 2.27 | 40.9 | 12.4 | 42.7 | 0.59 | 6.4 | 6.2 | 2 |
Aside from saves, Betances compares favorably to Chapman when he went through arbitration the first time. And what did Chapman make in his first year as an arbitration-eligible player? Yep, $5M. On the nose. Dellin's camp will have to hope three years worth of inflation — Aroldis went through arbitration for the first time during the 2013-14 offseason — can make up for the lack of saves.
There is a big problem with the Betances-Chapman comp, however. Even beyond saves, I mean. Chapman was not a normal pre-arbitration player like Betances. He signed a six-year contract worth $30.25M with the Reds and pulled in $2M in base salary in both 2012 and 2013. Chapman actually opted into arbitration. His contract included a $3M salary for 2014, so he used the opt-out to go through arbitration, where he made $5M instead.
Chapman started with a much higher base salary, and that matters. Going from $2M in 2013 to $5M in 2014 is a $3M raise. Betances wants to go from $507,500 in 2016 to $5M in 2017. That's a $4.4925M raise. Pretty big difference there, eh? Dellin's camp can say he deserves $5M because his numbers match up with Chapman's. The Yankees can counter by saying Chapman only received a $3M raise, so their $3M filing figure is more appropriate, especially when factoring in saves.
How did the Yankees come up with their $3M filing figure? I have no idea. As far as I can tell, no non-closer reliever received that much in their first year of arbitration. They're offering him an unprecedented salary for a first year eligible setup man. Kenley Jansen, like Chapman, had numbers comparable to Betances in his first year of arbitration-eligibility and he received $4.3M. That was a $3.788M raise from the previous year. Dellin is asking for quite a bit more than that.
It's easy to say the cheap ass Yankees are being cheap asses, and they should just pay one of their best and most popular (and homegrown!) players what he wants to maintain a good relationship, especially after renewing him at the minimum last year. After all, what's another $2M when you're running a payroll near $220M? They're going to pay Brian McCann $5.5M to play for the Astros in 2017. Why nickle and dime Betances?
That's not how it works though. Arbitration salaries are based on the player's salary in the previous year, so it carries over. It's not just $2M this year. It's $2M this year plus whatever raises on top of that Betances will receive in the next two offseasons Let's assume Betances will get $3M raises each year going forward. I'm just pulling that number out of thin air for argument's sake. A $3M base salary means his three arbitration years go $3M-$6M-$9M for $18M total. Start at $5M instead, and it's $5M-$8M-$11M. That's $24M total. And that's the super simple version. A larger base salary means larger raises. That extra $2M in 2017 can turn into an extra $7M or $8M (or more) from 2017-19 quick.
This is why the Yankees went to hearing with Wang over a mere $600,000 in 2008. It adds up in future years. Do you know the last time the Yankees went to an arbitration hearing before Wang? It was with Mariano Rivera in 2000. He wanted $9.25M and the team countered with $7.25M. They went to a hearing, the Yankees won, and they saved a boatload of cash. And then they and Mo lived happily ever after. Arbitration hearings can be ugly — the team basically details the player's shortcomings — but they don't have to be the beginning of the end of the relationship either.
Also, I have to point out it's not only the Yankees and Betances who have something on the line here. This deal could change the reliever pay scale dramatically going forward. We're already seeing some free agent setup men get closer money (Miller, Darren O'Day, etc.). Betances could extend that salary growth to arbitration-eligible players now. We've seen teams use their top relievers as setup men to intentionally avoid saves and keep arbitration salaries down. Dellin can break the salary mold.
Arbitration hearings take place in mid-February, so the Yankees and Betances have several weeks to come to an agreement. I have no idea whether they'll actually get a deal done. Dellin's camp may think their case is airtight and they can get that $5M after being renewed at the minimum last year. I thought the Yankees would end up going to a hearing with Chapman last year given the $4.1M gap in their filing figures and that didn't happen, so who knows?
Either way, Betances is going to end up with what sure appears to be a record salary for a first year arbitration-eligible non-closing reliever. His floor right now is $3M. That's the worst he can do in 2017, and that's more than any other setup man I can find at the same point of their careers. Dellin and his agent are thinking bigger though. They want closer money. And if they succeed, it will change the reliever pay scale. The MLBPA is rooting hard for Betances right now. There's a lot of the line.