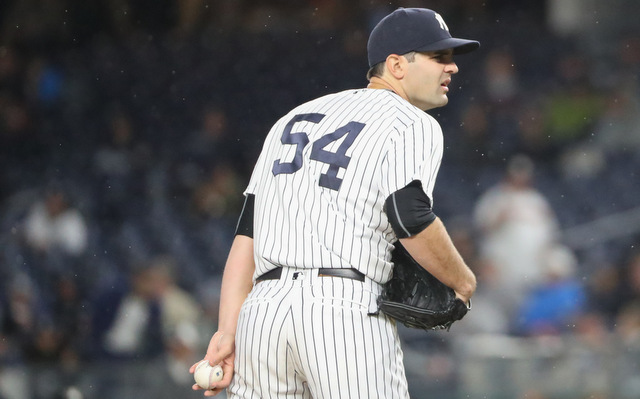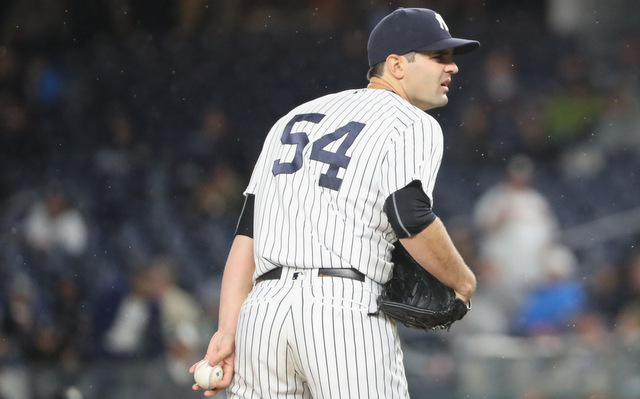 One thing has become pretty clear this offseason: the Yankees like left-hander Richard Bleier a heck of a lot more than I realized. They've kept the 29-year-old journeyman on the 40-man roster all winter, opting to instead cut ties with potentially useful young players like Jacob Lindgren and Nick Goody when space was needed. Nick Rumbelow and Branden Pinder too, though they're rehabbing from Tommy John surgery.
Bleier, who the Yankees signed as a minor league free agent last offseason, made his MLB debut last summer and did solid work for New York. He threw 23 relief innings with a 1.96 ERA (2.67 FIP). Bleier spent much of the season as a low-leverage option before seeing increased responsibility in September, when the Yankees were essentially holding open auditions for the bullpen. Things were wide open there for a while.
Although he worked out of the bullpen last year, Bleier has been a starter pretty much throughout his entire career, including early last season with Triple-A Scranton. As recently as 2015 he managed a 2.57 ERA (3.32 FIP) in 26 starts and 171.2 innings with the Nationals between Double-A and Triple-A. Bleier is a starter who just so happened to pitch in relief last year. Tons of guys break into the show that way. Especially older journeymen.
The Yankees have some openings at the back of the rotation and everyone involved has said the kids will compete for those spots in Spring Training. Luis Cessa, Luis Severino, Chad Green, and Bryan Mitchell are the leading candidates, and Adam Warren is coming to camp as a starter too. The Yankees have a history of doing that. Anyone who has been a starter in the past comes to Spring Training prepared to start, because hey, why not?
Bleier has not been mentioned as a rotation candidate — Brian Cashman listed Cessa, Severino, Mitchell, Warren, and Green by name when asked about rotation candidates last week  — but again, the Yankees tend to bring anyone who could conceivably start to camp as a starter. That includes journeyman types like Sergio Mitre and Esmil Rogers. Of course, Mitre and Rogers were former top prospects. Bleier is … not one of those. Big difference there.
Also, the Yankees seem to have a type, and Bleier is decidedly not that type. They love hard-throwers who miss bats. Who doesn't? Bleier is a finesse southpaw who lives and dies by the ground ball. In his 23 big league innings last year, he struck out 13. He struck out 25 in his 58 Triple-A innings. That 171.2 inning season he had with the Nationals in 2015? Only 65 strikeouts. That's a 9.5% strikeout rate. Lordy.
Bleier's thing is ground balls, and he is quite good at getting them. He had a 54.1% ground ball rate with the Yankees last year. It was 61.9% in Triple-A and 65.0% two seasons ago with the Nationals. Combine the ground balls with few walks (4.4% in MLB in 2016, 4.6% in Triple-A in 2016, 2.3% in 2015) and you can survive with few strikeouts. Your margin of error is smaller — tough to strand a runner on third with less than two outs when you can't miss a bat — but it can work.
Since batted ball data started to being recorded in 2002, the lowest strikeout rate by a qualified starter with a better than average ERA belongs to an ex-Yankee: Chien-Ming Wang. Wanger had a 3.63 ERA (125 ERA+) in 2006 despite an 8.4% strikeout rate because he got grounders (62.8%) and didn't walk anyone (5.8%). Then again, I'm not sure I've ever seen a non-Mariano Rivera pitcher generate as much weak contact as Wang. His sinker was something else.
Other pitchers have gotten by without low strikeout rates, however. Aaron Cook had several better than average seasons (in Coors Field, no less) despite a sub-12.0% ground ball rate because he got so many ground balls. Carlos Silva did it a few times too. Mark Buehrle is the gold standard of "effective despite few strikeout" pitchers, though compared to Buehrle, Bleier looks like Randy Johnson in terms of fastball velocity.
Just to be clear, I'm not advocating giving Bleier a chance to start. I just wonder if it's something the Yankees will try. They clearly like him, as evidenced by the fact he's, you know, still around. Guys like him tend to be among the first to lose their 40-man roster spots in the offseason. Bleier has three pitches (sinker, slider, changeup), he excels at something (getting grounders), and he has a history as a starter. When you get down to it, there's really no reason not to try him in the rotation in camp.