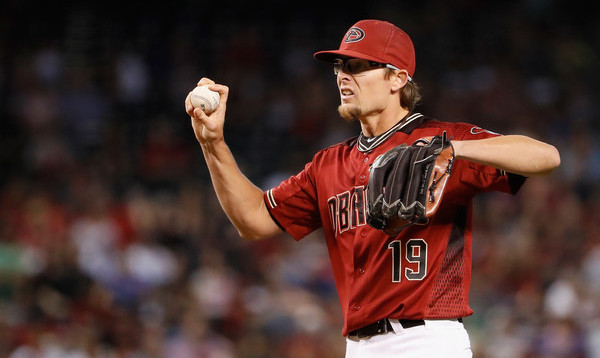 That whole "New Year, New Me," meme that we always see as the number turns on the calendar is not going to apply to the New York Yankees in 2017. Some of the names and faces may be different, but the big picture looks a whole lot like the one from last year. Questions about veteran bats like Mark Teixeira's, Alex Rodriguez's, and Carlos Beltran's have given way to questions about young players' bats, like Gary Sanchez, Aaron Judge, Tyler Austin, and the returning Greg Bird. The rotation, as it seems to have been for a while, is far from secure. Leading the similarities, however, is a bullpen headed by a "Big Three," though this year's trio will be missing the best of the bunch in Andrew Miller. Replacing him, as he did at the trade deadline last year, is right hander Tyler Clippard.
Clippard pitched well in his 25.1 innings for the Yankees last year, striking out 24.3% of the batters he faced (9.24 K/9) and posting a 2.49 ERA (177 ERA+; 59 ERA-), though that is somewhat belied by a 4.05 FIP (99 FIP-), owed to a high walk rate of 10.3% (3.91 BB/9). In what is likely to be his first full season as a Yankee (provided he doesn't get traded), Clippard is going to play an important role as gatekeeper to the superior Dellin Betances and Aroldis Chapman.
Given that the rotation isn't likely to give much length, something I discussed last month, it's possible that a lot of games are going to hinge on Clippard performing well in the sixth or seventh inning, holding onto tight leads to turn them over to Betances and Chapman. To mix metaphors, the success of the Yankees' three-headed-monster may rely on its third wheel, represented by Clippard.
Unless the Yankees improve their rotation before the start of the season, though, they risk the team's biggest strength being mostly mitigated from the start. While it's obviously better to have a solid game-ending trio than to not have one, the importance of said trio is lessened when the rotation can't provide quality or length and the lineup can't thump its ways through thickets of poor starting to the meadows of high-scoring leads. This isn't really a thing, but the team's questionable starting pitching is a case of a weakness potentially turning a strength into something, well, less strong.
To cut back on some of the falling sky here, Clippard is still a good enough pitcher that I'm not too worried about him blowing leads before they're put into more capable hands. I am worried, though, that he'll be pressed into early service too often and that, as the season wears on, fatigue may set in. The Yankees need an innings eat to help make sure this doesn't happen.