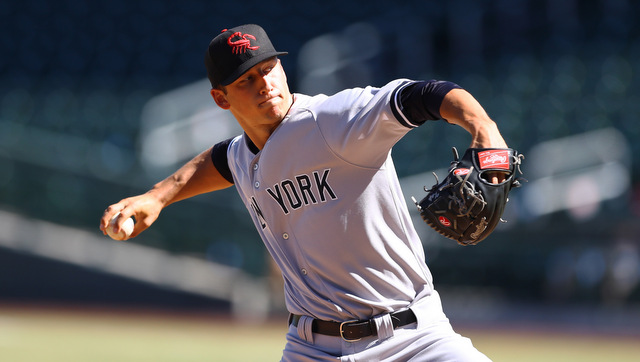 A year ago at this time, the Yankees had a farm system that ranked middle of the pack and was heavy on position player prospects. Only four of my top 16 prospects a year ago were starting pitchers. That's not automatically a bad thing. It just means there was some imbalance in the system. Given the contractual status of the big league starters, that lack of starting pitching prospects was ominous.
Now, a mere 12 months later, the Yankees boast one of the game's best farm systems, and one of the reasons is their much improved pitching depth. Obviously last summer's trade deadline activity has a lot to do with that. It's not the only reason though. Several pitchers broke out last season, none moreso than Chance Adams. Others like Jordan Montgomery and Josh Rogers took steps forward in their development.
The other day I sat down and quickly sketched out the Opening Day rotation for the four full season minor league affiliates, and I was surprised at the pitching depth. Here's what I came up with:
Triple-A Scranton: Adams, Montgomery, Dietrich Enns, Ronald Herrera, Daniel Camarena (?)
Double-A Trenton: Rogers, Ian Clarkin, Brady Lail, Yefrey Ramirez, Justus Sheffield
High-A Tampa: Albert Abreu, Domingo Acevedo, Domingo German, James Kaprielian, Dillon Tate
Low-A Charleston: Simon De La Rosa, Nick Green, Freicer Perez, Adonis Rosa, Erik Swanson
(Update: I forgot about Zack Littell and Stephen Tarpley, both of whom figure to be Double-A rotation candidates.)
It goes without saying this is all very subject to change. Guys are going to get hurt in Spring Training, it's inevitable, and there will be surprise assignments. Perhaps Acevedo starts in Trenton after throwing 50.1 innings with Tampa last year. Maybe Tate begins back with Charleston. This is nothing more than semi-informed speculation.
Point is, that's a heck of a lot of good young pitchers! You don't have to squint your eyes to see actual prospects. That High-A rotation? Straight fire. Keep in mind I couldn't find a spot for Nestor Cortes, who had the fourth lowest ERA in the minors in 2016, and there's a good chance one or several of the big league rotation candidates (Luis Cessa, Chad Green, Bryan Mitchell, Luis Severino) lands back in Triple-A to begin the season.
The caveat here is pitchers break and other things don't go according to plan, so we can't pencil the Yankees in for a rotation logjam in two or three years, you know? The majority of those pitchers won't contribute to the big league team in any way. That's baseball. The attrition rate of even the very best pitching prospects is sky high. I wish it weren't, but it is. C'est la vie.
The only thing teams can do to compensate for the attrition rate is have as many quality pitching prospects as possible, and right now, the Yankees sure do have a bunch of them. And it happened so quick too. Abreu, Green, Sheffield, Swanson, and Tate came over at the deadline. Adams was a reliever a year ago. Montgomery and Rogers were little more than interesting arms prior to 2016. It all came together fast.
It's no secret the Yankees haven't had much recent success getting their pitching prospects to reach their ceilings, especially their top pitching prospects, but that doesn't mean they should stop trying. Hardly. Phil Hughes and Joba Chamberlain have no affect on Kaprielian and Sheffield. They're all their own players, and three years ago the Yankees changed player development regimes by replacing Mark Newman with Gary Denbo. That's kinda big.
The Yankees could lose their three veteran starters after the 2017 season, which would throw the rotation into a state of flux, but the fact of the matter is every big league rotation has long-term questions. Remember what everyone was saying about the Mets rotation last year? What about the Nationals rotation two years ago? The best laid plans often go awry, especially with pitchers. The Yankees have an impressive stable of pitching prospects, and while that doesn't guarantee success, it sure does bode well for the future.