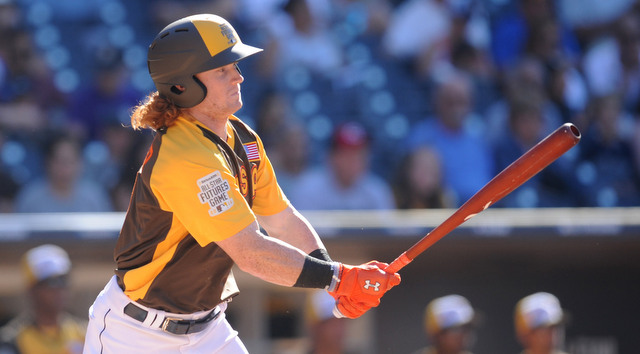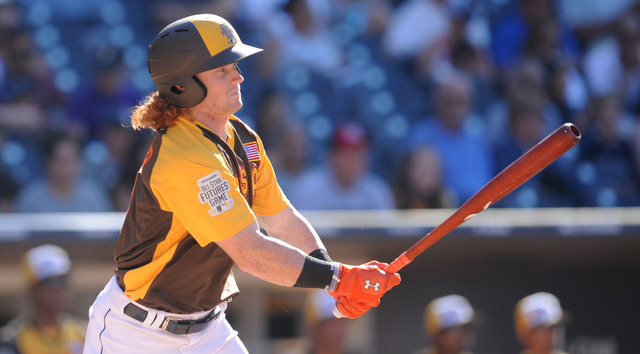 Last week, Keith Law released his annual top 100 prospects list, which included six Yankees. Then, on Saturday, the crew at MLB.com released their top 100 list as well. Law and MLB.com agree on one thing: Red Sox OF Andrew Benintendi is the best prospect in baseball. The lists diverge after that.
A total of seven Yankees made MLB.com's top 100 list, which is pretty awesome. As always, MLB.com's list and scouting reports are completely free. It's a fantastic resource. Here are the seven Yankees on the list:
3. SS Gleyber Torres
24. OF Clint Frazier
37. OF Blake Rutherford
45. OF Aaron Judge
47. SS Jorge Mateo
58. RHP James Kaprielian
79. LHP Justus Sheffield
Five top 50 prospects and six top 60 prospects is pretty great. No other team can make that claim. The White Sox and Pirates are the only other teams with as many as four top 50 prospects, and Pittsburgh is the only other team with five top 60 prospects. The Yankees and Braves lead the way with seven top 100 prospects apiece. Some quick thoughts:
1. Torres could be the No. 1 prospect very soon. The only reason Benintendi is still prospect-eligible is a minor knee injury that sidelined him three weeks in August and September. He finished the season with 105 at-bats, only 25 away from the rookie limit of 130. Once Benintendi clears 130 at-bats, he'll drop off the list, and it's not crazy to think Torres could surpass Moncada in prospect status in the first half of this season. Also, Braves SS Dansby Swanson, MLB.com's No. 4 prospect, is literally one at-bat away from losing prospect status, so one of Gleyber's primary competitors for the top spot will drop off the list on Opening Day. The Yankees have never had the No. 1 prospect according to MLB.com, though, to be fair, MLB.com hasn't been producing top 100 lists all that long. According to Baseball America, the last time the Yankees had the No. 1 prospect in baseball was way back in 1992, when LHP Brien Taylor sat in the top spot.
2. Mateo is still highly regarded. Despite a poor statistical season and a two-week suspension for violating team rules, MLB.com still considers Mateo one of the best prospects in the game. (Law dropped Mateo out of the top 100 entirely.) He did slip in the rankings — last year Mateo was No. 30 on MLB.com's original top 100 list — which is understandable, but the MLB.com folks still believe in the tools. And that's most important. Not the numbers. Mateo won't turn 22 until the end of June and he still has the incredible quick twitch athleticism that landed him on top 100 lists last year. Remember, Baseball Prospectus ranked Mateo as the third best prospect in the system behind Torres and Frazier. Law may have cut bait, but others still clearly believe in the kid.
3. Yet again, Kaprielian climbed big time. I'm still amazed at where Kaprielian is landing on these top 100 lists given his relatively serious arm injury last season. (Miss as much time as he did and it qualifies as a serious injury in my book.) He jumped 59 spots on Law's top 100. Kaprielian didn't even make MLB.com's top 100 list last year and now he's 58th. How impressive must he have been before and especially after the injury to earn so much support on the various prospects lists? Also, how much higher would he have ranked had he stayed completely healthy last season? Are we talking about a potential top five pitching prospect? As it stands, Kaprielian is already the 21st ranked pitcher on the top 100. A full season of healthy Kaprielian in 2017 could mean a) reaching the big leagues in September, and b) being ranked as a tippy top prospect next spring. Exciting!
4. Adams was really close to the top 100 too. On Twitter, Jim Callis said RHP Chance Adams very nearly made the top 100 as well. He fell in the 101-115 range. So, for all intents and purposes, the Yankees currently have five top 50 and eight top 115 prospects in all of baseball according to MLB.com. That's pretty great. I don't think Adams is a top 100 caliber prospect myself, but I understand why some think and hope he'll slip into the back half. Just the fact he's even in the conversation is great. I'm guessing others like RHP Albert Abreu and 3B Miguel Andujar were in the top 100 conversation too. Know what I'd really love to see? A top 500 prospect list. That's the best way to measure the depth and strength of the farm system. We all focus on the top five or ten prospects and I get it. But compare each team's 30th best prospect. That's a better indicator of farm system depth.