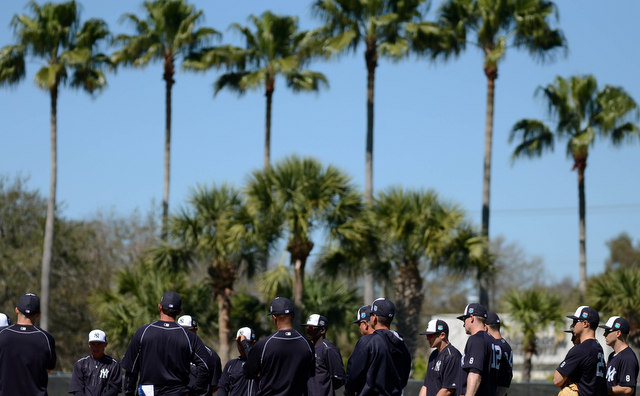 In just four not-so-short weeks, the Yankees will open Spring Training and pitchers and catchers will report to Tampa. Can't come soon enough. I don't even care that it's a non-news day. I'm ready for this offseason to be over and something that resembles baseball to begin. Anyway, I have some random thoughts, so let's get to 'em.
1. This isn't really something we can quantify at the moment, but I think we can all agree the Yankees will take a huge defensive hit at first base this coming season. Mark Teixeira, even at the very end of his career, was a dynamite defender over at first. He saved countless errors with great scoops — the fancy Baseball Info Solutions data I have access to through CBS tells me Teixeira was third among all first basemen in "sure-handedness" (scoops, picks, etc.) over the last three years, behind Eric Hosmer and Adrian Gonzalez — and was a vacuum on hot shots hit his way. Neither Greg Bird nor Tyler Austin is much of a first base defender. They were always bat-first prospects. I do expect Bird and Austin to out-hit the 2016 version of Teixeira, by quite a bit too, but in the field, they're a big step down. Hopefully the offensive upgrade outweighs the defensive downgrade. I still think it'll be a bit of a shock to the system when we see fewer throws in the dirt get scooped and fewer hard-hit grounders turn into outs.
2. Speaking of defense, do you think the Yankees would be better off flipping Brett Gardner and Jacoby Ellsbury? It's hard to say. Gardner spent only one season, 2013, as New York's full-time center fielder, so it's been a while since we've seen him out there on any everyday basis. Also, Ellsbury's experience in left field is very limited. He's played only 86 games and 563.2 innings in left field in his career, and none since 2010. Aside from the fact this would probably never ever ever happen, I don't think it would be worthwhile. Left field in Yankee Stadium is tricky, especially during day games when the sun peeks out from over the stands, and Gardner has it down pat. Ellsbury's learning curve would be steep. On top of that, I think Ellsbury has more range, which plays better in center field. A few years ago the Yankees discussed flipping Gardner with Curtis Granderson because Gardner was the superior defender, and they did do it for a handful of games, but not many. In that case it made sense because Gardner was clearly a better defensive outfielder. With Gardner and Ellsbury, I don't think it's nearly as clear cut. This is just something that crossed my mind. The numbers might say it'll save the Yankees a few extra runs per year, but once you factor in potential adjustment periods, it might not be worth the trouble. Like I said though, not happening anyway.
3. I wonder whether the Yankees will revisit the "Starlin Castro at third base" experiment this Spring Training. The plan got put on hold last spring after the team realized Castro was still rough around the edges at second base — I always thought asking him to learn third only a few months after learning second was too much, too soon — but now that he's played a full season at second, they may try it again. It's a good idea in theory. Why not make your players more flexible, if it all possible? As Matt mentioned over the weekend, it's not like the Yankees are loaded with options at third base. Ronald Torreyes is the incumbent backup, and then there's, uh. Ruben Tejada? Donovan Solano? I don't think anyone wants to see those guys in the lineup full-time. At least if Castro can play third, he could slide over should Chase Headley get hurt, then the Yankees could roll Rob Refsnyder out there at second. I'd rather see Refsnyder at second and Castro at third than Castro at second and Torreyes/Tejada/Solano at third. (Refsnyder at third doesn't seem to doable in the eyes of the Yankees.) It's worth trying Starlin at third in Spring Training. Whether the Yankees go through with it is another matter.
4. The 2017 Hall of Fame class will be announced Wednesday, and my official prediction is three players will be voted in this year: Jeff Bagwell, Tim Raines, and Trevor Hoffman, while both Vlad Guerrero and Ivan Rodriguez fall fewer than ten percentage points short of the 75% needed for induction. I don't have a Hall of Fame vote yet, I'm still eight years away from that, but if I did, I would have voted for Bagwell, Raines, Guerrero, Rodriguez, Barry Bonds, Roger Clemens, Manny Ramirez, Mike Mussina, Edgar Martinez, and Larry Walker this year. I've written our Hall of Fame case posts for Walker at CBS the last few years (here is this year's) and I managed to change my own opinion from not a Hall of Famer to Hall of Famer. He's fifth among outfielders in WAR over the last 50 years, you know, behind only Bonds, Rickey Henderson, Ken Griffey Jr., and Reggie Jackson. Also, only 31% of his career plate appearances came in Coors Field, so the ballpark didn't inflate his career numbers that much. Anyway, those are my ten. As you can see, I'm not one of those folks who believe keeping someone out of Cooperstown is an appropriate punishment for performance-enhancing drugs. As far as I'm concerned, Manny got caught (twice) and served his punishment (twice) and that's that.
5. I'm sure this is something only I care about, but with the center field area at Yankee Stadium undergoing massive renovations this offseason, I hope we get a true dead center field camera angle.  Here's the current home YES Network camera angle and the home FOX Sports Midwest (Cardinals) camera angle, which is one of my favorites: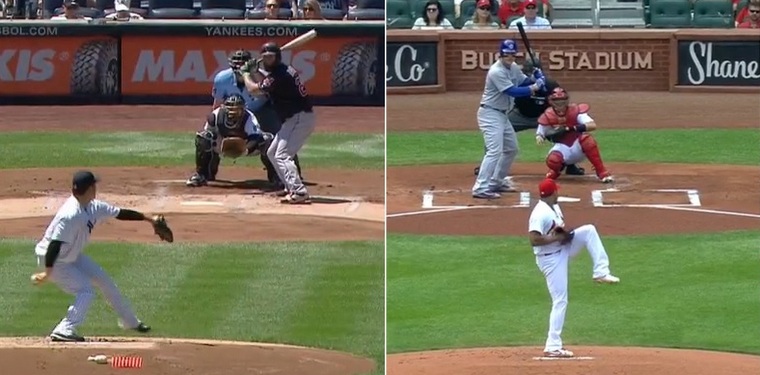 Several teams have a true dead center field camera angle these days (Cardinals, Braves, Orioles, Red Sox, Pirates, Rockies) and it's so much better than the old school offset camera angle. You get a much better look at pitch movement — not just breaking balls either, it's eye-opening to see how few fastballs are truly straight — and left-right pitch location. Pitches that look like they catch the corner on the offset camera angle are often off the plate, and the dead center angle shows that. The dead center camera makes for a much more enjoyable baseball-watching experience, in my opinion. I hope we get one now that center field at Yankee Stadium is being overhauled.
6. In each of the last few seasons the Yankees had a longtime minor leaguer break out and become a legitimate prospect. Last year it was Kyle Higashioka. The year before it was Ben Gamel and Dietrich Enns. I'm guessing lefty Daniel Camarena is that player in 2017. He missed the entire 2015 season after having bone spurs removed from his elbow, and he returned last season to pitch to a 3.55 ERA (3.52 FIP) with 19.8% strikeouts and 4.2% walks in 147 total innings, most at Double-A. Not the sexiest numbers, though he was coming back from elbow surgery, so we need to grade him on a curve. Camarena is not an out-of-nowhere player. The Yankees gave him a well-above-slot $335,000 bonus as their 20th round pick out of a (surprise surprise) Southern California high school in 2011, so they like him. Camarena is a true three-pitch pitcher who always stood out most for his ability to locate his 90-ish mph fastball. He also throws two quality secondary pitches in his curveball and changeup. Southpaws with three pitches who can spot their fastball are worth keeping around. Camarena is healthy, he had success at Double-A last year, and he'll be a minor league free agent after the 2017 season. Hopefully he forces the Yankees to make a 40-man roster decision come November.