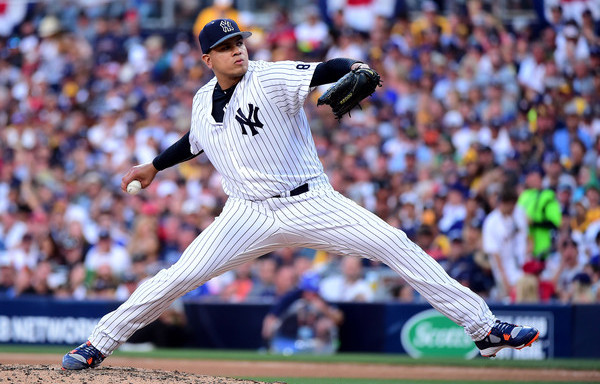 At some point in the next few weeks, the Yankees and Dellin Betances will go to an arbitration hearing to determine his 2017 salary. Brian Cashman confirmed it. Betances is seeking $5M while the team countered with $3M. The two sides will make their arguments and the three-person panel will pick either the $5M or $3M, nothing in-between.
Although the Yankees and Betances could still agree to a contract of any size prior to a hearing, Cashman indicated that won't happen. They're going to a hearing. Cashman also told Dan Martin that at some point during their contract talks, the two sides discussed a multi-year contract. Obviously nothing came of it given where things stand now.
These days teams rush to lock up their young players to long-term contracts because that's the best way to get bang for your buck. Sign the player early in his career and you get his peak years at a discount relative to what he'd earn through arbitration or free agency. That's the idea, anyway. Sometimes things don't go according to plan and the contract goes bad. That's baseball.
Betances is not all that young by baseball standards anymore — he turns 29 in March — though as his upcoming arbitration hearing suggests, he's about to get pretty expensive. Even if the Yankees win the hearing and Betances makes $3M in 2017, that's still a record salary for a non-closing reliever going through arbitration the first time. Dellin will help establish a new salary standard for relievers, specifically top setup men.
In many cases signing a player to a multi-year extension is an obvious move. The Indians should lock up Francisco Lindor for the next eight to ten years, right? Of course. With relievers, even one as good as Betances, it's not always so obvious. Relievers are inherently volatile. They're all relievers because something prevented them from starting, like bad command or lack of a third pitch or injury history. That makes them riskier assets.
So, not surprisingly, very few relievers have received multi-year contracts prior to free agency. In fact, over the last 20 months, only two relievers signed extensions during their team control years: Adam Ottavino and Nate Jones. Both were rehabbing from Tommy John surgery at the time. Their value was down, and their teams took advantage by locking them up at a lower rate than usual. And hey, Ottavino and Jones got a couple million bucks out of it, so who are they to complain?
Point is, there are very few multi-year contract benchmarks for Betances, similar to how there are few salary benchmarks among first year arbitration-eligible setup man. Here is the full list of relievers to sign extensions at the same service time level Betances is at right now:
Craig Kimbrel: Four years, $42M with a club option.
Sam LeCure: Two years, $3.05M.
Josh Collmenter: Two years, $2.425M.
That's it. Kimbrel is, by far, the most relevant of the three to Betances, and Kimbrel was a closer who was going to smash arbitration salary records had he not signed his extension. Dellin won't set salary records because he lacks saves, and saves pay. The Yankees and Betances would have had to break a lot of new ground to come to terms on a multi-year deal.
It's unclear whether the Yankees approached Betances about a multi-year deal or vice versa, but the most important questions are these: why would Betances do it and why would the Yankees do it? Betances would do it because it's a chance to lock in a pretty nice guaranteed contract. He'd pass on maximizing his earning potential through arbitration in exchange for the guaranteed cash. Remember, he spent eight years in the minors before reaching MLB for good, and had a lot of injuries along the way. The guaranteed deal might be pretty appealing to him.
As for the Yankees, they'd gain cost certainty over a player who is already in uncharted salary territory for setup men. Like I said before, even if Betances loses his arbitration hearing, his $3M salary this coming season will still be a record for a setup man in his first trip through arbitration. The Yankees, who are trying to get under the luxury tax threshold next year, would lock Betances in at some number they can plan around going forward.
At the same time, the Yankees would be assuming quite a bit of risk, moreso than Betances. The only thing Dellin would be risking is his chance to earn even more through arbitration. He'll still have set for life money coming his way. The Yankees, meanwhile, would still be on the hook if Betances breaks down or suddenly loses effectiveness. As good as he is, Betances is pretty risky. He had arm problems earlier in his career and his history of strike-throwing issues is well documented.
A multi-year contract doesn't have to extend into free agency, remember. A three-year contract would buy out Betances' remaining arbitration years and give the Yankees cost certainty over what could be three very pricey years without delaying his free agency at all. That figures to appeal to Dellin and his representatives. A three-year deal worth $22.5M — that's assuming $4M in 2017, $7.5M in 2018, and $11M in 2019 — could be more budget friendly than going through arbitration three times.
Ultimately, the Yankees can afford to pay Betances whatever he gets the next few years. They'll just have to work around his salary to get under the luxury tax. That's all. And given the risk involved based on Dellin's injury history and on again off again command issues, going year to year is the safe play. Should things go wrong at some point, the Yankees could walk away, like they did when Chien-Ming Wang's shoulder gave out. Multi-year deals are nice in theory, but with a risky asset like Betances, I think going year to year makes the most sense for the team.