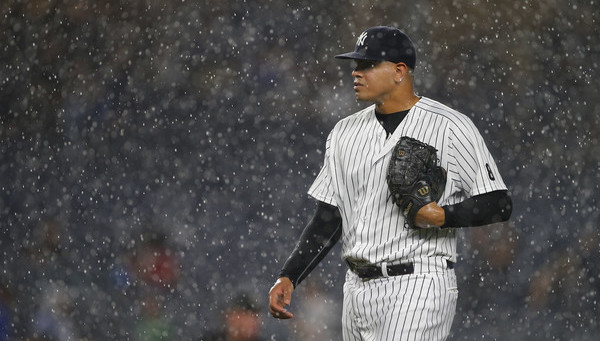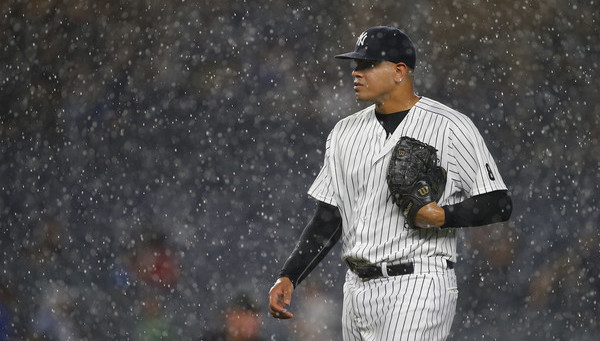 According to Jon Heyman, the arbitration panel has sided with the Yankees in their case against Dellin Betances. Betances will earn $3M this coming season rather than the $5M he was seeking. He'll be in Spring Training today after spending the last few days away from camp, with the team's blessing. It's not uncommon for players to wait until their arbitration case is resolved before reporting to camp.
Betances was eligible for arbitration for the first time this offseason, and the $5M request means he was looking to be paid like a top closer. Last year some pretty good closers like Cody Allen, Jeurys Familia, and Hector Rondon all signed for roughly $4M in their first trip through arbitration. Saves matter in arbitration and Betances doesn't have many, yet he was seeking more than those guys.
Now, that said, the $3M award is still a record for a setup man going through arbitration for the first time. By a lot too. I can't find another non-closer who signed for even $2M in his first year of arbitration. Betances blew the previous record away. Billy Witz has some details on yesterday's arbitration hearing:
On Friday, Betances arrived at the Vinoy Renaissance shortly before 9 a.m., with a half dozen or so advisers, including his agent, Jim Murray. Several members of Betances' team carried armfuls of thick white binders, and at one point, someone warned the 6-foot-8 pitcher not to bump his head on a low-hanging ceiling beam.

A few minutes later, the Yankees' contingent — about 10 strong, headed by the team president, Randy Levine, and including General Manager Brian Cashman and the assistant general managers, Jean Afterman and Michael Fishman — entered.

…

But as (Betances) waited afterward in the lobby of the hotel where the hearing was held, several of his advisers could be heard nearby grousing about a Yankees tactic during the hearing — namely, focusing on Betances' slow delivery to home plate, which allowed base runners to steal 21 bases against him last season in 21 attempts.
The $2M difference in salary figures doesn't seem like much, especially for a big payroll team like the Yankees, but arbitration uses the player's previous year salary as a base, so it carries over. That $2M this year will equal at least $6M in savings in Betances' three arbitration years, but likely more given how raises are determined. The savings are pretty considerable. These are real dollars.
Reports indicate the Yankees and Betances discussed a multi-year contract before filing their salary arbitration figures. Cashman said the two sides were simply too far apart to settle somewhere in the middle, which is why they went to a hearing. This was New York's first arbitration hearing since 2008, when they beat Chien-Ming Wang. Their last hearing before that was with Mariano Rivera in 2000. They won that one too.
I had a feeling the Yankees would win because a) they were already offering a record salary for a setup man in his first year of arbitration, and b) Betances was seeking an enormous raise usually reserved for top tier closers, only he didn't have the saves. Betances and his camp had more convincing to do, basically. I'm not too surprised the three-person panel sided with the Yankees here.
Hopefully there are no hard feelings — arbitration can be pretty ugly because the team is up there detailing the player's shortcomings — and the Yankees and Betances can move on with business as usual. The business side of the game can be unpleasant at times.