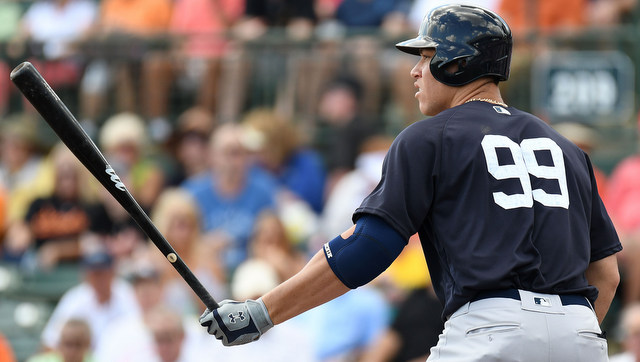 The first impression was as good as it gets. On the fourth pitch he saw as a big leaguer, Aaron Judge smoked a towering home run off the very top of the Mohegan Sun Sports Bar in center field at Yankee Stadium. The ball cleared the windows and very nearly made the seats. It was fun to see the power after reading all those scouting reports over the years.
The second impression wasn't so good. In 94 plate appearances after that home run, Judge went 14-for-83 (.169) with three homers and 42 strikeouts before an oblique strain ended his season prematurely. Judge's strikeouts were no surprise. He struck out a bunch in the minors and hey, a 6-foot-7 hitter has a pretty huge strike zone. Still, seeing a 44.2% strikeout rate in action is no fun.
Over the winter Judge went to work on his lower half and he came to Spring Training with a chance to win the right field job. Barring injury, it's either Judge or Aaron Hicks, and I do believe this is a true competition, not one of those rigged ones we've seen over the years. So far this spring Judge has hit .310/.394/.586 with two homers and seven strikeouts in 33 plate appearances (21.2 K%), which is promising, but ultimately doesn't mean much of anything.
There's very little question the Yankees want Judge to be the right fielder of the future. Is he ready to be the right fielder of the present? My gut says the Yankees will indeed go with Judge over Hicks once the regular season rolls around, but what do I know. We'll find out soon enough. Let's preview Judge's season, shall we? We shall.
What is an acceptable strikeout rate?
Well, that depends. It depends how much Judge produces when he does make contact. No, I don't think there's any way he can be productive with a 40-something-percent strikeout rate. The highest single-season strikeout rate in baseball history is 36.2% by current Yankee Chris Carter. He hit .223/.320/.451 (112 wRC+) with 29 homers in 585 plate appearances for the Astros that year.
Only six batters in history have struck out in one-third of their plate appearances while qualifying for the batting title, and two of the six failed to produce at a least average rate offensively:
2013 Chris Carter: .223/.320/.451 (112 wRC+) with 29 homers and 36.2% strikeouts
2010 Mark Reynolds: .198/.320/.433 (96 wRC+) with 32 homers and 35.4% strikeouts
2012 Adam Dunn: .204/.333/.468 (115 wRC+) with 41 homers and 34.2% strikeouts
2009 Mark Reynolds: .260/.349/.543 (127 wRC+) with 44 homers and 33.7% strikeouts
1963 Dave Nicholson: .229/.319/.419 (111 wRC+) with 22 homers and 33.7% strikeouts
2008 Mark Reynolds: .239/.320/.458 (97 wRC+) with 28 homers and 33.3% strikeouts
One of those things is not like the other. Anyway, there's no precedent for an everyday player striking out as much as Judge did last year, mostly because you'd eventually get sent down or released if you struck out that much. Even the guys who struck out one-third of the time needed to hit for huge power and draw a ton of walks — 2008 Reynolds had the lowest walk rate among those six batters at 10.4% — to have value offensively.
Clearly, Judge needs to cut down on his strikeouts and both he and the Yankees know that. That's why he continues to work on his hitting mechanics. He's changed his leg kick however many times over the last two years, plus he's changed his hand position as well. If Judge fails, it won't be due to a lack of effort. He's working with the hitting coaches all season and offseason and trying all different things. Being a 6-foot-7 hitter is hard.
Strikeouts around baseball have ticked up over the last few years, mostly because pitchers are throwing harder than ever before, and also because there are more specialized relievers. Here's a quick plot showing wRC+ vs. K% for all hitters with enough plate appearances to qualify for the batting title over the last five seasons: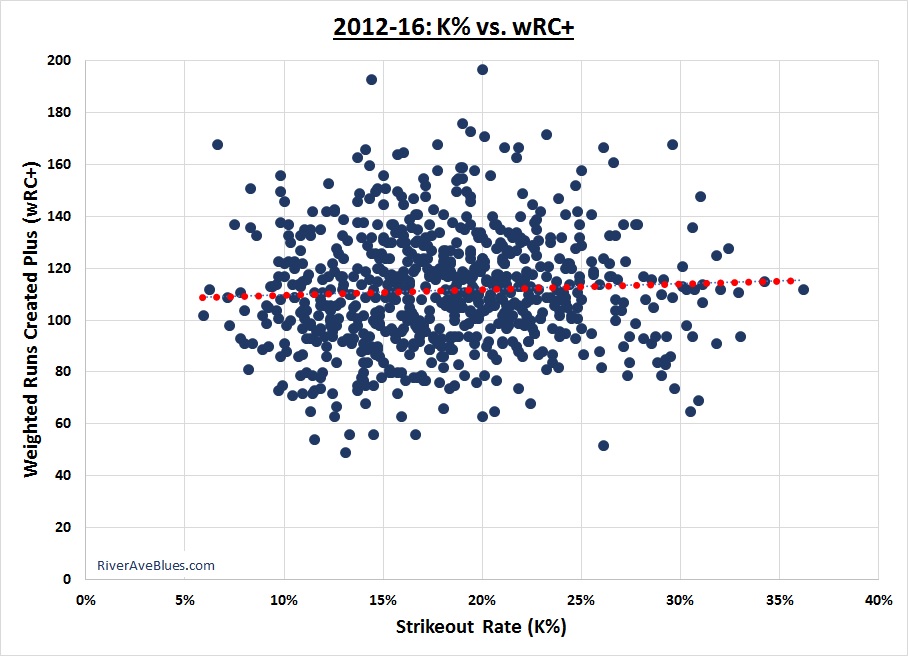 There's close to zero correlation between strikeout rate and offensive production, interestingly enough. Anyhow, looking at the graph, once you get beyond a 25.0% strikeout rate, there aren't many dots above a 110 wRC+ or so. It seems striking out a lot won't stop you from being a productive hitter, but it will reduce your chances of being a great hitter. Only 18 players since 2012 managed a 120+ wRC+ while striking out at least one-quarter of the time.
So I suppose that's the magic number for Judge this year: 25.0 K%. Get the strikeout rate down there and he has a chance to be a quality offensive weapon for the Yankees. Judge struck out 24.7% of the time in the minors overall and 25.7% of the time at Triple-A (23.9% in 2016), so getting down to a 25.0% strikeout rate in the big leagues doesn't seem impossible. Can he do it this year? That's the million dollar question. The Yankees hope so. Getting down to 25.0% strikeouts in 2016 would be wonderful, but, if nothing else, we at least need to see a decline in strikeouts. Fanning four out of every ten plate appearances ain't gonna cut it.
Exactly how much power are we talking?
A ton. We've seen it already. There was that aforementioned shot off the Mohegan Sun Sports Bar last year, and we all saw that ball Judge hit off the top of the scoreboard in his first spring game this year. His home run this past weekend really gives you an idea of how strong this guy is. There's basically no effort in this swing:
Baseball America
(subs. req'd) says Judge's power "rates as a 70 on the 20-80 scouting scale" while
MLB.com
says it's a 60. That's really good! A hitter with 60 power can be expected to mash 25-30 homers a year. Someone with 70 power projects to hit 30+ dingers annually. The various projection systems love Judge's power:
PECOTA: 20 homers in 468 plate appearances (26 HR per 600 PA)
Steamer: 17 homers in 378 plate appearances (27 HR per 600 PA)
ZiPS: 30 homers in 522 plate appearances (34 HR per 600 PA)
Only ten rookie hitters have qualified for the batting title while averaging 26+ homers per 600 plate appearances since 2000, and they're guys like Albert Pujols, Mark Teixeira, and Prince Fielder. Basically the best power hitters of the century. The completely objective projection systems think Judge can produce at that level, at least when it comes to hitting the ball over the fence.
The Yankees haven't had a rookie hit 25+ home runs since Bobby Murcer in 1969. Heck, prior to Gary Sanchez last year, the last Yankees rookie to hit even 20 homers in a season was Kevin Maas in 1990. If he makes enough contact — and that remains the big question — Judge could very well smack 25+ homers this summer. It's not unreasonable, not given Yankee Stadium and the other hitter friendly AL East parks. Judge's exit velocity on fly balls and line drives is elite. When he connects, he tends to do a lot of damage.
Don't forget about his defense.
Given his size, power, and strikeout tendencies, it can be easy to stereotype Judge as a lumbering slugger. That's not the case though. Judge is a very good athlete for his size and he has the skills to be a defensive asset in right field. He has a very strong arm …
… and he covers a decent amount of ground. He's not going to be Brett Gardner out there in terms of range, but he won't be Carlos Beltran either. "He's a slightly above-average runner underway and plays average defense in right field with a well above-average throwing arm," said Baseball America's scouting report.
Judge doesn't play station-to-station baseball despite being so damn massive. He offers some speed and will contribute with the glove in right field, especially since right field in Yankee Stadium is kinda tiny. So, even if he strikes out a bunch while finding his footing in the big leagues, Judge will still be able to provide value in the field. The big man is more well-rounded than you'd think.
* * *
What would qualify as a successful season for Judge? Geez, that's tough. It's about more than raw stats with Judge. Is he cutting down on the strikeouts? Is he showing a sound approach and recognizing how pitchers are attacking him? Judge is going to see a ton — a ton — of breaking balls down and away. It's inevitable. Can he lay off more often than not?
The numbers might not be there, but if we see improvement with his approach and strikeout rate, it'll be a positive. Judge is going to require patience, perhaps more than most prospects, though the potential reward is sky high. This dude can be a game-changing impact bat, and odds are he will get a chance to claim the long-term right field job this summer.