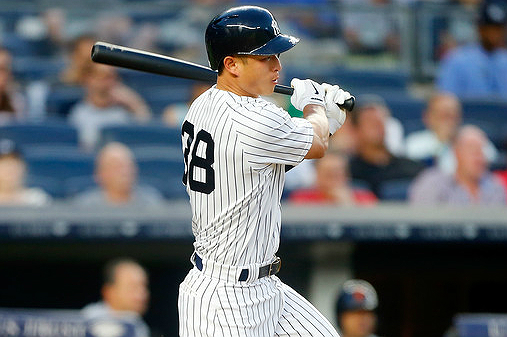 Didi Gregorius' injury is unfortunate in every way, even if he may only miss a month of the season. The Yankees don't have a ready-made replacement and, much more importantly, a key cog of their future has to deal with an injury that can set him back after he made strides last season and hoped to bring into this season. Furthermore, Gregorius' best tool is perhaps his arm strength and that could be affected by this injury.
As with every injury in sports, there is now an opportunity for someone else. As Mike detailed the other day and some reporters have indicated, the likeliest scenario is Starlin Castro, despite his prior experience at short, to stay at second while Ronald Torreyes and possibly Ruben Tejada or Pete Kozma take the load at short. This is a fine option, albeit with the lesser offensive (and likely defensive) production at shortstop. It'd be tough to imagine Tyler Wade or Gleyber Torres are quite ready for the job either (again, check out Mike's piece on this).
There is another option, albeit one that guarantees lesser performance defensively and that is moving Castro to shortstop — he played just three games there last year — and handing the second base job to … Rob Refsnyder. The oft-talked of second baseman has been masquerading as a super utility player for the last year, but perhaps this is the opportunity he needs to prove himself, one way or another.
Joe Girardi talked about how the team sees him as that utility player, working all around the field. "I look at him at second, first, right and left, is how I look at Ref," Girardi said to the Daily News. "Depending on what we do, that's why I talked about he can play his way in, and if he's an extra infielder and outfielder, whatever he is, then you might have to move Castro to play some short. If you give (Chase Headley) a day off and you move Torreyes over, then that would be Ref's spot at second. Those are the different options we have."
Is this the chance Refsnyder needs? Well, he'll need to show some improvements to make it happen.
1. Refsnyder needs to show more at the plate
So far in his MLB career, Refsnyder has had all of 222 plate appearances. For all the talk of him taking over second base during the 2015 season, it would seem like he'd have taken more ABs, but alas, that is not the case. He hit quite well during his 47 PAs in 2015 (131 wRC+) but looked exposed in sporadic stints last season, batting just .250/.328/.309 (72 wRC+).
As has been discussed on this website before, he needs to hit for power in order to make at the big league level. He actually had a .512 slugging percentage (.210 ISO) in 2015 and there was reason to believe he has some power potential. With Torreyes, you're simply not going to get much power, but you'll get plenty of contact. He hit .258/.305/.374 (81 wRC+) last season in 168 plate appearances and had an 11.9 percent strikeout rate compared to Refsnyder's 17.1 percent mark.
Refsnyder does walk a bit more than Torreyes, but as detailed below, he's enough of a negative defensively that he'll need to more than make up for it at the plate for this experiment to be worth it. While spring stats are relatively meaningless, Refsnyder has struck out in 11 of 39 PAs while Torreyes has just two in 41 PAs. Refsnyder does have a better slash line this spring but neither has impressed with the bat.
2. How would it work defensively?
Losing Gregorius is a blow to the Yankees' team defense. While defensive metrics were down on Didi last season, it's likely that Gregorius would have been a defensive plus for the month or so he'll now miss. Last season, Torreyes only played 99 innings at shortstop, his only time at short in his brief MLB career. He made one error in 11 starts there while UZR had him at -0.7 there (-15.9 UZR/150). Again, short sample size, hard to judge.
So what would happen if instead of Torreyes getting extended time at short, Castro shifted over and Refsnyder moved to second in his place? In Castro's case, it could actually work out well. Castro has been seen as a definite negative in his 1,524 innings at second over the last two years with a -7.4 UZR. At shortstop, he's been a minus in his career, albeit less so. He only played 20 innings there last season, but it is his natural position. He wasn't particularly adept there (negative in DRS each season except 2012).
And then there's Refsnyder. To be fair, he's only played 147 MLB innings at second base, but they haven't been pretty, either in terms of statistics or the eye test. He has a -3 DRS and -2.6 UZR in those innings and has been better, albeit in similarly small samples, at each other position he's played in the majors. 1B, LF and RF are the ones he has more than an inning played (He actually graded out well in RF during 132 2/3 innings last year, if that's worth anything). It's also simply hard to forget how inept he looked at times during his stint at second in 2015. It seemed like a common announcer phrase during that time was "past a diving Refsnyder."
All of this is to say that defensively, this pairing could be tough to stomach, hence why it's so necessary that Refsnyder hit if he's going to be anything more than a Quadruple A player.
3. Easy to change course
Putting Refsnyder in at second would be a perfect chance to see whether he sinks or swims at the big league level. He'd have the chance to know he's starting every day for certain period and the team would see if he can produce with that comfort level. I have my doubts, but it's an imperfect solution just like every other replacement for Gregorius.
If he didn't perform after a few weeks, it's easy to course correct. First of all, this is only temporary since Gregorius should miss only a month or so. With Torreyes on the roster, it'd also be simple enough to begin giving him the starts if the defensive minuses are too much or Refsnyder simply hack it at the plate.
The questions about Refsnyder can seem pretty glaring, but this would be a chance to answer them in a low cost scenario. It's not like Torreyes will be much better with the bat. The worst case is that Refsnyder is so unpalatable at second that the team decides to send him back down to AAA quickly. In the best case, the Yankees find a suitable backup with restored promise for when Gregorius returns.