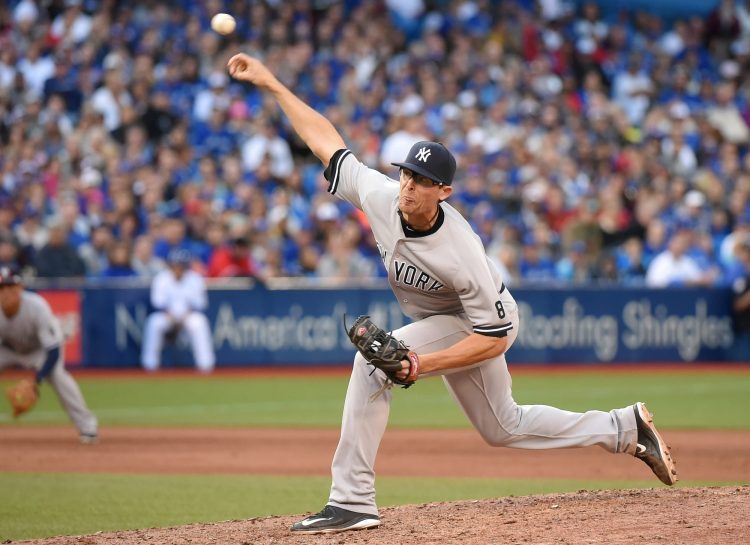 The Yankees have had an elite bullpen most every year for what feels like an eternity at this point, owing largely to the incomparable Mariano Rivera, and the ability to churn out high-end relievers that would close for most teams (particularly David Robertson and Dellin Betances, who spent most of their time with the team pitching in the 7th or 8th inning). A willingness to open up the checkbook helps, too, as Rafael Soriano, Andrew Miller, and Aroldis Chapman all thrived. It isn't just the 8th and 9th inning guys, though.
A sizable portion of the team's success in building strong bullpens lay in its middle relief core. We're all familiar with the Scranton Shuttle, and oftentimes discuss the top-heavy nature of the bullpen – but that's not quite fair to the pitchers that handle the 6th and 7th, if only for a season or two. Joe Girardi loves having defined roles for his relievers, and having dependable arms to bridge the gap between the starter and Betances/Chapman will be vital this season (lest we forget that two of the five starters will essentially be rookies).
Luckily, the Yankees have two reliable arms to lean on in that role.
Tyler Clippard
Here's your semi-regular reminder that the Yankees traded Clippard straight-up for Jonathan Albaladejo in 2007, who would go on to throw a grand total of 59.1 IP in parts of three season with the team, pitching to a 4.70 ERA (5.21 FIP).
Clippard has been a dominant reliever for the better part of a decade now, posting a 2.77 ERA (144 ERA+) in 587.2 IP out of the bullpen, while serving as a Bizarro World version of Michael Pineda. That is, his FIP in that time (3.59) is significantly higher than his ERA, which leads to his bWAR (12.3) being much stronger than his fWAR (7.1). He has accomplished this by maintaining consistently low BABIPs (.234 as a reliever), ridiculously high infield flyball rates (16.2%, against a league-average that tends to fall between 9.5% and 10%), and plenty of strikeouts (27.7 K%).
The 32-year-old was in the midst of what may have been his worst season prior to being acquired by the Yankees last year, which raises some red flags. There are reasonable explanations for that, though, including the sheer incompetence of the Arizona Diamondbacks; and not just in a general sense, either, as they may've asked Clippard to shelve his slider. It was far from his best offering (though, he had excellent results with it in 2015), as he's always been a fastball/change-up pitcher – but not having that show-me pitch in his pocket could have led to hitters being better able to sit on straighter stuff. The increased use stands out quite a bit: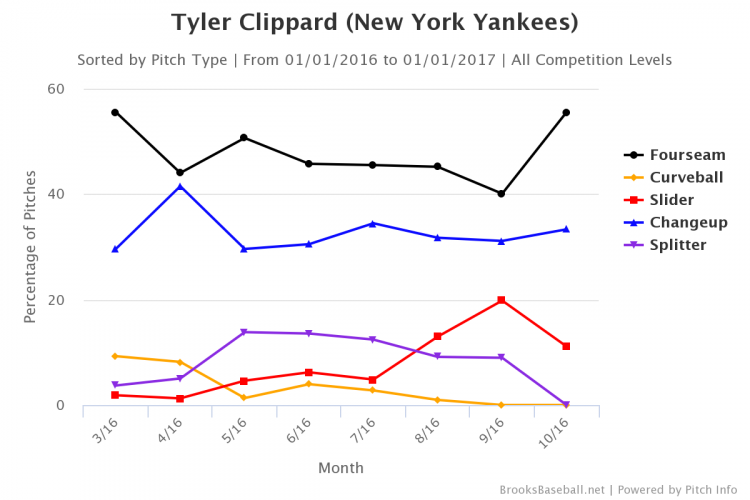 It also bears noting that his fastball velocity dropped with the Diamondbacks, leading to less separation against his bread and butter change-up: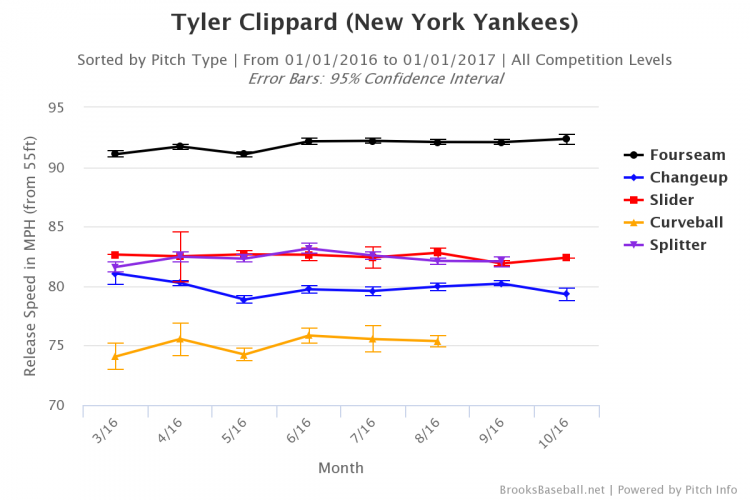 That increase, depending upon the tracker, is between 0.6 MPH and 0.8 MPH, which is noteworthy. As per PITCHf/x, Clippard's fastball velocity was 90.8 with the Diamondbacks and 91.5 following the trade (which is close to his career velocity of 91.8). Combining the increased slider usage, increased velocity, and competent coaching staff, Clippard's peripherals in his time with the Yankees were right in-line with his career norms.
Adam Warren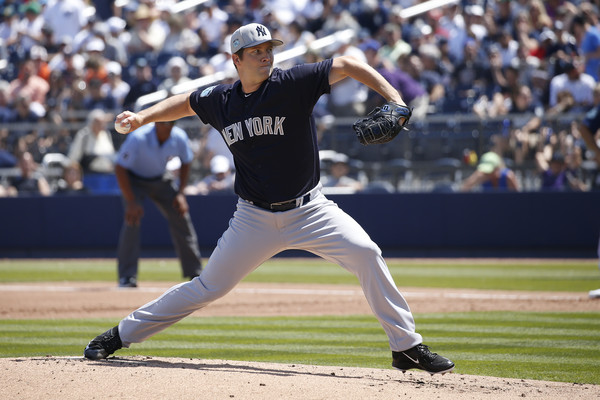 Calling Warren's time with the Cubs a disaster might be putting it far too lightly. He posted a 5.91 ERA (5.83 FIP) in 35.0 IP with Chicago, posting career-worsts in K% (17.8), BB% (12.5), GB% (43.3), HR/FB (16.7%), ERA, and FIP, earning a trip to the minors in doing so. And the most frustrating part of it all may be that there's nothing on the page that screams bad luck (his BABIP was a career-low .242, and that HR/FB wasn't absurdly high), nor did his pitch selection or velocity change all that much. To wit: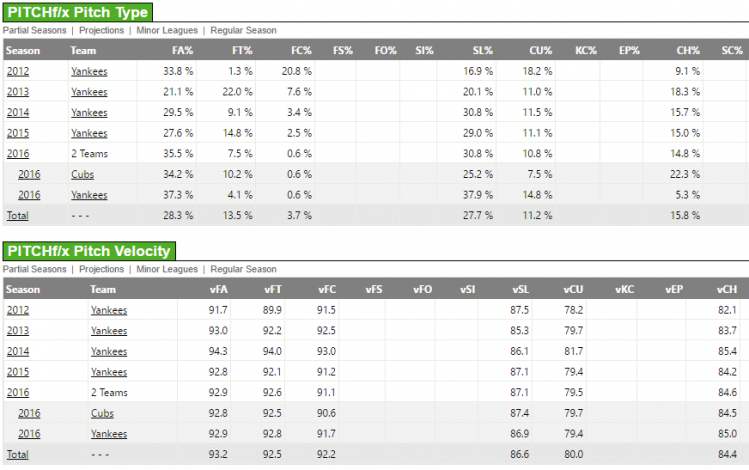 The only thing that stands out here is the dip in the use of his slider, which has been an effective pitch throughout his career. It isn't as though he stopped using the pitch, though, and the fact that he went deeper into counts more often than ever last year may have reduced his use of the pitch as he attempted to avoid walks.
As was the case with Clippard, however, Warren bounced back in the Bronx, with all of his peripherals gravitating to within spitting distance of his career norms, and his ERA dropping to 3.26 (4.30 FIP). It may be a simple matter of an extended slump coincidentally ending when he went back to the Bronx (he allowed 12 ER in his last five appearances with Chicago, and then reeled off nine straight scoreless outings with the Yankees), or it could be some combination of comfort and coaching. There may not be a genuine explanation, in short – but it's comforting that the Yankees received the Warren of old.
---
When the season begins, I suspect that Clippard will serve as the designated 7th inning arm, with Warren acting as a fireman, of sorts. Girardi used Clippard to record more than three outs just once in 29 appearances, whereas Warren went more than an inning nine times (including four times in a row in late September). And given their ages and recent patterns of use, that makes sense.
As for what to expect statistically, the projection systems see Clippard essentially duplicating his 2016 season, and Warren splitting the difference between 2016 and his career norms. I think both will be better than that, due to Girardi's ability to manage the bullpen (as well as my irrational attachment to both pitchers).