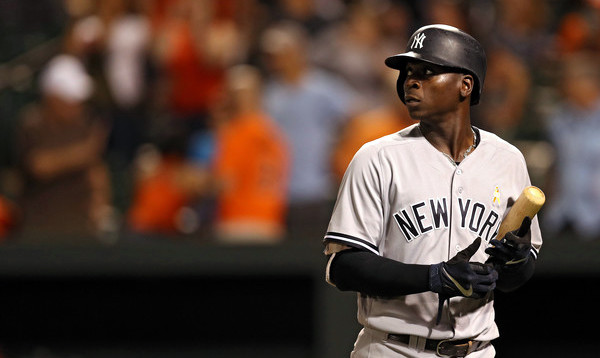 2017 may be a transitional season for the New York Yankees, but it is also critical for Didi Gregorius.
No, Sir Mariekson Julius Gregorius is not a free agent after the season. He's not going to be replaced immediately if he goes through an early season slump that stretches into May. Yet there is plenty of meaning for Gregorius going into his third season with the Yankees as he tries to establish himself as the Bombers' shortstop of the future.
It all has to do with the Yankees' tremendous depth at Didi's position. It's absurd how deep the team is at short. At the big league level, Gregorius' double play partner, Starlin Castro, is literally a three-time All-Star at shortstop. Think about it: Didi could get hurt tomorrow and the Yankees would have a more than capable shortstop ready to take his place two days from now.
Gleyber Torres, the team's undisputed top prospect, has played all but one game of his minor league career at short. It's not just Torres, too. Tyler Wade and Jorge Mateo will likely see time in high minors, even if they may see time away from short. The lower minors have even more real prospects in the middle infield.
Outside of maybe Kyle Holder, the one thing Gregorius has on everyone in the Yankees' system is his defensive abilities. The eye test bears that; For two years, we've seen his superior arm, his solid reads and his ability to make some spectacular plays that other shortstops, including his predecessor, can only dream about pursuing. He's already flashed the leather this spring.
Defensive metrics are a little more mixed on the subject. As Mike wrote in his
2016 Season Review
, the metrics that were universally positive for Didi in previous years were nearly across the board negative on him last season. We could chalk it up to a glitch in a defensive statistics, but it's worth seeing whether his defense really took a slip. It'll be tough to tell this spring since he'll be playing in the WBC and changing positions for the Netherlands' squad.
Regardless, his defense is viewed as a positive and something that entrenches him at the position. For what it's worth he did start some games at second (7) and third (1) in 2014 with the Diamondbacks, so he has some versatility and could potentially move around the infield.
But the real question is his hitting. I mean, are we really supposed to believe that a player with 22 career home runs would all of a sudden become a 20-homer-a-year batter? Well, maybe. As I wrote earlier this week, he may not be the 20-homer slugger that he was in 2016 moving forward, but he genuinely improved as a hitter last year, which bears out in his increase in exit velocity on pitches all around the strike zone.
And where he really made a difference was against lefties. He hit for significantly less power against LHP (14 extra-base hits and a .149 ISO) than vs. righties (38 XB hits and a .179 ISO), but he still hit .320 vs. lefties. That's all the more impressive considering he was borderline unplayable against southpaws in 2015 with a .247/.311/.315 line. This improvement came in part by doing a better job of hitting balls where they were thrown to him (e.g. hitting balls outside the other way). He doesn't sport power the other way – all 20 of his home runs were pulled to right – yet his ability to hit the ball the other way can keep opposing defenses honest and avoid significant shifts. Maybe the left fielder shades him in a little bit, but nothing abnormal.
The importance of 2017 is whether Gregorius can maintain all that and maybe even add to his offensive game. He still doesn't draw many walks and hasn't yet produced an above average wRC+ season (98 last year). If he somehow got even better at the plate and proved the 2016 defensive stats were just a blip, we could conclude that he's a keeper, someone worth keeping in pinstripes for a long time.
The Yankees will only come to that decision with a strong 2017. There are about 10-15 teams right now, give or take, that I'd take their everyday shortstop over Gregorius for the next three years (Yankees were middle of the pack in fWAR and bWAR for shortstop last season), but there's also a strong crop of shortstop prospects this season beyond the Yankees, namely Amed Rosario, Willy Adames, Ozzie Albies and J.P. Crawford, among others. It's a really great time for shortstops and having one who's only so-so would put a team with elite aspirations
It's important to note Gregorius is under team control for just these next three years. By 2019, Torres and others will likely be in the majors. Guys who can handle short like Manny Machado will hit the free agent market.
And the Yankees haven't signed Gregorius to an extension. Maybe there are negotiations between the two sides right now, but it could be possible that the Yankees see Gregorius as merely a bridge to Torres or Mateo. Admit it: You had thoughts like that in 2015, if not now. If Didi wants to be a long-term Yankee, this year's performance will be essential.