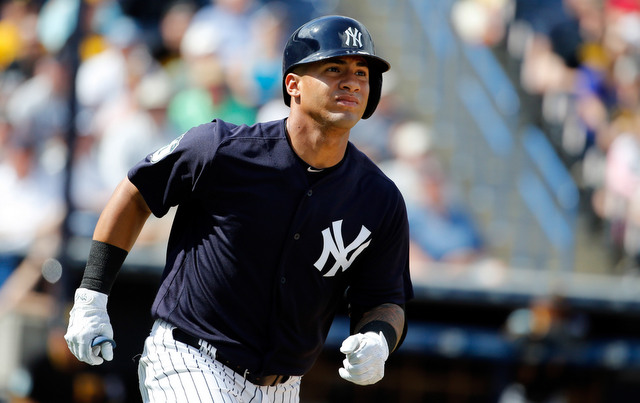 All things considered, this has been one of the most exciting Spring Trainings I can remember. The Yankees are winning and leading the league in home runs, and that's always fun even if we are talking about meaningless Grapefruit League games. Most of the young prospects are thriving too. Seriously, we haven't seen anyone looked overmatched this month. It's been fun.
Gleyber Torres, the just turned 20-year-old wunderkind who came over in the Aroldis Chapman trade, has authored a .478/.480/1.043 batting line with five doubles, one triple, and two home runs in 25 Grapefruit League plate appearances this far. Both home runs were hit to the opposite field, and the first was pretty ridiculous. Torres reached out and poked a two-strike fastball off the plate from actual big leaguer Justin Wilson into the right field stands:
Impressive. Gleyber's physical gifts are obvious and he looks like a big leaguer given his quiet confidence and the way he carries himself. Sometimes when you see a young kid in big league camp for the first time, he's got that deer in the headlights look. Not Torres. He's good and he knows it. He carried himself like he belongs because guess what? He does. Fewer minor leaguers offer as much promise.
"He's mature for his age," said Joe Girardi to Dan Martin earlier this week. "He puts good at-bats up one after another. And he uses the whole field. He's a good-looking young hitter … I don't think he's fazed by the situation. He's just here to play. He's definitely showing people what he can do."
At some point fairly soon, the Yankees will send Torres to minor league camp and he'll begin the season with Double-A Trenton. Gleyber was the youngest player in the Low-A Midwest League on Opening Day 2015 and he was the second youngest player in the High-A Carolina League on Opening Day 2016. When Opening Day 2017 rolls around, he'll be one of the two or three youngest players in the Double-A Eastern League as well.
As I noted a few weeks ago, prospects similar to Torres tend to shoot up the minor league ladder. Both Carlos Correa and Xander Bogaerts started their age 20 season in Double-A and ended it in the big leagues. Addison Russell and Javier Baez were in the big leagues very early in their age 21 season after starting the previous season at Double-A. It's hard to hold down an insanely talented young player like this. They force the issue.
Is it possible for Torres to reach the big leagues and help the Yankees in 2017? Yes, I think it is, and I tend to err on the side of "be patient with the kids." Special talents comes with special timetables. A few things need to happen before Gleyber can help the Yankees this coming season, of course.
1. Torres has to perform. Duh. Torres is not going to put himself in position to get called up by going out and hitting .250/.320/.375 at Double-A for two months. He'll be facing the best minor league pitching he's ever faced, and he'll spend the first few months playing in the cold. Torres has played in cold weather before — the Cubs' Low-A affiliate plays in South Bend, so yeah — but it doesn't mean it won't be a challenge in 2017. Bottom line, this is the single most important piece of the puzzle. Gleyber has to make the Yankees want to call him up with his performance.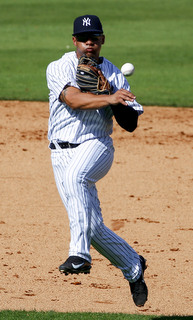 2. Torres will have to learn second base, and possibly third too. It's difficult to see how Gleyber could unseat Didi Gregorius at shortstop, especially right now, this year. Injuries happen, they always do, but in a perfect world everyone is healthy. The Yankees had Torres play some second base last year and in the Arizona Fall League, and again this spring, and he'll have to continue to learn the position in the minors this year. This isn't rocket science. The more positions he can play, the easier it'll be for the Yankees to get Torres into the lineup.
3. The Yankees must have an opening. This is important, and it doesn't necessarily need to be a full-time opening either. The Yankees just need to have a plan for Gleyber when they do call him up, and that plan could be four starts a week instead of six. Remember, when they called up Greg Bird in 2015, the plan was to spell Mark Teixeira and Alex Rodriguez a few times a week. That's it. Teixeira's injury forced Bird into regular playing time.
Now that I think about it, Gleyber's path to MLB could resemble Bird's pretty closely. Bird went to the Arizona Fall League in 2014 and was named MVP. He started 2015 in Double-A, earned a midseason promotion to Triple-A, then a few weeks later he was in the big leagues to lighten the load on Teixeira and A-Rod. Torres was named AzFL MVP last fall and he's going to start this season in Double-A. A midseason promotion to Triple-A and a bump to MLB a few weeks later could be in the cards as well.
The Yankees could call Torres up with the intention of letting him spell Gregorius at short and Starlin Castro at second, and maybe even Chase Headley at third, though to this point Gleyber has not manned the hot corner in game. (He recently started working out there though.) There's also the designated hitter spot as well. It sure seems like there's a path to playing Torres four or five times a week at second (and third?) base, shortstop, and designated hitter in the second half of the season.
"I don't really think about (making it to MLB)," said Torres to Martin. "I'm taking it a day at a time, trying to enjoy the moment. This is my first (big league) Spring Training. It's a lot of fun, and I don't want to get ahead of myself … This is the first time I've faced big league pitching. I'm surprised. I'm happy to be having really good results."
I suppose the big variable in all this is the team's performance. If the Yankees are a surprise contender, they might stick with what's working for them. It's not like Gregorius and Castro are older players who need regular rest, a la Teixeira and Rodriguez in 2015. But if the Yankees are out of it, or not close enough to the race to be a real threat, they could opt to bring Torres up to get his feet wet. That's what they did with Aaron Judge and Tyler Austin last year.
For now, let's remember Torres turned 20 three months ago and he's yet to play above High Class-A. He's having a marvelous Spring Training, but that doesn't mean a whole lot. Gleyber has a chance to help the Yankees this season because he's an extremely talented player with the skills to take his game to another level this summer. There are a few conditions that will have to be satisfied before the Yankees call Torres up, but it's not out of the question that he could make his MLB debut in 2017.