Over the last seven months or so, Gleyber Torres has gone from being relatively unknown to Yankees fans to their latest prospect crush. Torres came over from the Cubs in the Aroldis Chapman trade, and while he was an excellent prospect to start with, he's since improved his stock with a dominant Arizona Fall League showing. He became the youngest batting champ and MVP in league history.
In recent weeks Baseball America, Baseball Prospectus, Keith Law and MLB.com ranked Torres as one of the very best prospects in baseball. All except Baseball Prospectus ranked Gleyber as one of the five best prospects in the game. (Baseball Prospectus had him 15th.) Clearly, the scouting community believes Torres is a budding star and potential franchise cornerstone type of player. The Yankees haven't had one of those since Robinson Cano.
As part of their prospect coverage, MLB.com provides scouting grades for individual tools on the 20-80 scouting scale. A quick 20-80 scale primer: 20 is terrible, 80 is outstanding, and 50 is average. There are few 20 tools out there and even fewer 80 tools. Brian McCann is a 20 runner, for example. Chapman has an 80 fastball. I'm not sure there are any other 80 tools on the Yankees right now. Maybe Aaron Hicks' arm?
Anyway, the scouting grades allow us to compare prospects on a deeper level than "here's where they ranked on a top 100 list." I used them to compare Blake Rutherford to other top high school bats following the draft last year. Now I want to do something similar with Torres. Before we go any further, I should note two things:
MLB.com's scouting grades are future grades. They're what that specific tool projects to be down the line, not necessarily how that tool plays right now. MLB.com says Mickey Moniak, the first overall pick in last year's draft, has 60 hit and 45 power. If those were present tools, that would mean he's ready to hit .280 with 15 homers in the big leagues right now. No. Just … no.
The grades tend to be conservative. Scouts and writers don't take these things lightly. Very few prospects are given future 70s because 70 tools in the show are quite uncommon. If a scout is going to slap a 70 hit on a 20-year-old kid in Single-A, that person better be damn sure he's going to rake.
For the purposes of this exercise, I'm going to compared Torres to players just like him, which means 20-year-old right-handed hitting middle infielders. Age and position are obviously important criteria. Don't overlook handedness. The vast majority of pitchers are right-handed — 74% of all innings were thrown by righties in 2016 — so a right-handed hitter doesn't have the platoon advantage as often.
MLB.com has listed scouting grades every year since 2014, and based on our criteria, there have been ten comparable prospects to Torres over the last three years:

That is some list of names, huh? A few of those guys have gone on to become some of the best players in baseball, regardless of position. The green cells indicate tools that match or exceed Gleyber's grades, and as you can see, the only prospect since 2014 to at least match Torres in all five tools is Correa, one of the best young hitters on the planet. Russell, a +4 WAR player in 2016, matched or bettered Torres in four of the five tools. A few observations.
1. Correa, Russell, and Torres are in a class of their own, sorta. Those three guys all had a future 65 overall value (or better in Correa's case) while no one else on the list cleared 60. Not even Bogaerts and Baez, and Baez would go on to hit 37 home runs in his age 20 season. Correa received a future 70 because his bat is so special. He's been dubbed "the next A-Rod," which I think is a tad unrealistic, but you can understand where it comes from.
Russell and Torres earned their 65s with all-around play. Russell has a half-grade edge in power and running while Torres makes it up with his hit tool. Bogaerts lagged behind the two in power, the most high-profile tool, which is why he came in at 60 future value heading into the 2013 season. Point is, the scouting grades put Torres right alongside some of the games great young players when they were the same age. Very few righty hitting shortstops looked this promising at age 20.
2. Only four of the ten players started their age 20 season at Double-A. Torres will be the fifth, joining Correa, Bogaerts, Arcia, and Adames. Russell, Baez, Rosario, and Peraza all reached Double-A during their age 20 seasons as well, but only after a midseason promotion. They started their age 20 seasons in High Class-A. The difference of a few months isn't much in a grand scheme of things, but it is important to note it's not often a 20-year-old kid starts a season in Double-A.
Of those ten non-Torres players in the table, two (Correa and Bogaerts) reached the big leagues in their age 20 season. Correa was called up at midseason and went on to hit 22 homers in 90 games en route to being named AL Rookie of the Year. Bogaerts only received a September call-up in 2013, though he played well enough to take over as the Red Sox's starting third baseman in the postseason.
Four other players from the table (Russell, Baez, Arcia, Peraza) reached the big leagues one year later, in their age 21 season. It's entirely possible Rosario and Adames will make their debuts this coming season, which would make it six reaching the show no later than their age 21 season. Torres absolutely has a chance to do that as well. It's uncommon to reach MLB that young, yet this demographic has produced several such players.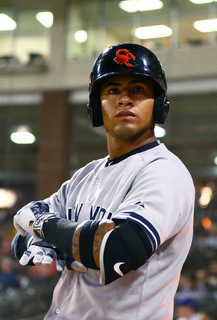 3. These guys tend to become cornerstones, not role players. Correa, Russell, and Bogaerts are bonafide stars in my opinion. (Russell would get more attention if he weren't the third best player on his own infield.) Baez looks poised to break out as one in 2017. Peraza, who wasn't ranked as high as those guys on MLB.com's annual top 100 list, looks like a potentially useful player. Arcia struggled during his brief MLB debut in 2016 but has high-end tools.
The jury is still out on Robertson, Mateo, Rosario, and Adames. Robertson's prospect stock has tumbled since landing on MLB.com's top 100 list in 2014. He hasn't hit outside the hitter friendly California League and has had to move to second base full-time due to his defensive shortcomings. Keith Law (subs. req'd) recent ranked him as the 14th best prospect in Tampa's system and said he "looks like a quality utility infielder."
Rosario is an elite prospect like Torres while Adames ranks a tick below those two. Mateo, who went from 87th on MLB.com's top 100 list prior to 2015 (his age 20 season) to 30th prior to 2016, had a disappointing season a year ago and slipped to 47th on MLB.com's list prior to 2017. So, out of those ten players, we have three stars (Correa, Russell, Bogaerts), one budding star (Baez), one useful player (Peraza), four with the jury still out (Arcia, Mateo, Rosario, Adames), and one whose stock has fallen considerably (Robertson).
The success rate of these prospects is quite high, relatively speaking. Getting three legitimate big league stars (and possibly more!) out of ten highly ranked players from any prospect demographic is pretty incredible. Shortstops are traditionally the best athletes and most tooled up players on the field though, so if you were going to bet on a certain type of prospect becoming a top notch big leaguer, chances are it would be a shortstop, even if he ends up changing positions, which Torres very well might in deference to the defensive superior Didi Gregorius.
* * *
Comparing the MLB.com scouting grades is far from a perfect science. We all know that. All this does for us is put in perspective exactly how talented and highly regarded Torres is at the moment. His peers are guys like Correa and Russell and Bogaerts. Does this guarantee big league success? Of course not. Nothing does. Generally speaking, players similar to Torres at age 20 have gone on to be productive big leaguers, often within 12-18 months. With any luck, Gleyber will do the same for the Yankees in the near future.