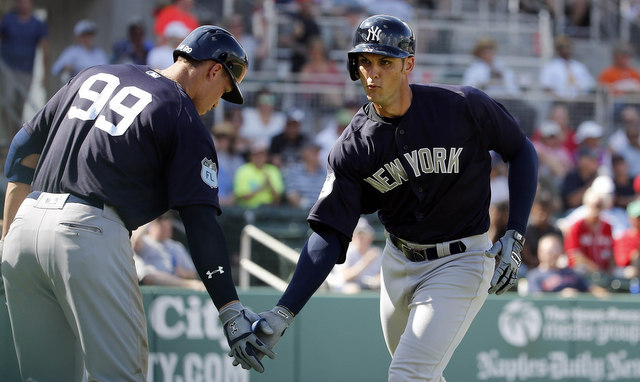 According to Jon Heyman, the Yankees have agreed to one-year contracts for the 2017 season with Aaron Judge and Greg Bird. The team did not renew them as pre-arbitration-eligible players, a la Dellin Betances last year. Judge will earn $544,500 this coming season. Bird will make $545,500. The league minimum is $530,000.
Interestingly enough, Heyman says New York's pay scale for pre-arbitration-eligible players is generally $100 per plate appearance over the league minimum. The math doesn't work for Judge and Bird, however. Based on that formula, Judge would be making $539,500 this year, not $544,500. Bird would be at $547,800, not $545,500.
Chances are there are other escalators involved, perhaps based on service time or something. Or maybe Judge has a really good agent and Bird has a really bad one. Or! Or maybe the Yankees decided to change their pre-arbitration salary scale after the Betances fiasco last year and this year. Whatever.
Pre-arbitration players like Judge and Bird typically sign split contracts that pay them one salary in the big leagues and another salary in the minors. It's entirely possible both guys will spent time in Triple-A this year too. Judge if he strikes out a bunch and Bird if he needs more time to get back to normal following shoulder surgery. At this point, the former seems more likely than the latter.
Judge made his big league debut late last season and will remain under team control through 2022. Bird, however, spent the entire 2016 season on the MLB disabled list, so he accrued a full year of service time even while injured. The Yankees lost a year of team control, essentially. Bird will qualify for free agency following the 2021 season.
The Yankees had previously agreed to a 2017 contract with Gary Sanchez, though financial terms are still unknown. Pre-arbitration contracts usually aren't widely reported. The Yankees currently have 23 pre-arbitration players on the 40-man roster. Rotation candidates Luis Severino, Chad Green, Bryan Mitchell, and Luis Cessa are among them.