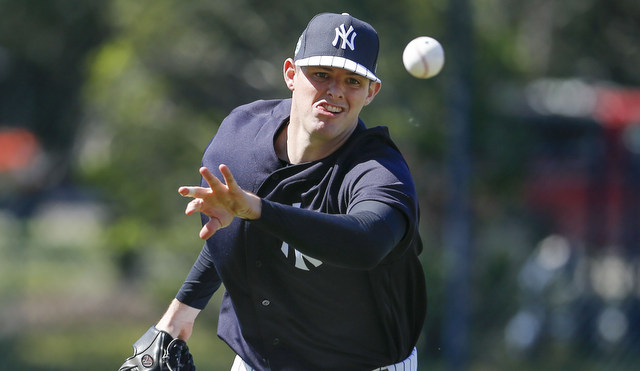 Later today left-hander Jordan Montgomery will make his first Grapefruit League start as the Yankees begin to bear down and really evaluate  their Opening Day roster candidates. They have two open rotation spots and two open bullpen spots, and lots of guys competing for them. Montgomery has pitched his way into Opening Day roster consideration these last few weeks.
"(Getting the start Thursday) makes me feel that I'm here for a reason and that they want me here, so I'm just going to try to keep getting better and working hard and preparing myself the right way," said Montgomery to Mike Mazzeo last week, after throwing the final four innings in the team's no-hitter (lol). "I've been working toward that my whole life, so I'm just going to try to keep getting better."
The Yankees have a loaded farm system, and while Montgomery is not one of the big names, he came into the spring as their most MLB ready starting pitcher prospect. Last season the 24-year-old southpaw had a 2.19 ERA (2.91 FIP) with 22.7% strikeouts and 7.7 % walks in 152 total innings between Double-A and Triple-A. Do that and you're going to be on the big league radar. No doubt about it.
Over the last few seasons the Yankees have made a habit of carrying surprise Spring Training performers in their Opening Day bullpen. Last year Luis Cessa, Johnny Barbato, and Kirby Yates made the Opening Day roster. The year before it was Chris Martin and Chasen Shreve. The year before that it was Vidal Nuno, and the year before that it was Cody Eppley. The last few Opening Day bullpens have been weird, man.
Montgomery is an actual prospect like Cessa, not a journeyman like Yates, though the point stands. If you impress in camp, the Yankees will take you north for the regular season. Today's start will be pretty important for Montgomery. It's a chance to really state his case for an Opening Day job. It's there for the taking. A few thoughts on this.
1. Forget about the Spring Training numbers. Oftentimes when a young guy unexpectedly emerges in Spring Training and wins a regular season roster spot, his numbers knock your socks off. That is not the case with Montgomery: 10.1 IP, 7 H, 7 R, 4 ER, 2 BB, 5 K in four appearances. Those are good numbers, but not holy cow this guy needs to be on the roster numbers.
First of all, who cares about Spring Training stats? Montgomery has come out of the bullpen in each of his four appearances, so he's faced plenty of minor league hitters late in games this spring. We know he can get minor leaguers out. Today's start will be a chance to face a few more big league players. Secondly, Montgomery's numbers are worse than they should be because there was some defensive funny business behind him his first two times out.
Montgomery has not necessarily impressed with his numbers and performance. He's impressed the coaching staff by locating his three fastballs (four-seamer, sinker, cutter) and two non-fastballs (curveball, changeup) well, by repeating his delivery well, and by not unraveling when things don't go his way. Montgomery has a very calm, stoical presence on the mound. Managers like that.
2. Montgomery doesn't have any bullpen experience.
Between college and pro ball, Montgomery has made 98 starts and six relief appearances over the last five seasons. Girardi said they're looking at Montgomery more as a reliever than a starter — "I think as more of a bullpen guy, but I'm open to anything," he said to
Dan Martin
— and that'll be a new experience for him. He's never been a full-time reliever. Not in college, not in pro ball.
That's not enough of a reason to not take Montgomery north as a reliever, of course. It's just an acknowledgement of an adjustment he'll have to make. Even this spring Montgomery knew exactly when he was entering the game and when to start warming up pitcher usage is so regimented. That's rarely the case during a meaningful regular season game. If the Yankees do carry Montgomery in the bullpen, he'll have to figure out a warm-up routine that works.
3. Montgomery might not be a great left-on-left matchup guy. For whatever reason, there's always the temptation to use a left-handed pitcher in left-on-left matchup situations out of the bullpen. Montgomery might not be well-suited for such a role because his best pitch is his changeup, a pitch that is typically used against hitters of the opposite hand. That's why lefties (.230/.308/.353) had more success against him than righties (.233/.287/.303) last summer.
Montgomery's curveball is a quality offering, though it's not a dominant pitch. Use him as a left-on-left guy and the Yankees will be asking Montgomery to either a) abandon his best pitch, or b) use his best pitch against lefties, which is probably not something he's done much throughout his career. You know as well I that Girardi loves his matchups. Loves loves loves them. Shoehorning Montgomery into left-on-left duty might not work out too well.
4. The more multi-inning relievers, the better. Now, despite that last section, I don't think Girardi will use Montgomery as a matchup reliever. I think he'd use him as a true long man, especially at first when he's still getting his feet wet. Perhaps he pitches well enough that he enters the Circle of Trust™ and becomes almost a left-handed Adam Warren, that middle innings guy who can give you five or six outs when necessary.
Anyway, the point is Montgomery is someone who can give you multiple innings, and carrying multiple multi-inning relievers is becoming a necessity, not a luxury. Aside from Masahiro Tanaka, the Yankees can't count on their starters to pitch deep into games. Carrying someone like Montgomery to help share the relief workload stemming from all those five-and-fly starts could really come in handy. Again, this isn't a luxury anymore. Teams need guys like this with starters throwing fewer and fewer innings.
5. Hey idiot, why not make him a starter? Good question, fellow idiot. I do think the Yankees will consider Montgomery a rotation option, especially since none of the rotation candidates have separated themselves from the pack yet. My gut still says Luis Severino is all but assured of a rotation spot, though that still leaves another spot open. It would be silly for the Yankees to not consider Montgomery for the rotation, right? Right.
Keep in mind Montgomery threw 152 total innings last season. He threw 134.1 innings the year before and 119 innings the year before that. The guy's never missed a start. Not in college and no in pro ball. Montgomery's innings have been built up nice and steadily, so much so that it's not crazy to think you can pencil him in for 30 starts and 175 innings this season. That's pretty cool. The workload management gymnastics could be kept to a minimum.
For what it's worth, ZiPS pegs Montgomery as a 4.87 ERA (4.76 FIP) pitcher right now while PECOTA has him at 4.99 ERA (5.06 DRA). That would make him a +1 WAR pitcher, or thereabouts. And, truth be told, that wouldn't be terrible for a rookie pitcher in Yankee Stadium. The completely objective computer systems are a little bearish on Montgomery right now. That's okay. Computers are ruining the game anyway ya nerds.
* * *
We're not talking about 20-year-old Gleyber Torres replacing the injured Didi Gregorius here. Montgomery is a polished 24-year-old pitcher with Triple-A experience who has been successful everywhere he's played, and if the Yankees deem him one of their 12 best pitchers at the end of Spring Training, he should absolutely be on the Opening Day roster. There's no reason to hold him back. Montgomery is ready to help, even if it's in an unfamiliar role out of the bullpen.
"We like him a lot. We've said that all along," said Girardi to Mazzeo last week. "He's got a good breaking ball, a good changeup and throws on a downward angle, which we like. He's different than a lot of lefties in a sense. He threw the ball very well today. We're curious about him … We're going to keep evaluating him."